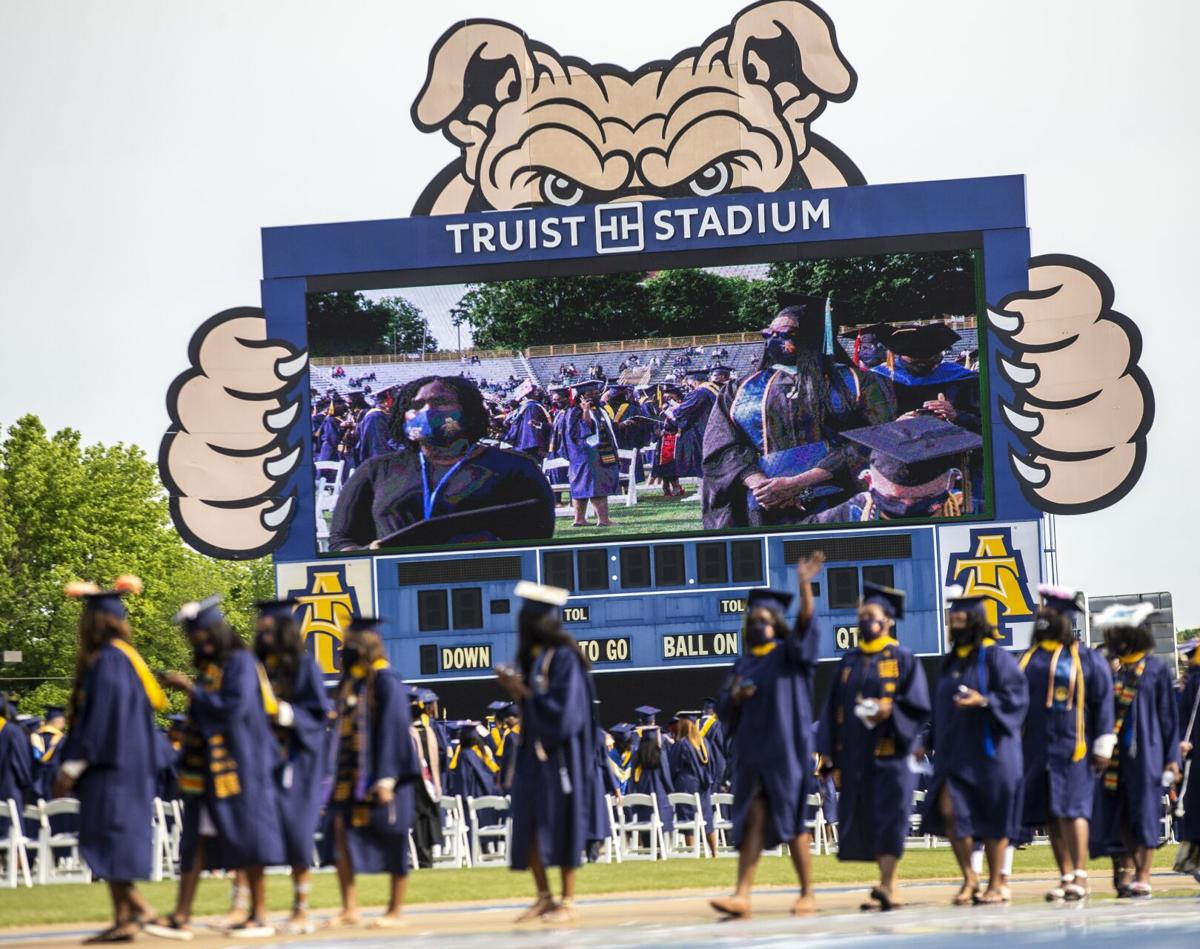 GREENSBORO — N.C. A&T will use more of its federal pandemic relief money to further cut the cost of going to school.
A&T has created several new scholarships and a new emergency aid fund that could shave thousands of dollars off students' bills. The university also will give price breaks to graduate students, students living in dorms and students who have meal plans.
Last week's announcement came just three weeks after A&T said it would cover the cost of textbooks and other course materials for all undergraduates for the next two years.
"These historic investments have been carefully planned for maximum impact in supporting the academic and personal success of our students," Chancellor Harold Martin said in a statement. "These funds will help enable them to move with confidence through their educational experience at A&T and reduce the financial anxiety that the COVID pandemic has triggered for many college students over the past year."
Among the new programs are:
• An emergency relief fund that will pay up to $5,000 to undergraduates who have had trouble paying their college bills due to the pandemic. Students can apply to receive money from this relief fund in both the fall and spring semesters.
• Two Aggie Pride scholarship funds — one for students with financial need, and one a merit scholarship for students with good grades. The financial need award is capped at $5,000. There is no maximum for the merit scholarship. These undergraduate scholarships will be available only for the fall semester.
• Students living in university housing will get a credit of $250 in both the fall and spring semesters. Students with A&T meal plans will get another $250 credit in each of the next two semesters.
• Graduate students will be eligible for relief funds as well.
• The university also plans to help students who return to A&T to finish their bachelor's degrees. Students who re-enroll at A&T through its Aggies at the Goal Line program will get help with their tuition, fees and past-due balances.
Together, these new funds could significantly slash the price of going to A&T. The university estimates its cost of attendance — tuition, fees, room, board, books and other personal expenses — at roughly $20,500 per year for in-state students. The net price after federal, state and institutional financial aid is roughly $9,500 a year for North Carolina residents, according to federal higher education data. Out-of-state students pay significantly more.
A&T will pay for these new programs with a portion of its federal pandemic relief fund. A&T has received three rounds of funding since 2020 from the Higher Education Emergency Relief Fund totaling nearly $243 million. A&T received a disproportionally higher amount than some other area schools because federal legislation gave extra help to historically Black colleges and universities like A&T.
About 14% of the money that A&T received went as emergency financial aid to students. A&T expects to end up spending at least half of its federal allocation to help students directly.
Last month, A&T announced that it would use HEERF funds to cover the cost of textbooks for all undergraduates for the next two years. This summer, A&T paid for two classes for all students enrolled in summer school. The university said about 3,800 A&T students got summer school scholarships.
A&T leaders said this massive amount of financial assistance will help a student population battered by the financial toll of the pandemic.
Before the pandemic, slightly more than half of A&T students got Pell Grants, which are federal scholarships who go to the financially neediest students. Three-quarters of students, many of them first-generation college students, receive financial aid to attend A&T, according to federal higher education data for 2019.
Since 2020, A&T leaders say many students and their families have lost jobs or had their work hours cut back, which has made it harder for students to pay their tuition bills. The new grant funds should help students cover shortfalls in living or college expenses, or resolve financial situations that prevent them from registering for classes, or both.
"As a society and as a university, we cannot afford to have the next generation of highly educated, well-prepared graduates slowed or sidelined on their path toward graduation and entering the workforce and further compound the negative results of the pandemic," Robert Pompey, A&T's vice chancellor for business and finance, said in a statement.
Expect more related announcements in coming months, A&T spokesman Todd Simmons said Monday. The university plans to spread student relief efforts over the next three years.
"We're not done," he added. "We have other things in the offing we have not yet announced."
Some other N.C. universities are using federal relief funds to help their students. Winston-Salem State University said Monday that it would cover the cost of textbooks for all undergraduates for the fall semester. Fayetteville State University recently spent $1.65 million to clear all of the past-due amounts owed by 1,442 students.
Contact John Newsom at 336-373-7312 and follow @JohnNewsomNR on Twitter.