GREENSBORO — The last leg of the long-planned 49-mile beltway around the city is entering its final year of construction, state transportation officials say.
"They're doing final grading on the roadway itself right now," said N.C. Department of Transportation spokesman Aaron Moody.
"In the next month or so people are going to start seeing concrete lanes being poured … from the U.S. 29 side and moving east to west," Moody said last week .
Construction on the last section of the Greensboro Urban Loop — from Lawndale Drive to U.S. 29 — began in April 2018 and carries a $137.3 million price tag.
The part between Lawndale Drive and North Elm Street opened in December 2020, but the 3 miles connecting North Elm Street to U.S. 29 remain unfinished.
That portion is expected to open to motorists in spring 2023.
The six-lane highway is part of a 16.5-mile project — also known as Interstate 840 — which runs from U.S. 70 in the east to Joseph M. Bryan Boulevard in the west.
"We're looking at roughly a 10-year project — in four sections — which is a good turnaround," Moody said.
When connected to Interstate 73 and Interstate 85, the approximately $504 million project finishes a beltway first envisioned by city leaders in the late 1940s.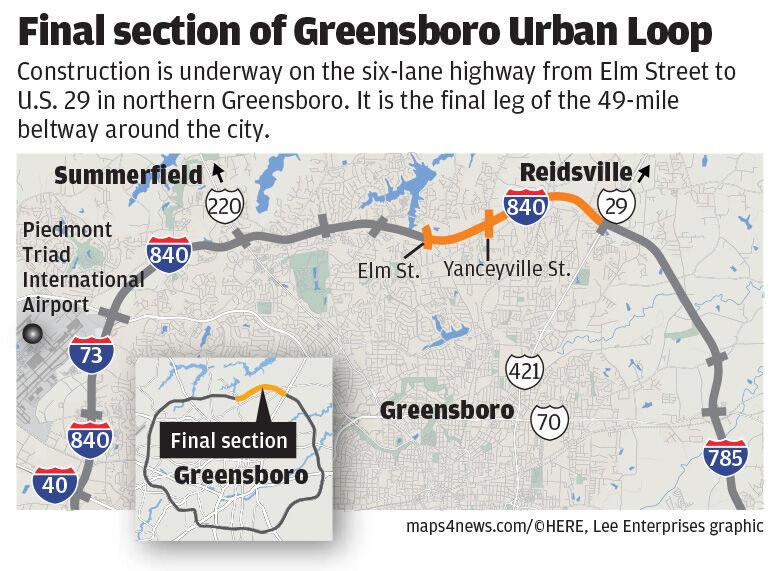 The final span involves moving a lot of dirt — 6 million cubic yards, Moody said.
"A big part of it is the bridges that will carry the loop over the railroad tracks and Lees Chapel Road," he said. "They're pretty substantial."
There will be additional bridges at Summit Avenue and North Church Street and interchanges at U.S. 29, Yanceyville Road and North Elm Street.
And while the pandemic and related material shortages have impacted the construction industry as a whole, Moody said this shouldn't affect the final cost.
"The cost agreed to in the original contract doesn't change," he said.
And whereas previous sections included noise walls to muffle the high-speed traffic on nearby homes, this latest section does not.
"That really all comes down to where there are requirements," Moody said. "It's a formula-driven process that essentially says where would too many people be impacted by the noise and then the amount of residences and/or qualifying type properties that go into consideration" for constructing noise walls.
Kenwyn Caranna's favorite stories from 2021
These are some of the most fun, fascinating and touching stories that I covered this year.