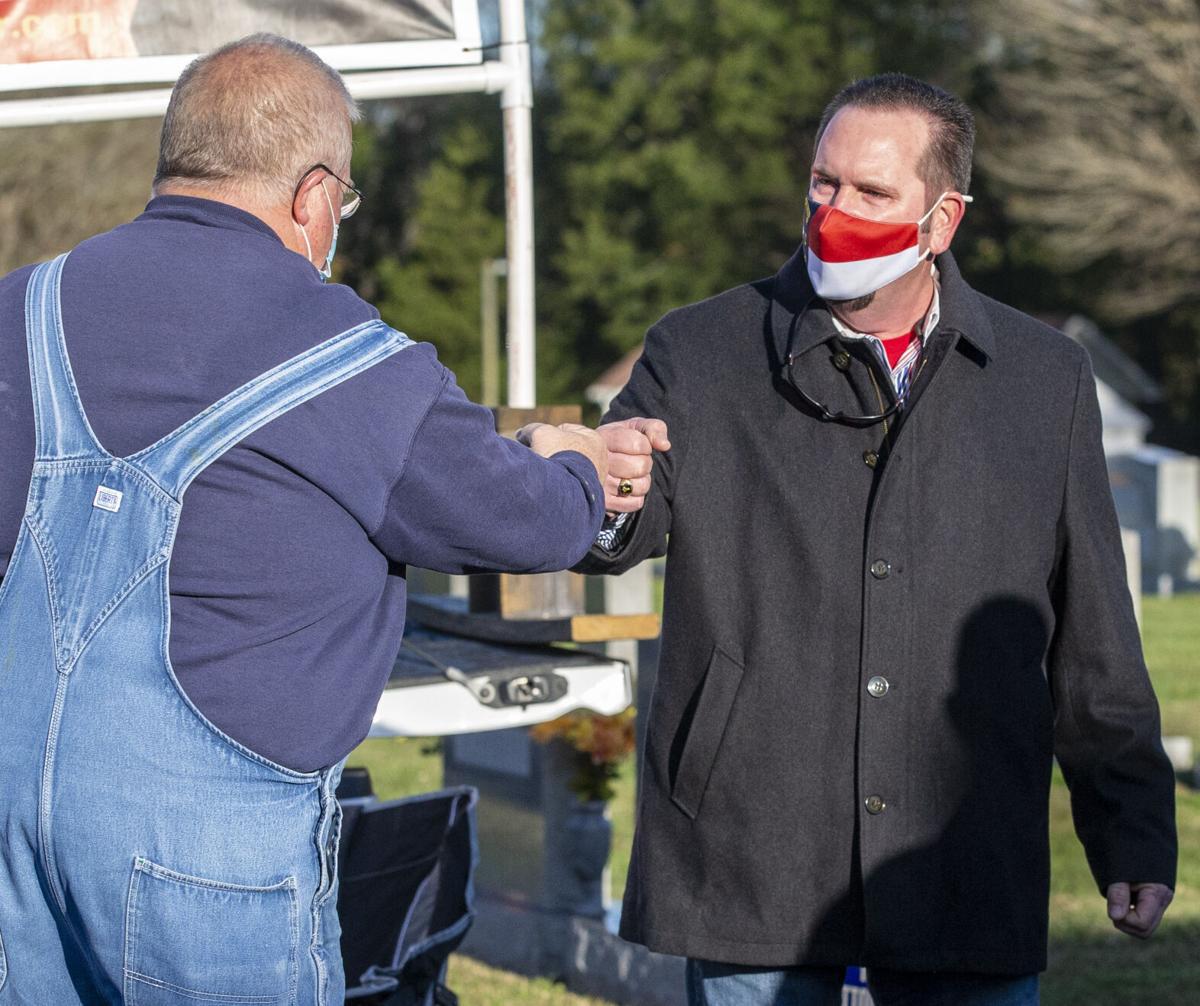 GREENSBORO — Republican Guilford County Commissioner Alan Branson, who lost his race against Democratic challenger Mary Beth Murphy by 72 votes, has conceded the race that he contested for several weeks after the Nov. 3 election.
Branson called Murphy shortly before he released a written statement at 1:30 Tuesday afternoon.
"We chatted briefly and I thanked him for taking the time to reach out to me personally. That meant a lot to me," Murphy said. "We wished each other well and happy holidays. He wished me the best of luck in this new role."
Branson said Tuesday afternoon that after challenging more than 400 mail-in ballots in Guilford County with appeals to the Guilford County Board of Elections and the N.C. State Board of Elections, both of which were rejected, it's time to move on.
"Given the time constraints and burden of pursuing a stay in the Wake County Superior Court, I find it time to concede," he said in the written statement.
Branson said in an interview that he had to weigh the cost of pursuing legal challenges against the limits of serving as a Republican commissioner on a Democrat-dominated board. Democrats assumed a 6-3 majority after the Nov. 3 election. With Branson's concession, that number expands to a 7-2 majority.
In the end, he decided, "why would I want to be a part of it?"
Murphy said it was good news to get just before the holidays and that the entire process was eye-opening. She said she believes the integrity of the voting process was assured by the work that Guilford County Elections Director Charlie Collicutt and his staff did during this close election.
"The work that they do is often thankless and behind closed doors and having an inside view to that work has really been incredible," she said. "And I am so impressed by the work that Charlie and his staff do — I had no idea about all of the work that happens behind the scenes."
Branson, who was able to serve for two weeks after other new members were sworn in, found plenty of reasons to disagree with the Democratic majority on the Board of Commissioners.
He did not support the action taken by the commissioners Thursday to accept the resignation of long-time County Manager Marty Lawing. The board voted 6-3 along party lines to accept Lawing's resignation.
"What they did last week to our Manager Marty Lawing was extremely poor leadership, especially over the holidays," Branson said.
It's unclear at this time when Murphy will be sworn in to the office. She and Interim County Manager Robin Keller had missed each other's calls during the afternoon. The next regularly-scheduled meeting of the Board of Commissioners is 5:30 p.m. Jan. 7.
Murphy was elected in a Democratic sweep of the board that had been dominated by Republicans for eight years.
Two Republicans, Commissioners Chairman Jeff Phillips and Commissioner Hank Henning, decided not to seek reelection and their seats were won by Democrats.
Murphy was ahead by 18 votes on election night until a full canvass including absentee ballots showed that her lead had grown to 72 votes and that total became official.
She won the race with 50.08% of the vote compared with 49.92% for Branson.
An eighth grade social studies teacher at Western Guilford Middle School, Murphy said that her top priority is to join the commissioners' aggressive approach to mitigating the impact of the COVID-19 pandemic on Guilford County and helping local agencies deploy the vaccine when it becomes available.
The commissioners on Thursday approved $26 million in spending toward pandemic relief, including rental and housing assistance, the county vaccination program, immediate school needs and money for pandemic regulation enforcement.
"The board has taken some important steps over the past several weeks," Murphy said. "I absolutely would've voted in support of the actions that the board has taken."
She plans to create a "Community Cabinet" of residents, business owners and community leaders in District 4 to regularly meet and talk about the district's issues, Murphy said, "to really be intentional about seeking input to drive the decisions that I'll be making as a representative of this community."
A two-term member of the board, Branson had served a term as chairman during his tenure.
A one-page statement Branson released Tuesday outlined his ongoing objections to the way the election was conducted.
After the votes were tallied, Branson demanded a full recount. After that, he appealed the results to the county Board of Elections, objecting to how absentee ballots were handled. When that was rejected by the board, Branson sent his appeal to the N.C. Board of Elections, which dismissed the objection Friday without hearing it.
Branson said in his statement that absentee ballots amounted to a "cheating opportunity" for Democrats during the pandemic.
"I only lost during the Mail-In Absentee Ballots," Branson wrote. Of the 21,655 votes he received, Branson wrote, "it is amazing that we received that many votes in our district. I do feel that we need to have Photo ID to be shown when voting."
Branson said in the interview that he is not sure what he will do next in politics.
He works for his family's trucking company, Stout Trucking Co., and that and his family keep him plenty busy, the 54-year-old Branson said.
But he said he will be watching the U.S. Census results and how they affect political redistricting in the months ahead. And he'll be helping Republican U.S. Rep. Mark Walker in his bid to become North Carolina's next U.S. senator.
He said people who write and pass laws often don't understand what it's like to run a small business.
"That's a niche that I'm familiar with," he said. "If I decide to use it going forward maybe we'll take another stab" at political office.
Richard Barron: Stories from 2020 that reflect Greensboro's struggles and triumphs
City government touches every aspect of our lives, from trash collection to civil rights, and these stories span a wide range of subjects.
Contact Richard M. Barron at 336-373-7371 and follow @BarronBizNR on Twitter.