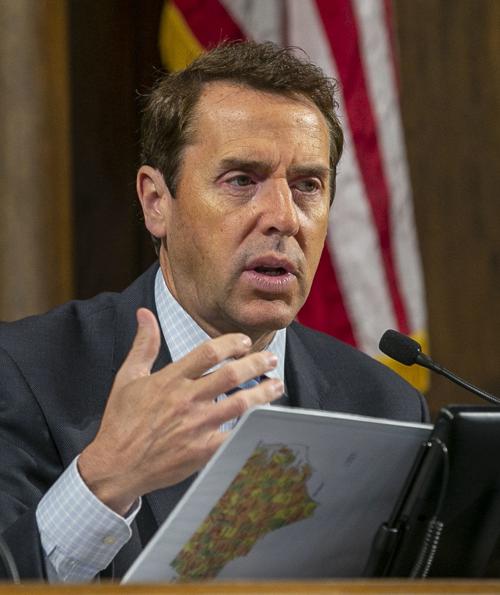 Former U.S. Rep. Mark Walker was at Mar-a-Lago with former President Donald Trump over the weekend discussing Trump's possible endorsement for a campaign to return to the House, said Jack Minor, Walker's former chief of staff.
Walker has spent nearly two years campaigning for an open U.S. Senate seat, after Sen. Richard Burr announced his retirement.
But Trump endorsed Rep. Ted Budd for the seat, and Walker has trailed both Budd and former Gov. Pat McCrory in the polls. And some Budd supporters worry that if Walker stays in the race he could take votes from Budd, pushing McCrory ahead.
That has fueled speculation that Walker might switch to to run for House in the newly drawn 7th Congressional District. That only grew Friday when state Rep. Jon Hardister announced he would not run in the district and would run for reelection.
Hardister told The News & Observer Friday that regardless of Walker's decision, his heart was with the statehouse.
Walker has not announced a run for House. But Minor said he expects Trump to offer his endorsement during the meeting Saturday at Trump's club and home in South Florida and that Walker would make a decision some time after that meeting.
Minor said that U.S. Rep. Madison Cawthorn was also at Mar-a-Lago Saturday evening for a meeting with Trump.
Cawthorn caused his own shakeup this election cycle by annoucing he would move from the newly drawn 14th Congressional District, where his home is, to the 13th Congressional District believed to have been drawn for House Speaker Tim Moore. Moore announced hours later he would seek reelection and not run for Congress.
Candidate filing for the election begins Monday.
The 7th District
If he makes the switch he would face a crowded field of Bo Hines, Kent Keirsey, Jennyfer Bucardo, Lee Haywood, Christian Castelli, Peter Boykin, Marvin Boguslawski and Chad Slotta in trying to win the Republican nomination in the March 8 primary, with the winner likely to win the GOP-leaning district.
The district covers Alamance, Randolph, Chatham and Lee and portions of Wake, Guilford and Davidson.
No Democrats have filed to run in the district so far.
Walker is a resident of Autumn Crest Court in Summerfield, an area not included in the district. North Carolina law does not require a candidate to live in the area he or she represents.
Walker served three terms in Congress from 2015 to 2020, representing the 6th District. But in 2020, a court-ordered redistricting of North Carolina's congressional map turned Walker's district blue.
U.S. Rep. Kathy Manning of Greensboro won the congressional seat that year.
Walker announced then that he would focus his attention on a U.S. Senate run.
Race for U.S. Senate
With Burr retiring and not running for reelection in 2022, Republicans, including Walker, Budd and McCrory, have been battling for the Republican nomination.
Many thought the three men would also face former President Donald Trump's daughter-in-law Lara Trump, but during the N.C. Republican Party's convention in June she announced otherwise.
Instead, the former president took the stage and handed his endorsement to Budd in an announcement that surprised many Republicans.
Since then, Walker has trailed behind Budd and McCrory in the polls, with the latest showing McCrory with a slight lead over Budd.
Marjorie Eastman and Jen Banwart are also competing for the Republican nomination.
Whoever wins the race will face off against the Democratic nominee. Those vying for that position include former N.C. Supreme Court Chief Justice Cheri Beasley, state Sen. Jeff Jackson and former state Sen. Erica Smith.
Switching to House?
Rumors of Walker's switch to a congressional run surfaced shortly after the N.C. General Assembly approved a new congressional district map on Nov. 4.
Lawmakers redrew Budd's district without an incumbent, and with a Republican-leaning voting base that would make it difficult for a Democrat to win.
What's yet to be seen is if Trump will endorse a successor for Budd.
Cawthorn, an outspoken Republican aligned with Trump and at 26, the youngest member of Congress, has already thrown his name behind Hines.
Hines is a 2018 graduate from Yale University. He began his college career at N.C. State where he was an All-American football player. He transferred to the Ivy League his sophomore year but ended his football career after two games when he injured his shoulder.
If Walker switches races, it's unknown whether Cawthorn will continue supporting Hines or switch his support to Walker, whom he endorsed for Senate.