GREENSBORO — Demolition of the old Guilford County jail downtown has been delayed, though officials aren't explaining exactly why or for how long.
The demolition was scheduled to begin in February, with this past Monday as a possible start date, but now it's unclear when that process will start.
Asked about the reason for the delay, Melvin "Skip" Alston, chairman of the Guilford County Board of Commissioners, said he couldn't comment on the matter and referred questions to the county's legal department.
However, County Attorney Andrea Leslie-Fite did not return phone messages seeking comment Thursday and Friday.
Sheriff Danny Rogers also declined to comment on the delay.
Julie Smith, a county spokeswoman, said in an email Friday that "demolition has continued on the interior of the jail before January and since. Interior demolition must occur to prepare for exterior work."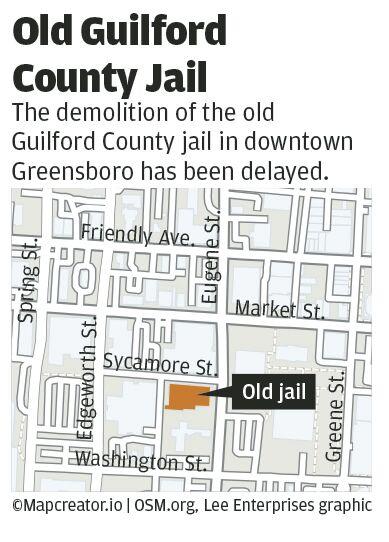 Smith added that "nothing encountered during the interior demolition thus far has changed the project cost or timeline."
The old jail, which was built in 1975, is being mostly demolished to make room for a new law enforcement center. The basement and first floor will be renovated and a new second floor added to the 41,000-square-foot center. The facility will allow the sheriff's office to combine its administration, information technology division, legal and fleet teams into one space.
Three years ago the county board approved the project with a $12 million price tag. But over time the cost grew to $23.9 million.
Eric Hilton, the county's facilities and property management director, told commissioners in early January that the process would begin soon.
"The big equipment is going to roll in in a few weeks to start taking the building down," Hilton described. "We're going to start taking the concrete curtain walls off the exterior and then we're going to start paring it down. … You'll be able to see a lot in the next few weeks happen."
The demolition contractor, D.H. Griffin, did not respond to messages seeking comment about the delay.
Suzanne Turner, a spokeswoman for the project's general contractor, Samet Corp., confirmed the delay but would not say for how long or why.
"I can't speak to that at this time," Turner said. "I can confirm that a Samet project team is on site and is working."
Hilton said last month that he expected the new center to open in July 2024. At that point, the adjacent Otto Zenke building — where the sheriff's administrative offices are now — would be demolished to make way for additional parking. The Zenke building has a variety of problems, including mold, water damage, rotting wood and security challenges.