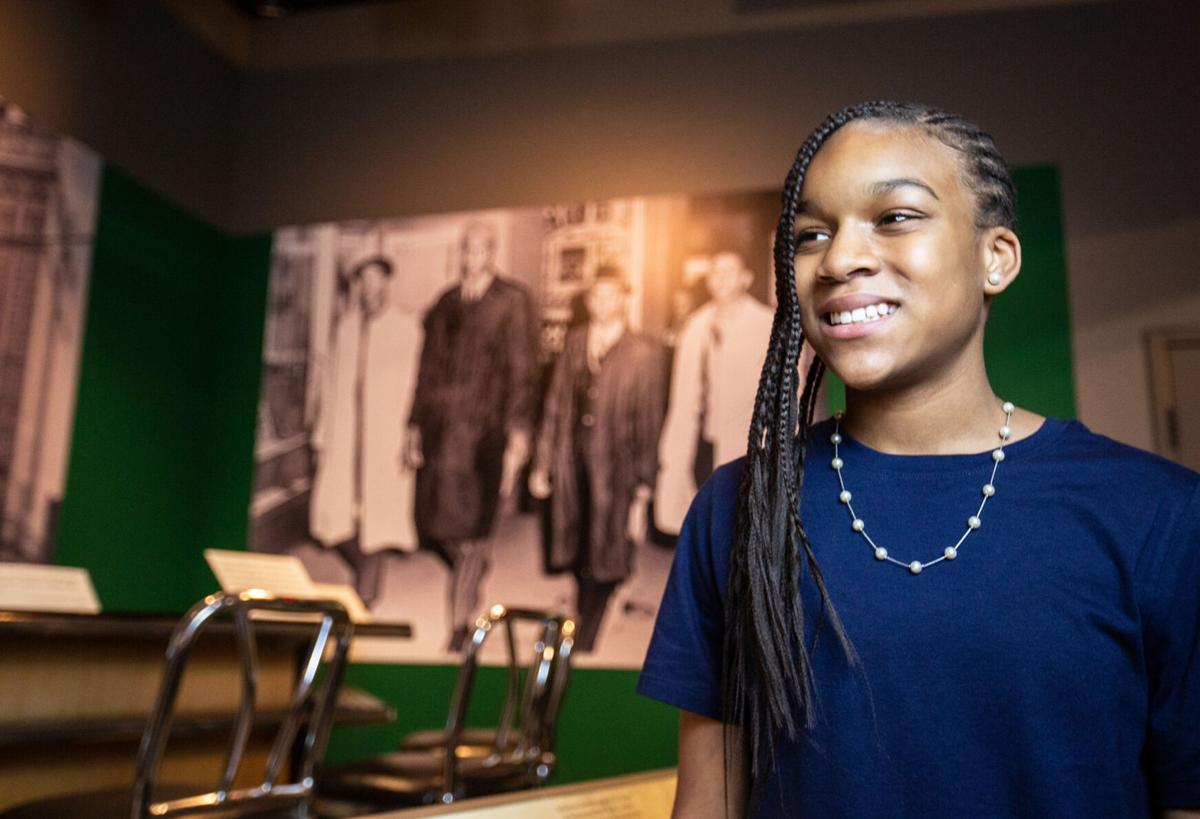 GREENSBORO — Laila Dawson didn't want to do it at first. 
The 12-year-old hesitated to audition to appear on "The Kelly Clarkson Show," talking about the sit-in movement and the Rev. Martin Luther King Jr.
"It's OK to fear something, but don't let that stop you from trying," Laila's father, Rodney Dawson, told her. "If you do something and don't get selected, that's one thing. But to not do it at all because of fear, I'm not going to accept that."
Laila was convinced. With the help of her parents, she auditioned via video.
Show producers liked what they saw.
On Monday — the federal holiday honoring King's birthday — the local seventh grader will appear via video on the syndicated daytime talk show hosted by Clarkson, the "American Idol" winner, singer-songwriter, actress and author.
She will talk about the sit-in movement and its relationship to the ideals of King, the late civil rights leader. 
"Now I'm happy that I'm doing it and that I tried," Laila said.
The opportunity came about quickly through Dramaine Freeman, principal of Swann Middle School. Laila attends its Spanish Immersion Program. 
"The Kelly Clarkson Show" had called Freeman a week ago Friday. It sought a student to speak about the 1960 sit-in movement at the Woolworth lunch counter, and what it means to the holiday honoring King. 
The show sought a student from a school close to the International Civil Rights Center & Museum, the former Woolworth store downtown at 134 S. Elm St. 
On Feb. 1, 1960, four N.C. A&T freshmen sat down at the whites-only Woolworth lunch counter, and sparked a movement that spread across the South.
"The Kelly Clarkson Show," Freeman said, wanted a student with "a personality for the camera, who also had knowledge of history."
Freeman thought of Laila. Her father works as curator of education at the Greensboro History Museum, and had worked with her school.
"She's a very good student and seeks to learn a lot," Freeman said.
Freeman called Dawson to ask whether Laila would do it. 
Dawson said yes. Then he had to persuade Laila. 
They only had a few hours to submit an audition video. 
Rodney Dawson happens to be working on two documentaries, about the late dentist and civil rights activist Dr. George Simkins Jr., and about local women behind the sit-in movement.
Local historian Lewis Brandon had told him how the sit-in movement started by the four A&T students had grown quickly, to nearly 300 students participating by the end of that week.
"Martin Luther King always talked about working together for a common goal," Dawson said. "This exemplified one of his ideals and one of the things he preached and taught."
Dawson contributed information to the script that his daughter would write.
He even had a backdrop and lighting at home. 
He made it fun, too — sending his daughter to "hair and makeup" (provided by her mother, Rolitta Dawson) before they filmed.
"I think she enjoyed having a project to work on," Dawson said.
By 7 p.m., Dawson had sent the audition video to the show producer.
The producers were impressed. On Saturday morning, they gave the go-ahead.
As her parents and brother Caleb Powell watched, the documentaries' camera crew filmed Laila speaking in front of a section of Woolworth's counter at the history museum. (The downtown civil rights museum and the Smithsonian Institution house other sections.) 
Laila's nerves had calmed.
"While I was filming it, I wasn't that nervous because I knew that they liked how I did my audition," Laila said. "If I do it the same way as I did my audition, they would like it the next time. So I was ready to do it."
Dawson shot footage in front of the civil rights museum. 
By Sunday morning, he submitted the final video.
The experience taught Laila more about the sit-ins.
"I thought that was pretty cool how that many people joined (the A&T freshmen) for the sit-in movement," Laila said.
Now she's excited to appear on national television, even if it's for likely less than a minute.
"I think it would be a great thing for getting into schools in the future, like for college, so they would be impressed for what I've done in the past," Laila said.
Her father sees her TV appearance as following the legacy of civil rights activism of her grandmothers, great-grandmother and aunts.
Laila even teased her father, who has appeared on local television to talk about his work.
"He has been seen by thousands," she said. "But I'll probably be seen by 1 million."
Contact Dawn DeCwikiel-Kane at 336-373-5204 and follow @dawndkaneNR on Twitter.