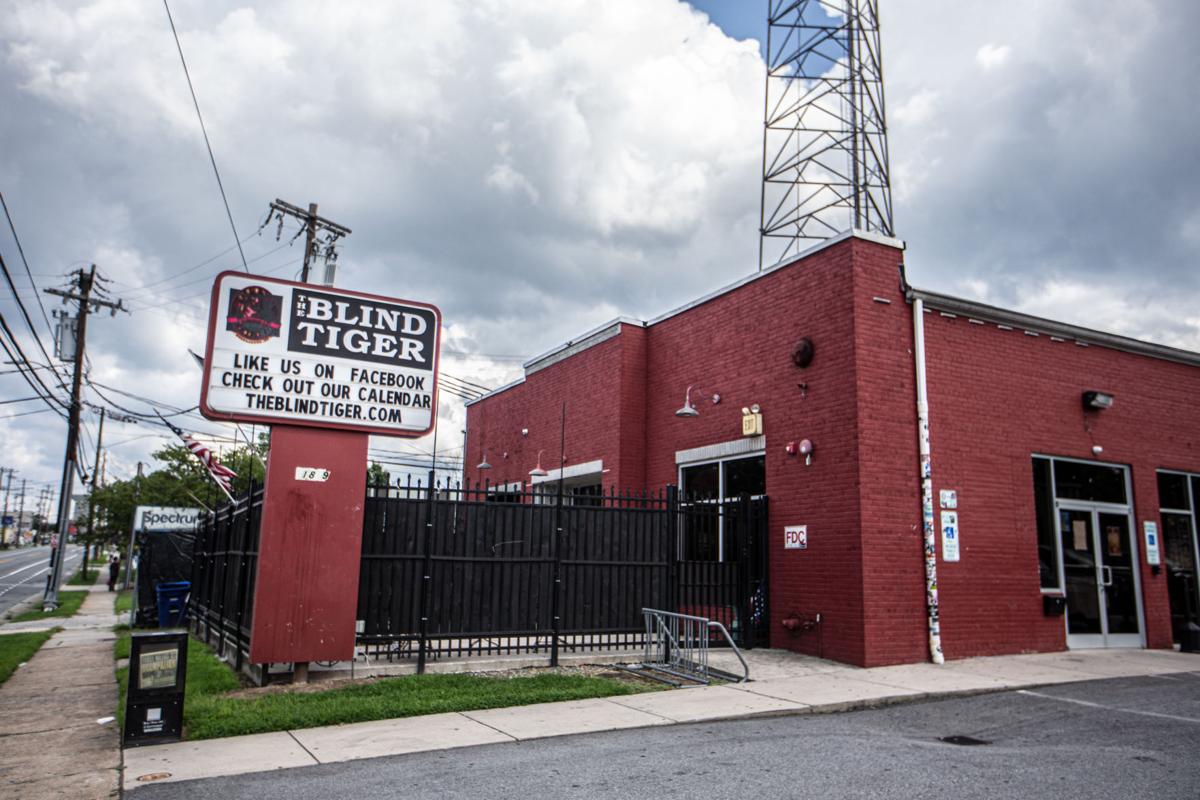 GREENSBORO — A photo showing what appears to be a mostly maskless crowd at a memorial concert benefitting the family of a COVID-19 victim has raised the ire of Facebook viewers and is prompting Guilford County officials to investigate.
Several bands played at Sunday's concert at The Blind Tiger, a popular live music club on Spring Garden Street. It raised money for the family of the late Bill McQueen, who died of the contagious respiratory disease COVID-19.
McQueen was a guitarist for the band Flat Blak Cadillac, which plays Southern outlaw and rockabilly music, according to its Facebook page.
McQueen left behind a wife and three children, according to his wife's Facebook page.
A photo of Sunday's event posted on The Blind Tiger's Facebook page showed concert attendees both standing and seated around high-top tables. Faces that could be seen in the photo, which has since been deleted, were maskless.
"So you had a maskless super-spreader event as a benefit for a dude that died of COVID?" one Facebook reader posted.
"I guess you don't understand 'irony,' huh? This event is the definition," wrote another.
To date, the COVID-19 pandemic has claimed nearly 400,000 lives in the United States. In Guilford County, 360 people have died, according to state health officials.
To prevent COVID-19's spread in North Carolina, Gov. Roy Cooper has issued a statewide mandate requiring the wearing of masks in businesses and limiting the number of people allowed in restaurants among other public health measures.
One Facebook post asked: "How is The Blind Tiger getting away with doing indoor shows right now?"
The club reopened in August, nearly five months after coronavirus pandemic restrictions caused it to close. 
General Manager Don "Doc" Beck said then that the club would no longer be a standing, general-admission venue, and its capacity would be reduced from 500 people to about 125.
He said that patrons would sit at table configurations for up to six people, 6 feet apart, and dine on sub sandwiches and hot dogs.
Patrons must wear masks to enter the club and when they leave their tables, Beck said in August.
Efforts to reach Beck by phone and email were not successful on Tuesday.
But an email to the News & Record on Friday before the Sunday concert from Beck and assistant Greg Gerald, said that "There will be music in a seated socially distanced area, masks required and 100% of proceeds benefit (McQueen's) family."
Anita Ramachandran, spokeswoman for the Guilford County Health Department, said late Tuesday that one of the department's environmental health managers has been fielding calls about The Blind Tiger.
On Wednesday, a representative of the county health department will go to the venue to investigate and speak with owners, said Melvin "Skip" Alston, chairman of the county Board of Commissioners.
Guilford County is the local enforcement agency for COVID-19 rules.
Alston said that he had seen Facebook video of the event. From what he had seen, "that's a very unhealthy atmosphere and it's prime for people catching the coronavirus."
The county health director told him that the club called it a religious service, and therefore rules about attendance and square footage did not apply.
But patrons did not wear masks or socially distance, Alston said. He said he saw only one person with a mask in the video.
"I think they are calling it a memorial service from a technical standpoint just to get around the ordinance," Alston said. "We know people are going to try to look for loopholes and … we have to try to close all of those loopholes."
When the health department representative visits Wednesday, it will be treated as a first offense, with a warning and a teachable moment, Alston said.
But if the club continues to host similar events with crowds, and no face coverings or social distancing, Alston said, "We will look at ways to fine them and/or shut them down, if we have to."
"If we need to put more restrictions on businesses like that to protect the public from this virus, that's what we are going to do," Alston said. 
Contact Dawn DeCwikiel-Kane at 336-373-5204 and follow @dawndkaneNR on Twitter.