GREENSBORO — Revolution Ridge is a revolution of sorts for the Greensboro Science Center.
The $15.5 million expansion will feature new animals, larger exhibits, tree houses and an elevated boardwalk — as well as close-up views of animal husbandry and new conservation projects for endangered species.
The project is expected to open to the public in late May.
The excitement building behind the scenes is evident, as workers perfect habitat water filtration, complete exhibit space and unpack veterinary exam tables for the new facility.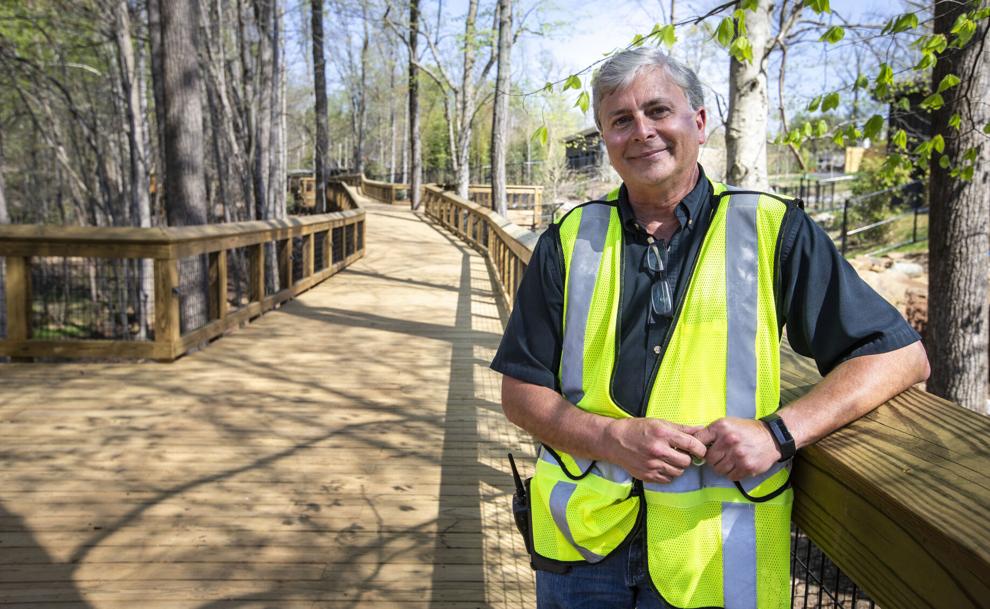 Leading a tour late last week, the center's CEO Glenn Dobrogosz tramped through the construction area, pointing out key features of the 11-acre expansion.
"Everything is built to the highest standards … to maximize the breeding potential of these species," Dobrogosz said. "These are animals that have never been in North Carolina before."
Since March 15, two pygmy hippos, an okapi, a serval and 14 Caribbean flamingos have arrived at the zoo.
Upon entering the addition, visitors will be greeted by the sound of the kookaburras, Australian birds who produce that exotic call commonly heard in Tarzan movies.
Walking along the 200-yard-long boardwalk, visitors will be treated to unobstructed views of the new pigmy hippos, native to West Africa, and two cassowaries — large, flightless birds that are most closely related to the emu.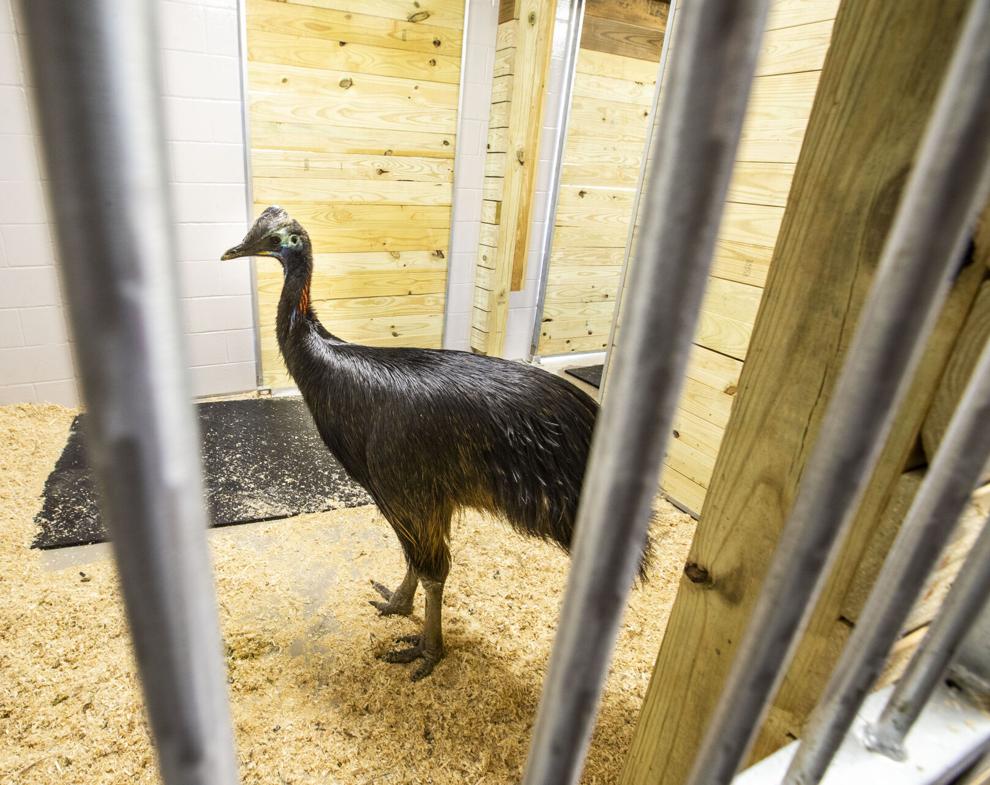 Dobrogosz calls cassowaries modern-day velociraptors. "Probably the most dangerous bird on the planet," he said.
Cassowaries, which have a powerful kick, have a dagger-like claw on their inner toe that can grow up to 4 inches long.
Their habitat will include a short span of pavement with a "cassowary crossing" road sign.
"That's the number one reason for their demise in the wild — hit by cars like a deer in America," Dobrogosz said.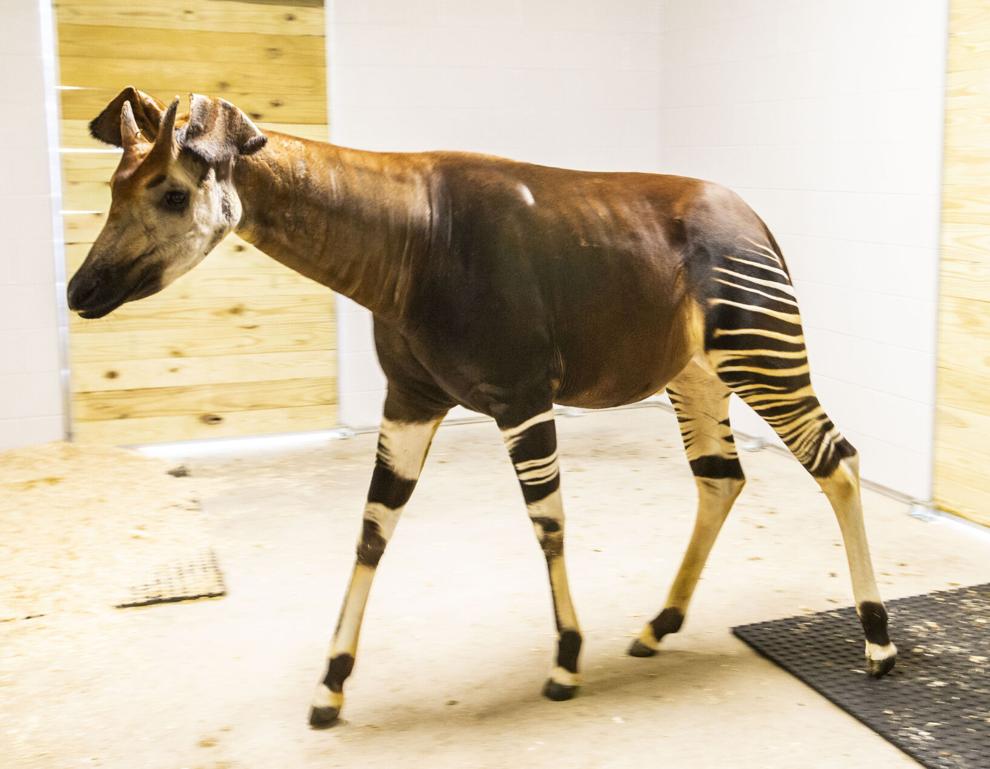 Another animal visitors will see is Bakari, the 14-year-old male okapi. The only living relative of the giraffe, okapis have striped legs similar to a zebra and are native to the Ituri Forest, a dense rainforest in Central Africa.
The animal, also referred to as a forest giraffe, is susceptible to sunburn.
"His skin feels like velvet, very unique," Dobrogosz said. "That's why there's so many trees being put (in his habitat) because they really need the shade."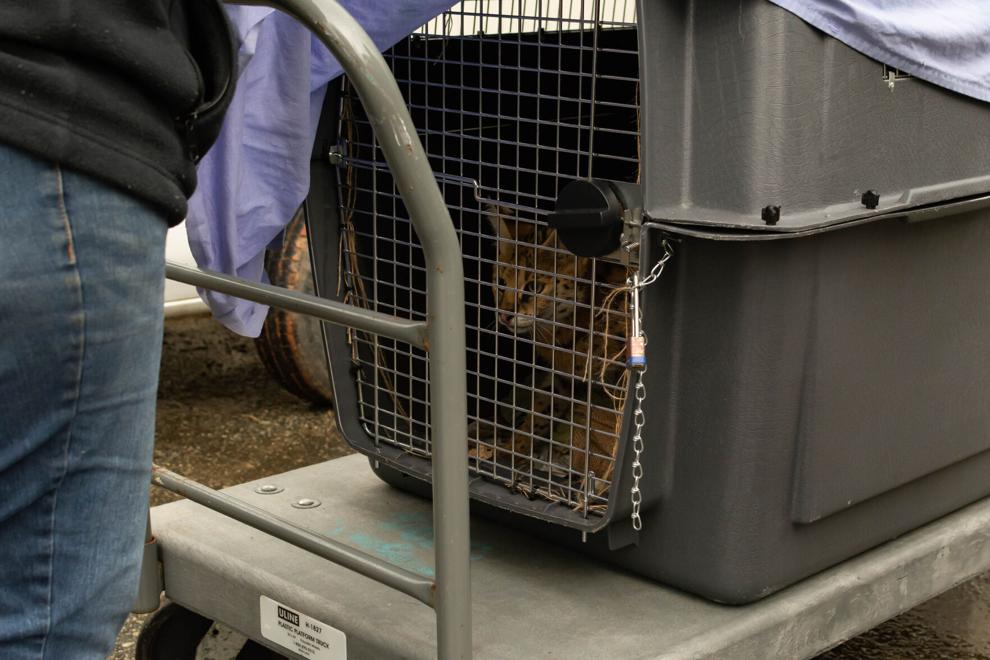 And there's more exotic animals to behold: The expansion has a small-cat complex, with space for four exhibits featuring the serval, fishing cat, black-footed cat and sand cat.
The black-footed cat exhibit is not yet definite, since it is the only species the center "has not fully secured yet," Dobrogosz said. He's hoping the zoo will be able to import captive-reared, black-footed cats from South Africa, which Dobrogosz said would add to the genetic gene pool for the Species Survival Plan breeding program.
The Species Survival Plan was developed in 1981 by the American Association of Zoos and Aquariums to help ensure the survival of selected species in zoos and aquariums.
If the black-footed cats don't arrive in time for the grand opening, Dobrogosz said the center may partner with a local animal rescue to foster cats and display them in the space for potential adoption.
The expansion's design also will allow visitors to see zoo animals from a decidedly different angle. Elevated tubes and bridges will allow the center's red pandas, serval and (potential) black-footed cats to traverse their habitats above visitors' heads.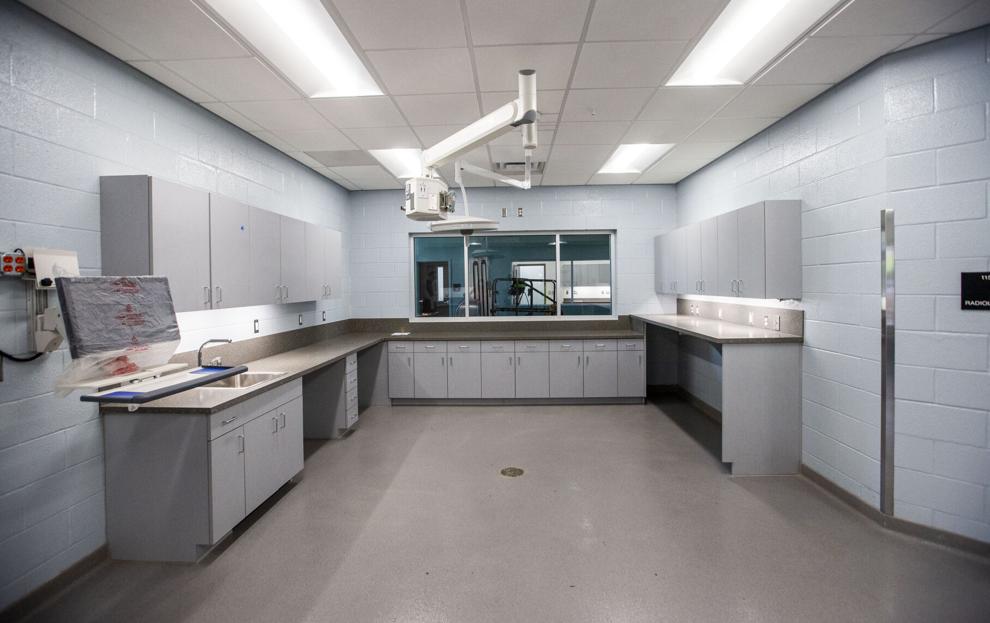 The most expensive building in the new space will house the Shearer Animal Health Center and the Tannenbaum Conservation Labs. At a cost of about $4.2 million, the building includes the zoo's new veterinary facility to care for its 1,600-plus animals.
"From the visitor's perspective, they can see every aspect of health care," Dobrogosz said. "They can see surgery. They can see treatment. They can see X-ray. They can even watch necropsy (an animal autopsy).
"We want to be 1,000% transparent to show this is the life cycle of these animals."
Necropsies will be viewable in a separate room with warning signs for parents who wish to shield children from this disconcerting fact of zoo life.
Veterinary staff will be able to talk with visitors and provide narration during live procedures.
The health center also will serve as a lab for students. The center has internship or externship programs with six veterinary schools this year, according to Dr. Sam Young, curator of animal medicine and zoo veterinarian.
The Tannenbaum Conservation Labs will feature a miniature aquarium for propagating freshwater mussels, many of which are endangered, that will be used to restore the wild population throughout the state.
Additionally, Revolution Ridge features the restoration of a wetland that resulted from a decades-old drainage basin built when Lawndale Drive was constructed. A spring fed by a natural aquifer feeds the wetland.
The discovery of that water body — which falls under strict environmental regulations — forced officials to rethink initial plans.
"It dramatically affected every building ... we were scared for a while," Dobrogosz said. "There was all kinds of things that we could not do.
"We probably lost exhibits that we were originally planning because we had to keep certain distances away. But we also wanted to preserve the wetland because it's a central feature of the conservation message that we're trying to put out there for our guests."
Decades worth of silt is currently being mucked out — with state approval, Dobrogosz said — and native species will be reintroduced.
"Right now, little fish called crappie are living in there," he said. "We have no idea how they got there. Probably in the eggs of herons (or other wildlife) brought them in. ... Nature finds a way."
Eventually, a dock will be installed to allow schoolchildren to go there with staff and take water samples and perform other science-related projects.
Speaking of kids, one area sure to be a hit is the Kiwanisaurus Tree House Adventure. The $400,000 project includes five treehouses, some with multiple stories, five platforms and bridges. Dinosaur statues, some up to 15 feet tall, will be stationed nearby.
User-friendly technology is incorporated throughout the park to help visitors understand the history, geography and science associated with exhibits.
Art also plays a big role, including laser-cut, aluminum panels spanning the front of the health center and conservation laboratory. The panels are cut in the shapes of the cells of life.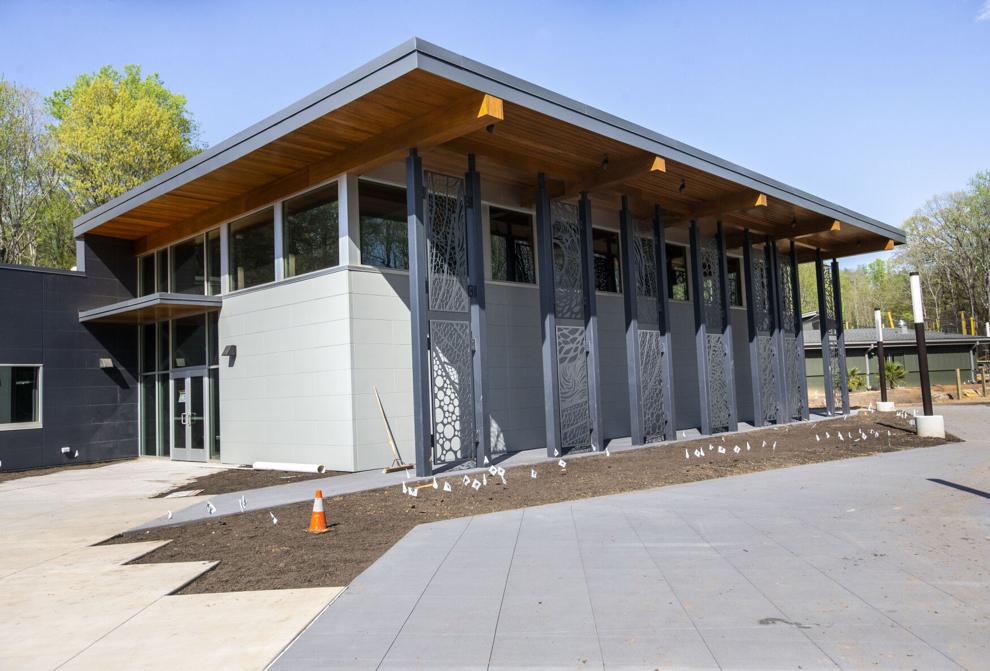 Despite the new technology deployed with this expansion, its name — Revolution Ridge — is firmly tied to the past.
It's a nod to the location. The area abuts the Guilford Courthouse National Military Park and, at a nearby ridge, musket balls were found dating back to the Revolutionary War.
But the name also ties in with the idea of freedom, Dobrogosz said. While colonists fought for their freedom, so, too, is the zoo fighting for the freedom of endangered species by educating humans about their plight.
"What (those species) want is very simple — just to be left alone in their land," Dobrogosz said. "The paradigm between human freedom and animal freedom kind of converges here."
Contact Kenwyn Caranna at 336-373-7082 and follow @kcaranna on Twitter.