GREENSBORO — With still another month left in 2020, Greensboro has seen a record 56 homicides, surpassing last year's record of 45. 
Almost all of the victims are black, and authorities say the assailants in violent crimes are getting younger and more guns are being used to commit them. 
Greensboro Police Chief Brian James said it's not just a problem for police.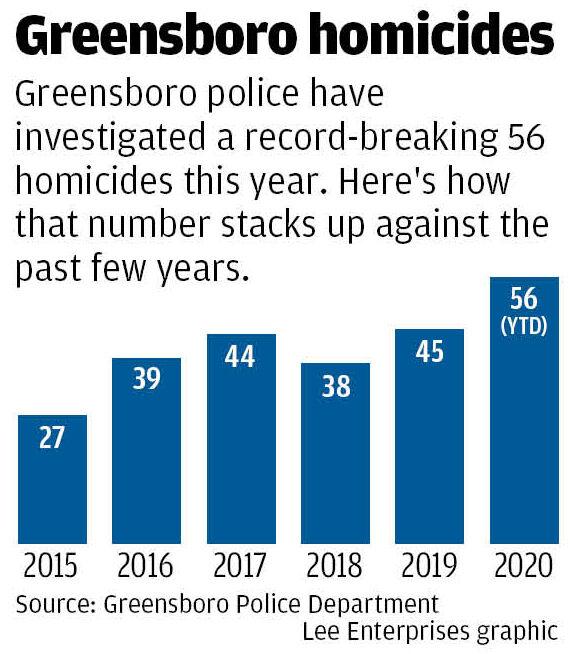 "This is a community problem and will require a community response," James said Monday afternoon during a press conference, joined by Mayor Nancy Vaughan and three city council members. 
Of the 56 homicide victims, James said six are white, three are Hispanic and 47 are Black. Thirty arrests have been made in connection to the 56 homicides. 
Despite launching a Violent Crime Strategy in May, violence in the city has only seemed to build. James said he reorganized the department to align resources from multiple divisions to better handle and solve violent crimes, as well as tasking patrol divisions to be more proactive with community policing. But it's not making the dent he hoped it would.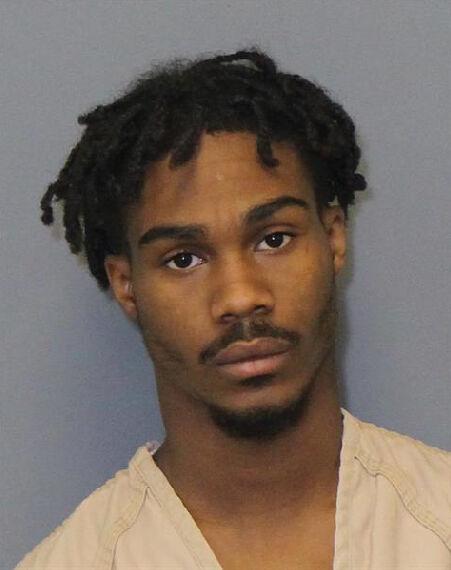 James said the courthouse shooting is an example of how "bold and brazen" the criminals they are encountering nowadays are becoming. 
"For someone to shoot somebody in broad daylight, at 11:30, right outside the courthouse, around the corner from the police department, across the street from the sheriff's office — it was insane."
The ages of the criminals they are encountering are getting younger and younger, according to James, with most being in their late teens to early twenties. 
"If you're 17 or 18 and you're using a gun, just three or four years ago, you were probably in middle school," James said. "How do you get from middle school to carrying a gun and willing to shoot people?"
The violent crimes this year inspired targeted efforts to remove guns and narcotics from the community. 
To date, James said the department has confiscated more than 1,000 guns this year.
"However, we've had approximately 1,190 assaults involving firearms, which is a 19 percent increase compared to this time last year." 
The department's efforts to tamp down violent crime is clearly not enough, James said. He added that COVID-19 restrictions on face-to-face contact have hindered officers in connecting with the community, as he'd hoped to accomplish when he took on the role of chief.
In July, James begged for the community's help in reducing senseless violence. He's still hoping for the same assistance now.
"While police are responsible for responding to violent crime, we as a community must address those factors that lead to violent crime.
"Many of those factors are rooted in access to employment, housing, education, health care and mental care."
Mayor Nancy Vaughan said that public safety is at the top of her and the Greensboro City Council's list of concerns. 
"I want people to know that we are prepared to assist the Greensboro Police Department with the tools that they need to attack this problem," Vaughan said. She pointed to gang violence and domestic violence as two major areas of concerns. 
"When we look at where these shootings occur, they occur primarily in east Greensboro," she said. "We know that we have to deploy more resources to bring every area of the city up to standard."
James said even if you don't live in east Greensboro or areas where there is frequent violent crime, it still needs to be an issue at the forefront of every community member's mind. 
"It's not your neighborhood today, but it could be your neighborhood tomorrow," James said. "If anyone in Greensboro does not feel safe in their own home we should all be concerned about that, no matter where you live."
People who have knowledge about crimes in Greensboro can anonymously call the Guilford/Greensboro Crimestoppers at 336-373-1000 to leave a tip or visit P3tips.com. 
Contact Jamie Biggs at 336-373-4476 and follow @JamieBiggsNR on Twitter.