GREENSBORO — Guilford County Schools will have a new, familiar leader.
The Board of Education voted 8-0 on Tuesday to appoint Whitney Oakley as the district's interim superintendent. School board member Pat Tillman was absent from the vote.
Oakley, the district's deputy superintendent, will assume leadership of the district on July 11. She'll serve as acting superintendent through Aug. 31, which the board said on Tuesday will be the last day of Superintendent Sharon Contreras. Then, on Sept. 11, Oakley will start as interim superintendent.
In January, Contreras announced that she would be leaving to take a position leading The Innovation Project, a nonprofit group of North Carolina school superintendents that tries to develop innovative strategies for public education.
Contreras explained after the meeting that she expects to take leave that's available to her at the end of her term, which is why Oakley will take on the duties of superintendent on July 11.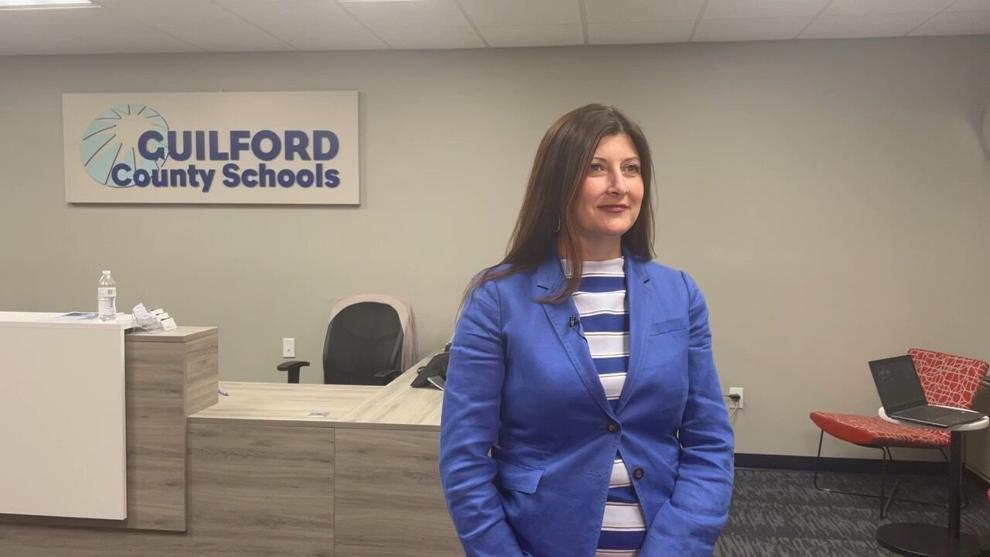 Contreras also said it's possible that the school board could identify a permanent superintendent before Sept. 1, because she thinks the board still hopes to find someone before the start of the school year.
School board members voted later in the meeting to conduct interviews with their top three choices of search firms to figure out which firm they would most like to hire to help them with their search. (Information has changed to correct an error. See correction below. 5:18 p.m. May 11.)
Oakley said after the meeting that she hasn't yet considered if she will apply for the permanent superintendent role, but the Greensboro native and Guilford County Schools graduate stressed her desire and plan to stay in Guilford County.
Oakley became the deputy superintendent last year in September. She had been the chief academic officer since November 2019, overseeing the learning of the district's roughly 70,000 students.
She has served as assistant superintendent of teaching, learning and professional development. Before that, she was the district's executive director of curriculum and instruction for pre-K through fifth grade. In these roles, she has been instrumental in implementing high-quality resources in reading and math and related professional learning for the county's teachers.
Before that, she taught and led schools as an assistant principal and principal in the Alamance-Burlington school district. Her first job as a teacher was at Frazier Elementary in Guilford County.
She has a doctoral degree in educational leadership from UNCG, a master's degree in elementary education from Greensboro College and a bachelor's degree in special education from East Carolina University.
"She is the right person at the right time," said Deena Hayes-Greene, the board's chairwoman, in a news release. "She knows the district, has shown leadership in bringing diverse groups of people together and is passionate about helping all students thrive."