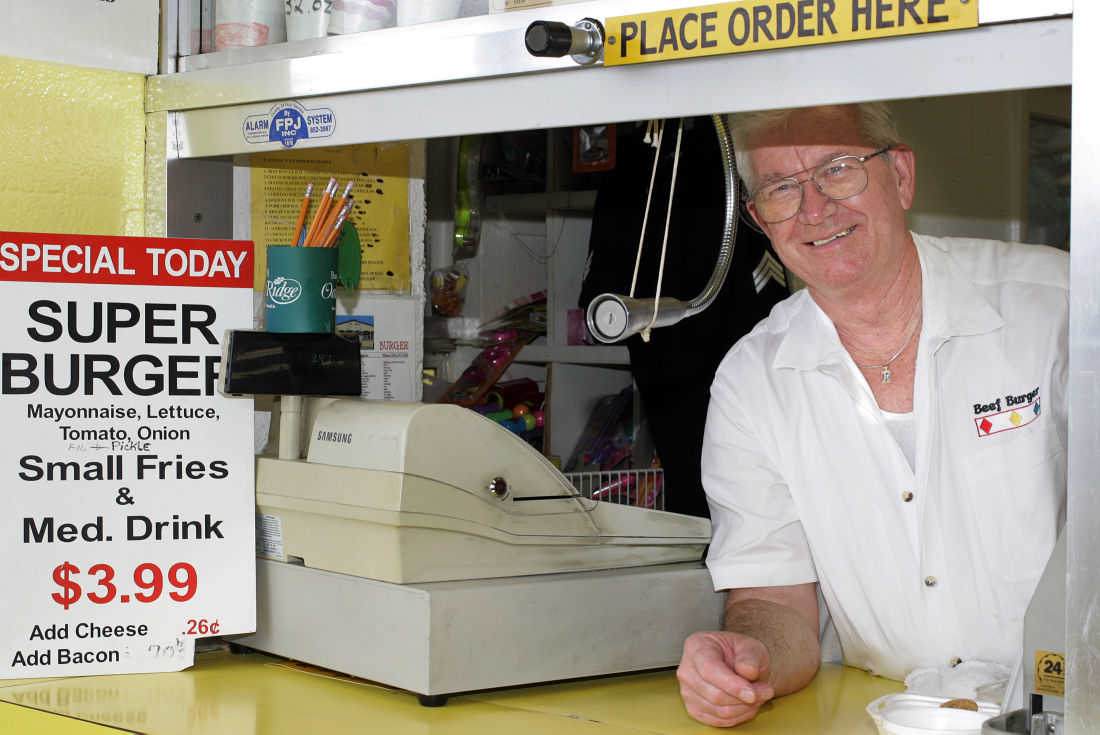 GREENSBORO — Ralph Havis, owner of the iconic Beef Burger restaurant, died Wednesday.
Havis, 78, operated the popular restaurant on Gate City Boulevard for decades and touched the lives of many in the city.
His restaurant, which closed in May, was a mainstay among long-time residents.
"A lot of people have a lot of great memories of him," his niece, Jennifer Hippert, said Thursday. "He was definitely like an icon in the community."
Annya Roland, who worked at Beef Burger on and off for several years, fondly recalled her former boss.
"He's going to make sure that you're going to do your work, but at the same time he will make sure you will have a laugh," she said. "He was more than just a boss man to me, he was more like a grandfather."
Scores of people left messages praising Havis on the Beef Burger (Biff Burger) is best! Facebook page, which has 2,000 members.
"I truly thought he would live forever ... as a kid and all through my adult life … he was at the counter," Wiley House wrote.
Hippert remembers that also.
"Seeing him behind the counter with a smile on his face … he really was Beef Burger," she said.
When rumors spread in April of Beef Burger closing, customers lined up around the building to get hamburgers dipped in the restaurant's tangy homemade sauce — and to reminisce.
Many had visited the restaurant as children, with its sloping roof, wall of windows and yellow, blue and red paint. Over the years, Havis kept the same vintage décor, with its black and white checkboard flooring and old-fashioned order and pick-up windows.
Havis, a former smoker, had a cancerous mass in his lung, Hippert said. With his health declining, he was no longer able to operate the eatery, she said.
He was 18 when he walked into the burger joint and asked for a job.
"I thought it was sissy work at first," Havis told the News & Record in 2005. "I'd only seen women cooking. ... I've changed my outlook a whole lot."
At the time, the job paid $1 an hour. In those days, you could buy a hamburger, fries and soft drink for 47 cents.
"Man, I thought I was making big money," Havis recalled.
Havis bought the restaurant in 1971, ten years after he started working there, according to biff-burger.com.
He had a soft spot for those who were down-and-out.
In a 1992 News & Record story involving a company that was bouncing paychecks, Havis noted that he had cashed $3,500 worth of the rubber checks.
"It wasn't their fault," Havis said of the laborers who had cashed the checks. "What made it worse was that they'd work these guys so hard and then pay them almost nothing. That's the reason a lot of our disadvantaged stay disadvantaged. It's just a hard, cold world."
Roland said Havis would help her out when she was struggling.
"There's been plenty of times where I wouldn't have a job and I would come to Ralph and he'd be fully staffed and he'd say, 'Well I can't put you on full time, but you come in here and work a few hours, a couple of days out of the week to make some money,'" Roland said.
Children also had his heart.
"Mr. Ralph, he loved the kids," Roland recalled. "All the kids that would come up there, most of the time they got a free toy — even if they didn't get a kid's meal, they still got a free toy.
"He didn't have to do all of this stuff for people, but he was constantly doing for the community."
When Havis first began working at the restaurant, it was part of a chain of drive-up hamburger stands named Biff-Burger — "Biff" stood for "best in fast food."
The name was changed to Beef Burger after some of the restaurants were bought by Burger King — to avoid confusion — but many residents still refer to it as Biff-Burger.
It was a family business with Ralph, wife Alma and daughter Tammie working there over the years.
"After his daughter passed (at age 33 in 1997), he and my aunt — most of their life was spent at Beef Burger," Hippert said.
Alma died in 2016 at age 69, leaving Havis to run the business alone with his employees.
"We've asked his employees to be at the viewing because that was his family," Hippert said.
Hippert said Havis was a big fan of the Greensboro Police Department and requested its officers be pallbearers at his funeral, something she was arranging on Thursday.
He also requested to be buried in his Beef Burger shirt.
"That's what kept him going all these years," Hippert said. "That was his life. His legacy."
Visitation will be held 11 a.m. Monday at Advantage Funeral & Cremation Services, 1900 Vanstory St. The funeral will follow at 2 p.m. at Advantage Funeral & Cremation Services.
Contact Kenwyn Caranna at 336-373-7082 and follow @kcaranna on Twitter.