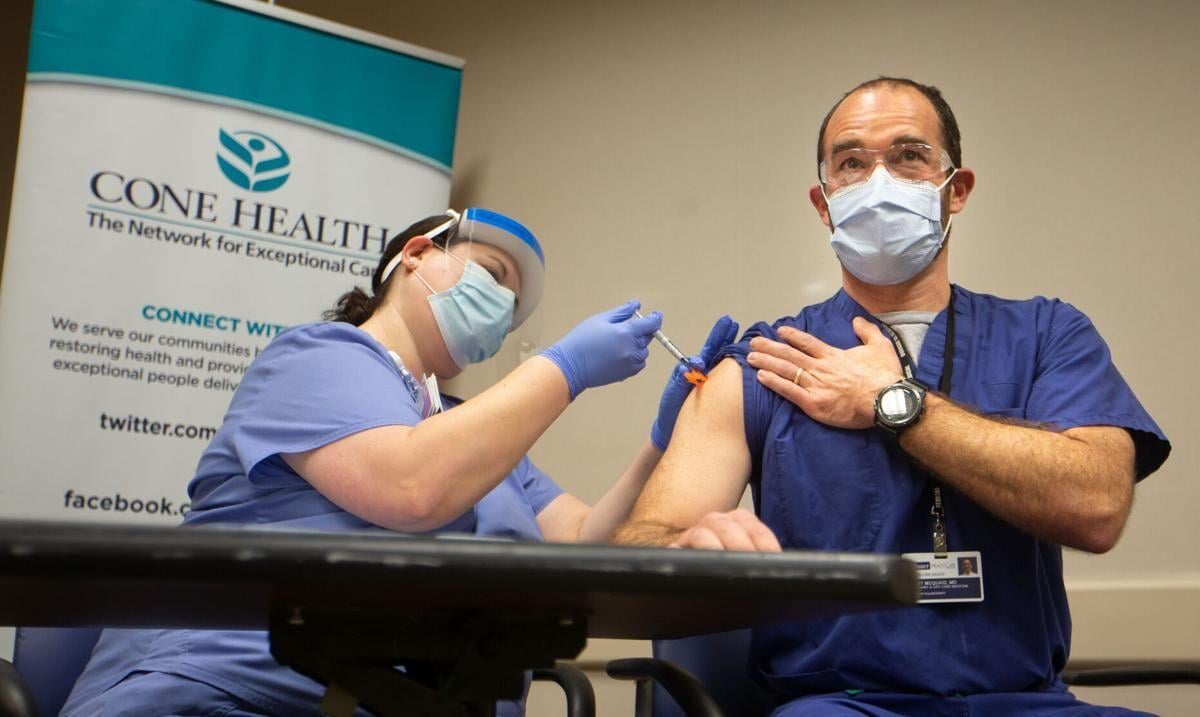 GREENSBORO — The top doctor overseeing one of only two COVID-19 field hospitals in the state is known for his professionalism and bedside manner.
So, it's neither snarky nor meant to scare when at a time when one in 10 people locally has tested positive for the deadly virus, that he says people should start having conversations with their family about what to do if they end up on a ventilator.
"We are at the highest we've seen in the pandemic," said Dr. Brent McQuaid, the chief medical officer of Cone Health's Green Valley campus, of the increasing patients who require care in local hospitals. "Everyone out there should talk to their loved ones about what they would want for themselves should they become critically ill. 
"Unfortunately when that conversation doesn't happen it puts your loved ones in a difficult position when I call and say, 'This is bad.'"
The critical care doctor said knowing simply ensures the patient's wishes are met. But the discussions are not out of bound.
While a vaccine has been approved, McQuaid, who got the shot in December when it became available locally, said he expects that the 275 patients in local hospitals for COVID-19 care will double in the next few weeks.
The deadly respiratory virus has infected more than 22 million people in the United States and led to about 371,000 deaths.
The Guilford County Health Department has verified 325 deaths related to COVID-19 and 1,160 people have been hospitalized for treatment of COVID-19 since the pandemic began, according to the most recent data available.
Cone Health officials had created a war room of sorts with staff representing every department in the multi-campus hospital system as the coronavirus became a household word and the global medical community pushed the three Ws — wash hands, wait 6 feet apart and wear a mask.
The recently vacated Women's Hospital on Green Valley Road, a place once known for welcoming new life into this world, in April became ground zero in unprecedented times. The campus is considered a COVID19 field hospital, along with one set up by Samaritan's Purse in Lenoir.
Still, holiday behavior since Thanksgiving has likely contributed to a scarcity of beds at Green Valley.
"We saw clear peaks and valleys in 2020 after holidays — Mother's Day, Father's Day, July 4," McQuaid said. "We've seen nothing but a steady climb since Thanksgiving."
In September, for example, there were a couple of dozen people being treated in the Cone Health system.
"Right this minute we have 275," McQuaid said on Friday. "The vast majority has come since Thanksgiving." On Sunday, 255 COVID-19 patients were hospitalized at Cone Health facilities, according to its online dashboard.
Having a vaccine sooner, having more people in masks — that and more all could have helped, he said.
"The risk of a life-threatening allergic reaction is minuscule," McQuaid said. "It's something we talk about but it's unlikely to happen."
After getting his shot, the doctor experienced mild symptoms of soreness where he was injected and a day of body aches.
"I feel fine," he said after getting his second and final booster shot last week. "If you think about the consequences of what COVID could do, then it's worth it to take the injection."
Contact Nancy McLaughlin at 336-373-7049 and follow @nmclaughlinNR on Twitter.