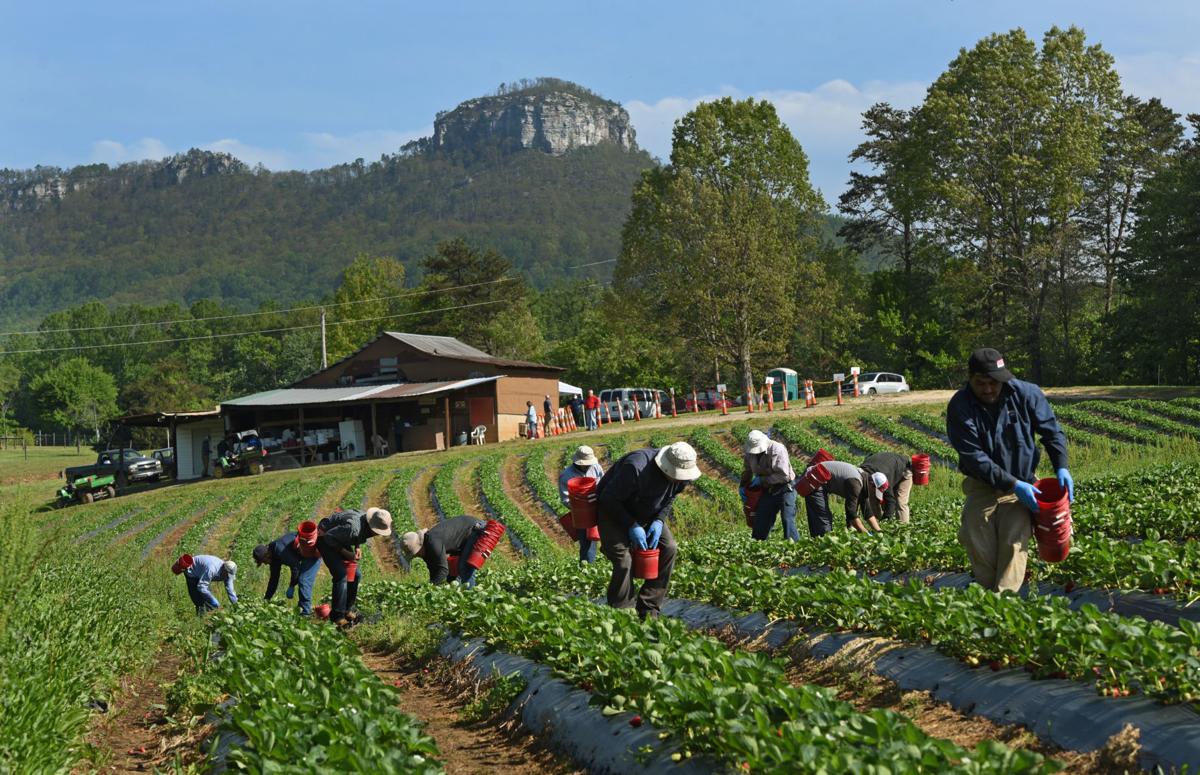 Advocates for migrant farmworkers in North Carolina are urging state and federal agencies to protect those workers amid the new coronavirus pandemic.
The Rudd Strawberry Farm in Guilford County has temporarily closed after eight of its workers tested positive for COVID-19, state health officials said earlier this week. The spread of the virus was related to the on-site housing for its farmworkers.
The N.C. Department of Health and Human Services has listed the farm as Guilford County's fourth "congregate living facility" with an ongoing outbreak of COVID-19, according to the agency's website.
The first positive case of the coronavirus in a seasonal agricultural worker was confirmed earlier this month by a health clinic in Harnett County, according to a news report.
The clinic, CommWell Health in Dunn, didn't identify the worker, citing federal medical-privacy laws. The worker, who lives in North Carolina, was quarantined during his or her illness, the clinic said.
A farmer in Forsyth County said he has taken measures to protect his workers from the virus.
The Farmworker Advocacy Network sent a letter on March 31 to Gov. Roy Cooper, urging him to enact five of its recommendations to protect the farmworkers who provide food and agricultural products that state residents and North Carolina's economy need.
FAN is a statewide coalition of 20 organizations that addresses the barriers that field and poultry workers and their families face, according to its letter to Cooper. There are an estimated 80,000 to 150,000 migrant and seasonal farmworkers in North Carolina each year, the network says.
Farms are considered essential businesses under Cooper's stay-at-home order amid the COVID-19 outbreak.
In 2017, there were 159 farmworkers in Forsyth County, and 449 farmworkers in Guilford County, according to statistics compiled by the N.C. Department of Commerce. Throughout Northwest North Carolina, there were 5,692 farmworkers in 2017.
Last year, there were 16 farms that produce strawberries, blackberries and blueberries, according to the Forsyth County Cooperative Extension Service. There are five tobacco farms, and more than 20 grain farms in the county.
No COVID-19 cases has been reported on any Forsyth County farm, said Tony Lo Giudice, the assistant director for the Forsyth County Department of Public Health.
"Farmworkers usually live in very isolated areas and often have little to no contact with anyone other than their employer and the crew of workers with whom they live and work," according to FAN's letter to Cooper. "Their working conditions make them particularly vulnerable during the pandemic because they work in close proximity to each other and have little opportunity to take breaks to use the bathroom and wash their hands."
The majority of the migrant work force hasn't arrived yet in Forsyth County, said Tim Hambrick, an agent with the Forsyth County Cooperative Extension Service.
They are not yet needed on the farms or they haven't cleared customs at the points of entry on the U.S. border with Mexico, Hambrick said.
FAN is recommending that state officials provide migrant farmworkers access to health-care services and high-speed internet; ensure that workers are not put at risk in their employer-provided housing; ensure that workers are able to protect themselves from exposure to the virus while they are working; protect workers who get sick from retaliation and take additional steps to protect the state's essential farm, poultry and livestock processing workers.
Workers need access to the internet to get quick information about the virus and state and federal health agencies, FAN's letter said.
The networks sees other potential issues as well.
Growers in the state are urged to follow the guidelines issued on March 26 by the N.C. Department of Health and Human Services to prevent the spread of the virus among migrant farmworkers.
"We are concerned, however, that many housing providers will not comply with the recommendations for various reasons, including the cost, unless they are required to do so," FAN said in its letter to Cooper.
"Because many farmworkers are housed in barracks-style housing with shared showers, shared toilets which are not required to have partitions, shared laundry, shared food preparation facilities, and shared sleeping areas which only require 50 square feet per person in order to be legally acceptable, any delay in separating workers who are symptomatic or known to have been exposed could have disastrous outcomes," FAN said.
Marvin Eaton, who grows strawberries and tobacco on his farm in Belews Creek, said he expects 18 migrant farmworkers to come to his farm by May 1 to harvest his strawberries. Those workers will live in two houses on his property, and those houses have been sanitized to protect them from the virus, Eaton said.
"I'm scared to death about this coronavirus," Eaton said Tuesday.
Officials from the N.C. Department of Labor have inspected those houses and approved those sanitary conditions for the workers, Eaton said.
Most local farmers will adopt the best procedures to reduce risk of infection from the virus, Hambrick said.
The N.C. Department of Labor is urging farmers to develop a plan to care for and isolate sick farmworkers, to educate themselves, family members and farmworkers about the COVID-19 and to prevent the spread of the virus with social distancing in the workers' housing units.
The standards that Eaton and other growers follow are not stringent, said Justin Flores, the vice president of the Farm Labor Organizing Committee in North Carolina.
"We are pushing employers (farmers) that they should have cleaning supplies when the farmworkers arrive," Flores said. "We are collecting supplies to do some drop-offs."
State health officials also are recommending that farmers provide hand sanitizers, tissues and lined trash bags for their workers.
A coalition of more than 30 nationwide organizations that also are advocates for migrant farmworkers urged the Trump administration to enforce all federal laws and protect workers during the coronavirus pandemic. The coalition, including the N.C. Justice Center, sent a letter on March 25 to the U.S. Departments of Labor, State and Homeland Security.
"The H-2A workers and U.S. workers who migrate to H-2A employers travel long distances for jobs that now pose major risks of illness and death," the coalition said in its letter. "Failure to take proactive steps now could be catastrophic, not just in terms of the human cost, but to the rural communities in which migrant farmworkers live, the fragile health care system, the entire multi-billion dollar agricultural business, and to everyone that it feeds."
The nation's roughly 2.5 million agricultural laborers have been officially declared "essential workers" as the Trump administration seeks to ensure Americans have food to eat and U.S. grocery stores remain stocked., National Public Radio reported on Friday. Workers on the H-2A seasonal guest-worker program are about 10 percent of all farmworkers.
President Trump's 60-day ban on immigrants seeking green cards exempts migrant farmworkers, according to news reports.
The coalition is recommending that the Trump administration ensures safe housing for the workers; ensure that the workers' transportation into and within the United States complies with federal health guidelines; ensure that workers follow social distancing; ensure paid medical treatment for COVID-19 patients among the workers and ensure that employers and recruiters provide workers with accurate information about the virus during the hiring process.
Carol Brooke, a senior attorney with the N.C. Justice Center, said that neither Cooper's office nor the federal Departments of Labor, State or Homeland Security has responded to FAN's or the coalition's letters.