GREENSBORO — When the next Guilford County Board of Commissioners is sworn in on Dec. 7, Melvin "Skip" Alston will begin another term on a board that is about to change dramatically.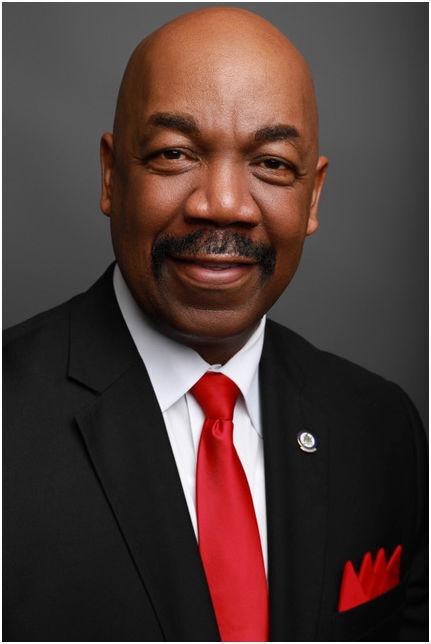 For the first time in eight years, the board will be dominated by Democrats and will likely have a Democrat as chairman. Alston is the leading contender. He served on the board from 1992-2012 and served for five years as chairman. 
He returned to the board in 2017 and was re-elected on Nov. 3 unopposed for a four-year term representing District 8. 
Alston's resume is four pages long and includes starting his own real estate company at 25, serving as the first Black chairman of the county commissioners, and having major leadership roles in the local, state and national NAACP branches. He served for six years as a member of the NAACP National Board of Directors. 
Alston, 63, is also well known as a co-founder of Sit In Movement Inc., the nonprofit that bought and renovated the historic Woolworth building downtown and turned it into the International Civil Rights Center and Museum, which opened 10 years ago. 
The Board of Commissioners lost two of its Republican members when Chairman Jeff Phillips and Commissioner Hank Henning decided not to run for reelection. Democrats won their seats and Republican Commissioner Alan Branson is in the midst of a fight to retain his seat, currently sitting 70 votes behind Democratic challenger Mary Beth Murphy. If he loses, the board will have a 7-2 Democratic majority.
Alston sat down for an hour-long interview recently and touched on topics from the pandemic to relations between Guilford County and its cities. The interview was edited for space considerations: 
Have you begun an effort to become chairman of the new board?
I've told them I would be available if that's what the majority of the board wants. It's not something that I've aggressively been seeking but the senior persons on the board said they would support me. Now I have to just get out and talk with the new members of the board and that's what I plan on doing. I don't take anything for granted.
Do you want to make the board less political than it's been for eight years? 
That's a total goal of mine. And it's basically picking up where I left off when I was chairman from 2008-2012. I had been on the board for 16 years at that point, and I always tell people my last four years were my best four years. Only because I formed that relationship with the Republicans. (Republican Commissioner) Steve Arnold and I got together in 2008. I called him to my office and sat down and talked and I told Steve, 'You're the most senior Republican on the board. I'm the senior Democrat on the board. How can we put partisan politics aside and work on behalf of the people?'
We got along great the last four years I was on that board and I was chairman. And that's what I want to bring back into these next couple of years.
Even though we probably have only two Republicans on the board. I've already talked to (Commissioner) Alan Perdue. I've said, 'Alan, you've got the most experience on this board in EMS services because you've worked it for 40 years. I'm gonna be leaning on you if you support me or not. But you are an important part of this board and your experience is going to be very valuable and I'm hoping you don't clam up on me.'
My whole thing this next year is going to be 'one Guilford County.'
I'm trying to bring the Democrats and Republicans together not only on my board but I also want to bring local government together.
With my experience, I think that I owe it to the board to present myself as a possibility to be chairman so we can get out of this situation, specifically the COVID situation. I want to aggressively address that problem and work with the cities and the school board to do what we need to do.
Leaders in Greensboro and Guilford County have not gotten along well in recent years. Do you think the division between Greensboro and Guilford is a purely partisan divide because the city is Democratic and the county is Republican?
I think that has a lot to do with it, but it's more about philosophy and your mindset. The Democrats have a certain philosophy of what they want to try to do for the citizens of Guilford County, and Republicans have a mindset of what they want to do. So it clashes. Therefore you don't talk to try to work out the differences.
When you became chairman in 2008 how did the character of the board differ before you got the Republicans and Democrats talking and working together?
The Democrats controlled the board for 18 of those 20 years. We only were in the minority from 1996 to 1998.
We had a pretty good relationship with them. We didn't have the relationship that we needed to have but we were a whole lot closer than we are now over the past eight years.
We reached out to the cities and tried to involve them in a lot of our decision-making ideas.
The next two years is gonna be critical. My first goal is to make sure we get this virus under control. My second goal is to get a task force formed for a school bond task force.
The county cannot lead it. But I'm going to put that responsibility on the chambers of commerce and the business community to form a task force starting in January in order to promote this bond referendum of $1.7 billion. (Guilford County Schools has said it needs up to $2 billion to address maintenance issues and build new schools.)
What kind of message would that send to our business community and the people looking into Greensboro and Guilford County to relocate their businesses? That will send a message that these folks care about their schools, they care about their kids. 
What do you think was your finest moment during your earlier years on the board and what do you think was the lowest moment during those years?
My highest moment was those last four years, when I put aside partisan politics and started working with the Republicans as fellow colleagues and put the people first and not partisanship.
It really got me to be a little bit more open, to be honest with you ... when America elected the first Black president. That showed me we could come together in spite of race.
My low point? That was during the board with conservatives Steve Arnold, (Commissioner) Billy Yow, the shouting matches that we had during that time. I don't regret it, because you have to do what you have to do in that moment in time.
Some people said back then that was such a spectacle that even businesses would look at the area and maybe be a little scared off by it.
I agree. But at the same time, like I said, you can't let that blatant racism win the day. You have to speak out against that and then repair it. But at that moment when you see something like Billy did as far as (having a role in marketing) that T-shirt with a Confederate flag and somebody urinating on the letters of the NAACP. No. You don't let stuff like that go unchallenged. I have to look at that man in the mirror too.
Is there any part of your style that you will change going forward?
I think with this upcoming board I want to be a mediator. I want to be a leader. At the same time I still reserve the right to speak out accordingly when I see something that's wrong, because I know 100% of the time things are not going to go right. You're going to have some people, even Democrats, that's going to do some things or say some things that might not be the right thing to do or say. So my goal is to try to bring my leadership and use my experience on the board to make Guilford County one Guilford County. And that is working together.
Guilford County can't do it all by itself. We have to have some buy-in from Greensboro and High Point.
High Point is the furniture capital of the world. They've got to be known for even more than that. We've got to build on that. Greensboro is the home of the ACC. We and all of our colleges and universities. Let's get together and get us a vision. Let's start doing it in January.
Don't wait. Put together a task force in order to do that.
Can you enhance the county's image and work on the pandemic at the same time? 
We can chew gum and walk at the same time. We don't have to leave our house. You can do it on Zoom.
I don't know how much money we'll get from the federal government anymore. But any money we get we have to use it more wisely than what we did. We did some good things as far as the $93 million (from the CARES Act) that we put out there but I don't think that we were inclusive on our ideas on how to spend that money. We should've involved Greensboro and High Point a whole lot more.
We took it upon ourselves to know what's best for all of Guilford County rather than respecting the local officials in those areas.
I'm ready willing and able but I can't do it by myself. We're not gonna always agree but at least we'll have the opportunity to discuss it.
Contact Richard M. Barron at 336-373-7371 and follow @BarronBizNR on Twitter.