GREENSBORO — In February, shortly after he took office, Greensboro Police Chief Brian James envisioned having his officers spend time walking through neighborhoods, getting to know the people they're tasked with protecting.
"Hopefully it'll be warm in a month, you know the days get longer, and that will give us some great opportunities to go out in communities and actually talk to people and find out what's going on," James said. "And really, if nothing else, just build up some trust."
Less than a month later, the novel coronavirus sunk its teeth into the state, forcing the new police chief to cancel the remaining community meetings he had scheduled throughout the city.
And as he and other law enforcement leaders scrambled to institute new sanitation procedures to protect both officers and the public from the highly contagious disease, the death of George Floyd, a Black man, at the hands of white Minneapolis police officers, sparked a fire in the fight against racial injustice that raced across the nation.
Five days later, Greensboro police officers in riot gear were facing angry protesters just blocks away from James' office. A few threw rocks at officers, others vandalized cars and businesses and looted stores. The city soon imposed a weeklong citywide curfew to curb further destruction.
This year has challenged law enforcement leaders like James with a double-menace: the new coronavirus and age-old racism.
And the former is complicating efforts to address the latter, law enforcement leaders say. Social distancing has made informal in-person conversations difficult for officers and the communities they serve.
"We gotta figure out how to get back outside of those cars because I think community policing is the key to everything, especially right now," James said in a July 6 "Coffee with the Sheriff" YouTube video with Guilford County Sheriff Danny Rogers.
Rogers agreed, saying he believes "going through the community, and meeting people in different parts of the community, gives them an opportunity that allows their voices to be heard."
Both leaders are forming advisory panels. Rogers is forming a panel with representatives from various backgrounds to express concerns and make suggestions. James is looking at forming a faith advisory board, partnering with clergy in the community who may have a better rapport with residents, he said in the video.     
James was interviewed by the News & Record in February, but declined a second interview earlier this month.
Greensboro Rising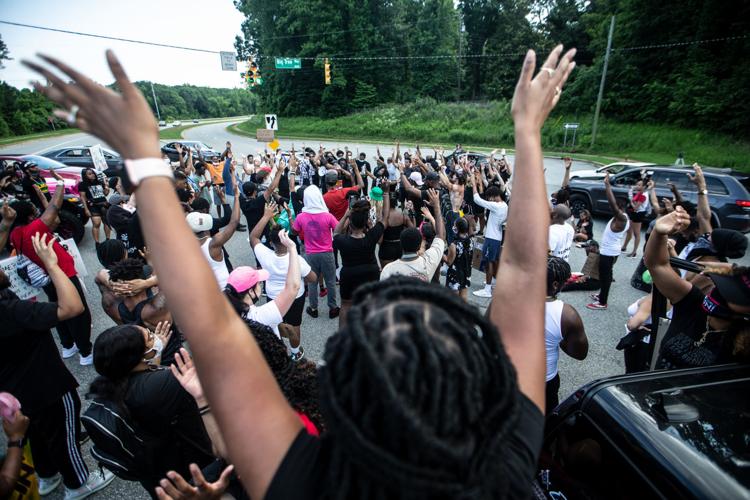 But community policing and advisory groups aren't enough, critics say.
The 38-year-old man died in 2018 after Greensboro police officers restrained him by binding his hands and feet behind his back. Smith's family is suing Guilford County, the city of Greensboro, eight officers and two paramedics, alleging they violated the homeless man's constitutional rights by improperly restraining him and failing to treat his medical issues.
The city and county recently lost a motion to delay the lawsuit. 
Citing the ongoing lawsuit, James would not publicly comment on Smith's death.
Among Greensboro Rising's other demands are greater transparency and more data sharing from police, eliminating arrests for marijuana possession, treating homeless, LGBTQ and gender nonconforming people with dignity, and eliminating chokeholds. 
Use of chokeholds

In June, James announced policy changes he's implemented to address some of the concerns.  
They included specifically banning chokeholds, which apply pressure on the windpipe and restrict breathing.
"Those methods were never authorized," James said, adding that the new language was to "ensure that that language is clear."
Other law enforcement officials also said they don't use the controversial tactic.
Rogers said his deputies are not trained to use chokeholds, though there is no specific ban on the procedure.
Rogers said he wouldn't rule out its use under certain circumstances. "If somebody is getting the best of them, and that's the only way I can get you off of me, then guess what, I'm going to do what I need to do to get you off of me.
"People are going to defend themselves, whether it's a citizen or law enforcement," Rogers said.
High Point Police Chief Ken Shultz told the city's public safety committee that his department has banned chokeholds for 31 years.
According to the department's policy, "any compression of the neck that restricts a person's airflow is prohibited unless deadly force would be authorized."
Shultz, who retires Aug. 1, declined through a spokesperson to speak with the News & Record.
At the Highway Patrol, 1st Sgt. Michael Baker said in an email that the agency has never trained officers to use chokeholds. However, it has suspended the use of vascular neck restraint — which can restrict blood-flow to the brain and render a person unconscious — pending further review, Baker said.
Excessive force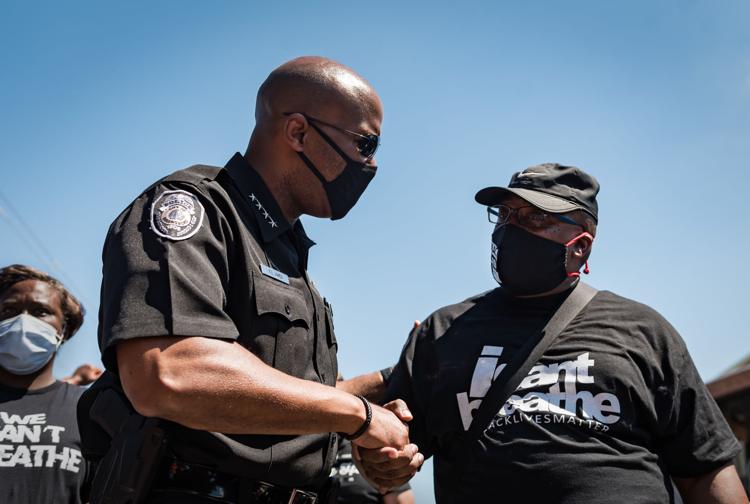 In Greensboro, another policy change James implemented is to require officers who witness an excessive use of force to intervene verbally or physically to interrupt the act. They also must notify a supervisor.
Officers already were required to self-report any use of force so the incident could be investigated, James said.
At the sheriff's office, deputies involved in a use-of-force event, his or her supervisor and those who are witnesses all must complete a report regarding the incident, according to an email from the sheriff's office. Those reports are compiled and sent through the chain of command for review, the sheriff's office said, and become a permanent part of the deputy's personnel file.
A question about whether the sheriff's office policy requires deputies to intervene if excessive force is observed was not answered in the emailed response from the sheriff's office.
In 1993, Rogers was fired from the High Point Police Department after allegations surfaced that he left his assigned patrol area and punched a suspect he was trying to restrain. Rogers has openly acknowledged he's had his own run-ins with the law, including traffic violations, ABC violations and domestic violence charges that were dismissed or settled.
Col. Glenn McNeill, who commands the Highway Patrol, said he implemented a policy on June 10 that requires troopers to intervene and to report misconduct of any law enforcement officer, both internally or externally.
The agency routinely works with outside police agencies and was at 28 separate protests statewide on one Saturday last month, McNeill said.
"I wouldn't say that (the policy changes are) a result of the protests," said McNeill, a Reidsville native. "It's more-so to be more transparent and to clarify and to add greater accountability for the organization."
In High Point, the chief recently added a mandate for officers to physically intervene "in an effort to stop unreasonable action" and report the incident to the commanding officer or chief.
"This was one that was added … to address the concerns that are happening now," Shultz told the public safety committee in late June. However, he added, "This has always been a part of our standards of conduct."
Shultz clarified that use of force is "anything more than mere restraint, and again mere restraint is holding on to somebody.
"If I've got to pull him, if I've got to take him to the ground, they're reporting that to a supervisor, that supervisor is documenting it, it's going up the chain (to the chief's office)," he said at the meeting.
Transparency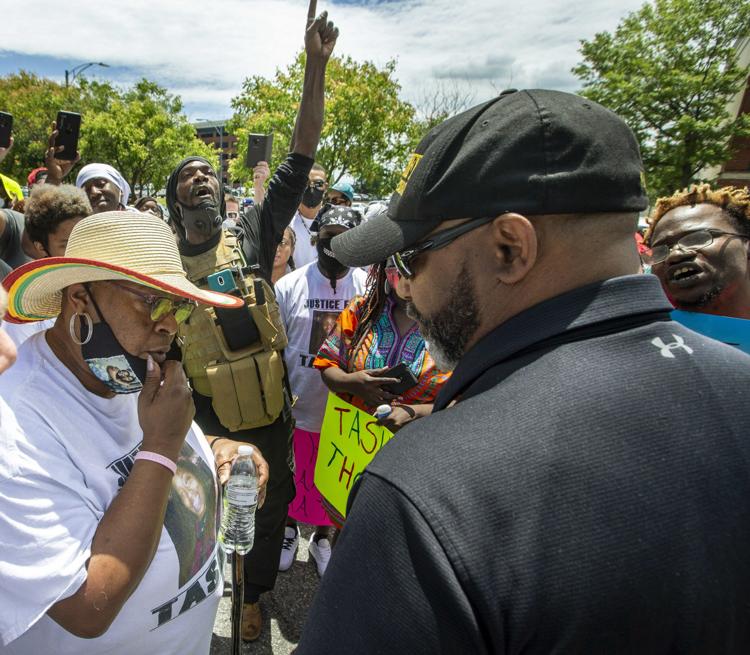 The protests also have spurred calls for agencies to be more transparent.
During a Facebook Live panel discussion with the Greensboro NAACP June 15, James said "any data that we have that is public, which is really just about all of our data, anyone can request it at any time."
One area — incidents involving sexual orientation or gender nonconforming individuals — is not included in that paperwork.
"We do not identify sexual orientation in any of our paperwork," James said. However, in the areas of gender and race, he said, the data can be broken down.
"That information is always available," he said, adding that the department issues an annual report that includes information about uses of force and complaints.
James also noted that anyone can contact the city's Police Community Review Board directly to have their complaint reviewed. However, any recommendations are advisory, and Greensboro Rising wants to see the board given subpoena power by the General Assembly.   
Rogers, who oversees the county's jails, said the department is adding body cameras for detention center officers beginning about Sept. 1. "That would continue to prove that we are very transparent and help out with incidents that may occur," Rogers said during the NAACP panel discussion.
The issue of camera footage inside the jail came up when marchers recently gathered outside of the Guilford County Sheriff's Office demanding justice for Tasha Thomas.
Thomas died May 2, 2018, three days after being jailed on charges of probation violation and possession of a controlled substance. Her mother, Rochelle Thomas-Boyd, sought to see surveillance video taken inside the jail before her daughter's death, which the medical examiner concluded was from natural causes. Thomas-Boyd disagrees, alleging her daughter was mistreated.
Sepsis "does not break bones. It does not pull hair from the roots," Thomas-Boyd said at the rally.
Her attorney, Reginald D. Alston, said he'd arranged to look at the footage this week at the sheriff's office.
Defunding the police
Another demand from Greensboro Rising is "defunding the police." This would divert law enforcement money to organizations acting as alternatives to police interventions in the areas of mental health, sexual harassment and domestic violence, as well as funding recreation centers.
"I think a lot of people are jarred when they hear 'OK you're going to get rid of the police, and then the next day I'm not going to have anyone to call if something goes south,'" Casey Thomas said in the discussion.
"We can invest in all of these other things, as we are decreasing the police budget," Thomas said. "We can do this in a way that doesn't leave people hanging and that puts that money where it needs to be and where it cares for our folks."
The issue of abolishing the police department also came up in the Zoom discussion.
"I come to this with the perspective that we've got to start all over," said Amelia Mattocks, a white member of Greensboro Rising. "What is in place now is not working.
"My friends who are Black are scared and are harmed every day by an overinflated and funded police force," she said. "I just think that there's no other way to get everybody safe."
Attorney Kahran Myers-Davis, an organizer with the group, said its members include both abolitionists and reformists. "At this point our demand is for the defunding of the police and the reallocation of those funds to our community, through the passage of our 10 demands."
Both James and Rogers said reducing their budgets would most likely mean reducing their staffs and cutting officer training necessary to meet the needs of the community.
"Defunding the organization is putting the residents and citizens at risk," Rogers said.
"I could call 911 (and hear) 'Please hold, your call will be answered by the next available operator,'" Rogers said. "I don't want to hear that. I need (a deputy) now."
Mental health
James said at a news conference last month that he wants to begin offering Greensboro officers monthly access to mental health counselors and requiring a psychological assessment for officers every five years.
"We need to make sure we're supporting them as well." The stigma of officers seeking mental health care needs to be broken, he said.
"The bad police behavior that you've seen nationwide, that department probably has a policy that prohibits that behavior," James said. "That's why we go back to making sure we have the right people, and making sure that those people remain in the right frame of mind to do police work."
"Mental health is real, whether it is people that are brought in from off the street, or whether it is people who work within this organization," he said. "If they need health care, whether it's mental health, or it's cancer, then I can encourage them to go."
However, Myers-Davis said five years is too long between psychological assessments. Reallocating that money to the mental health providers for the community would allow everyone to benefit, including police officers, she said.
Officer training
All of the law enforcement agencies said they train officers how to de-escalate situations that could turn violent.
The training is part of the state's Basic Law Enforcement Training course, required by all sworn law enforcement officers in North Carolina. The four-month course includes practical exercises and training in ethics and constitutional law, among other things.
All members of the Greensboro Police Department underwent implicit bias training about five years ago, James told the NAACP panel. The department also sends individual officers to racial equity and bias recognition training.
"I'm in the process of trying to get racial equity training for the entire department, which is, like I say, close to 800 employees," James said during the discussion.
Rogers said he's working to bring in the racial equity trainers to help his deputies identify racial bias and aid their ability "to respect and listen."
Hiring more minorities
Law enforcement was already struggling to recruit more minorities, and recent events like George Floyd's killing could make that even more difficult.
Fewer minorities in law enforcement can translate into less understanding of minority communities, said Lynda Williams, president of the National Organization of Black Law Enforcement Executives.
"We are supposed to be part of our community," Williams said. "If law enforcement can be recruited out of that community, then that gives a better perspective to law enforcement because you understand the community, you understand the culture, you understand the people," Williams said.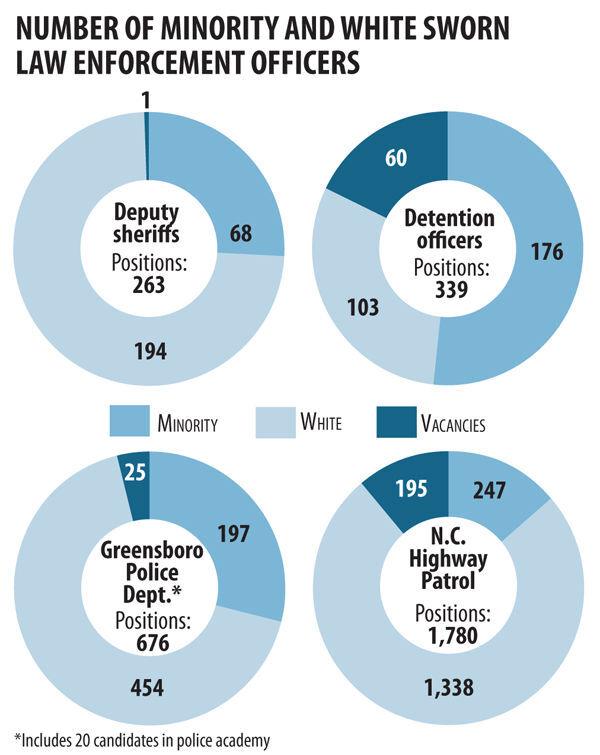 When officers aren't drawn from the community they protect, "that's a challenge for their management to make sure they're indoctrinated into that culture," Williams said. "Just because something is done differently, … it's not an abomination, it's cultural."
Rogers said one way he's trying to boost the number of minorities is by paying deputy candidates to go through the Basic Law Enforcement Training, which he said costs $3,600 per student.
"Many Caucasian applicants would come to the sheriff's office BLET certified, while many of the Black and brown people couldn't get the job because they were not certified," he said.
"We flipped it," Rogers said of the change he instituted eight months ago. "Now we're hiring, and we are sending people to school. So far, we have had 100% graduation within a year."
He said since he took office in December 2018, the percentage of minority patrol deputies has increased about 15%.
At the Highway Patrol, McNeill said he hopes to capitalize on the recent protests with a hiring campaign that emphasizes being part of the solution.
"Be the change!" the patrol's latest flyer proclaims.
Community reaction
Those critical of policing are watching closely to see concrete action from its leaders, as well as legislative leaders.
"We aren't interested in platitudes or declarations. We're seeking permanent change that is supported by the full weight and authority of local law," Myers-Davis said.
While James' policy changes are helpful, Myers-Davis said, Greensboro Rising wants them written into law, so that the next police chief won't be able to quietly do away with them.
"Our demands have never been to the police chief as an administrator, but to our City Council, who we are calling on to govern as though Black Lives truly Matter," Greensboro Rising said in a recent statement.
The statement indicated the group has gotten promises for action from some council members on its demands on:
• Functionally decriminalizing marijuana. The group wants officers to stop charging people for possession of marijuana.  
• Requiring officers to get written consent before searching people without probable cause.
• Setting standards for a strong use-of-force policy.
Marcus Hyde, a founder of the Homeless Union of Greensboro, said the fact that the city is still fighting the lawsuit over Marcus Smith's death proves it's not serious about changing.
"This is the same rhetoric," Hyde said. "Until we do something about qualified immunity, a lot of these fights will continue."
Marilyn King-Lewis, associate minister at New Zion Missionary Baptist Church, said she's hopeful James will make a difference in Greensboro.
"If you're showing up to listen to things that are going on in the community … I feel then that you will listen and you want to be a part of that," she said referring to James' community meetings.
And while she said she hadn't heard much about how the highway patrol is being run, she did express skepticism of Rogers. "I haven't seen that (community interaction) with Sheriff Rogers," she said.
Williams said little will get resolved in addressing systemic racism in our culture and in law enforcement until it's recognized as a problem by everyone.
"If you talk to certain factions of people, they don't think there are social injustices, they don't think there's systemic racism, they don't think that racial injustice happens," she said.
"Until everybody can acknowledge there is a problem, we're going to be always talking to a wall."