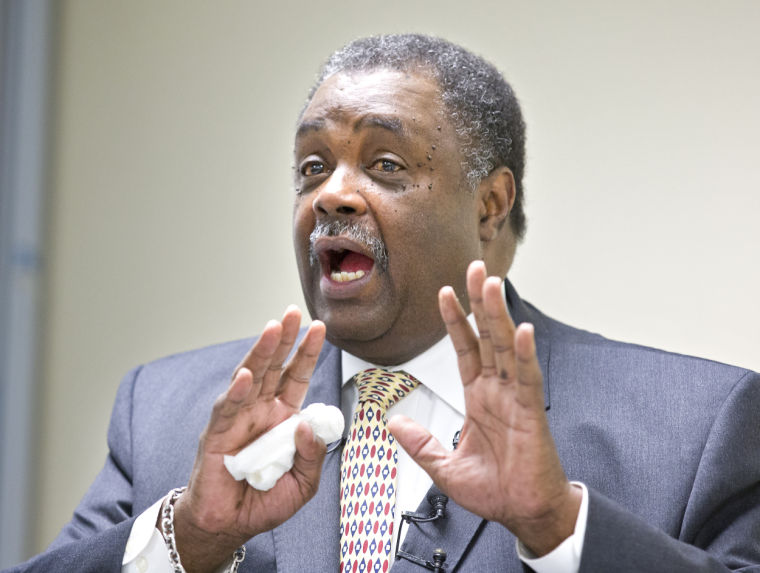 GREENSBORO — Guilford County officials said Friday that a backlog of food assistance recertifications is down to 3,100, from 8,100 earlier this week.
"We feel rather confident that we will and we are on track to meeting the deadline of March 31," Robert Williams, the director of the county's Department of Social Services, said at a news conference.
The state could lose $88 million in federal money if the backlog isn't cleared by Monday. That money goes to administrative costs for food assistance, so losing it could make the backlog worse.
Williams said a total of 96 people are working on the backlog, including 22 people provided by the state. The average recertification takes about 30 minutes, he said.
If clients who have submitted the necessary materials do not receive their benefits by 9 a.m. Tuesday, they should send an email to SSCSCTEAM@co.guilford.nc.us or call the department at (336) 641-3000.
In June, the state introduced a new benefits program, NC FAST, and technical problems have created backlogs of food stamp applications statewide.
The department is limited by the hours that NC FAST is online — and it will be shutting down at 3 p.m . today and all of Sunday for scheduled maintenance.
"As big as this is to us, there's a bigger statewide issue of having to keep that system updated and maintained," Williams said. "That puts more pressure on us, but we can do it."
Internal procedures will change to prevent this from happening again, Williams said.
Staff will report cases differently, and daily reports will be generated with case inventories, which would allow the department to measure productivity.
Williams said he expects to send those reports to county commissioners and department boards regularly.
"We are reviewing our business processes. Needless to say, that is where these problems lie," Williams said.
The DSS board is meeting Monday morning, and Williams' regularly scheduled personnel review is on the agenda.
Williams said he is feeling pressure on the department, the county and himself.
"I know how the system operates, but I also know what we need to do. We have stumbled here," Williams said.
The county will begin an investigation to determine the source of the problem and how to prevent it from happening again, said county Commissioner Ray Trapp, who is a member of the DSS board. It's not a witch hunt, he said.
"Of course this is not a good situation. That's why we'll be doing it," Trapp said. "We haven't started it. Right now, what we're focused on is the March 31 goal."
Trapp said neither members of the Board of Commissioners nor the DSS board were told about the problem before this week.
Since the department became aware of the backlog, staff members have been coming in about 5:30 a.m. each day and working until 9 p.m., Williams said.
He said the department easily has reached at least $3,000 in overtime pay, and he couldn't predict a final total cost because staff will continue to work right up until the deadline.
Even after Monday, staff will continue to work overtime to process cases in which people do not receive benefits, he said.
"It will come down to the wire," Williams said.
Contact Kelly Poe at (336) 373-7003, and follow @kelly_poe on Twitter.