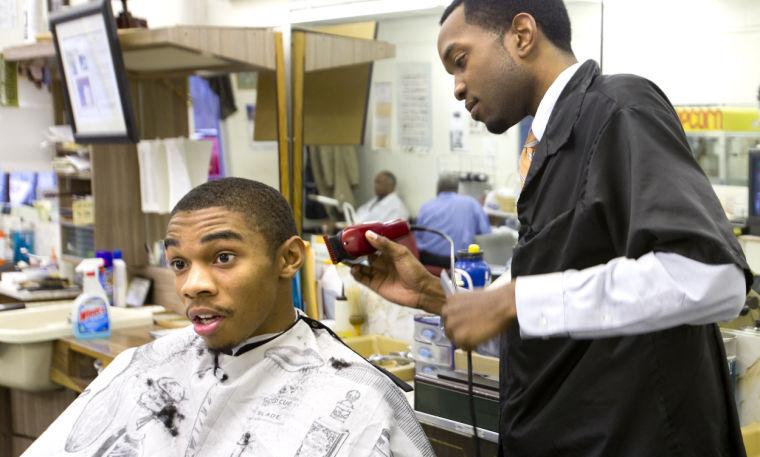 GREENSBORO — Just past the framed renderings of the Greensboro Four, the young men who are gathered Friday at the College Barber Shop may not recall the names but they remember the history.
The discussion turns to one of those famous N.C. A&T students, Franklin Eugene McCain, 73, who died late Thursday night after a brief illness. By late Friday, funeral arrangements were incomplete.
McCain, Joseph McNeil, Jibreel Khazan (formerly Ezell Blair Jr.), and the late David Richmond sat down at the whites-only lunch counter at Woolworth's on Elm Street and refused to leave when they were not served.
A&T senior Chris Thompson, who is from Greensboro, learned the story as a boy from his grandmother.
"She said to appreciate the rights we had because others had to work hard to get them," Thompson said.
McCain's defiance became an example of that.
After growing up in segregation and with his parents and grandparents pushing him to excel and to understand the U.S. Constitution and Bill of Rights, McCain realized Jim Crow was still a dividing wall between black and white people.
McCain was born Jan. 3, 1941, in Union County in the throes of segregation.
He attended Dudley High School in Greensboro for a year and then graduated from high school in Washington, D.C.
"We still had the 'white only' and 'colored only' signs," McCain told the News & Record in 2010. "I was still prohibited from being a full-fledged citizen in this country of ours. I was not accorded dignity and manhood that white people have by virtue of birth, and I thought that was a farce and that made me damn angry.
"I was not angry at people in particular. It was a system that I thought betrayed me."
So McCain decided to take a stand.
This would be decades before his service on the Board of Governors of the UNC system, which originally had sought to separate him and other black students from white students at its schools.
Or before the Smithsonian would add a piece of the lunch counter to its historical collection.
In the fall of 1959, McCain showed up at A&T with the toils of segregation heavy on his mind.
Society told him that his place was at the back of the bus, and that there were some stores he could not enter using the front door.
"Most people adjusted to their place on the back of the bus or at the back door of the restaurant," said the Rev. Jesse Jackson, an A&T classmate and friend. "Frank had a sense of nonnegotiable dignity."
At A&T, Bennett College and elsewhere, students had been raising their voices and contemplating protests. Long before the 1960s, students at Dudley High School and the local colleges had been involved with voter registration and signing up people for the NAACP.
In a room in A&T's Scott Hall the night before the sit-in, the four students knew all sorts of things could happen.
"They knew they might not come back," said Melvin "Skip" Alston, one of the co-founders of the International Civil Rights Center & Museum, which is housed in the old Woolworth's building.
"They had seen the dogs and billy clubs on TV. They saw the hangings. But with all of that, they still took a stand — not to make history but to make a statement. They wanted to be treated like everybody else."
McCain had thought of himself as an "armchair activist" up until that moment and he didn't like it.
The night before, he couldn't talk of anything else, Khazan said.
"He was like the engine, the driving force," said Khazan, who as a child had wondered if the water from the white fountain tasted any different.
The group met at 4 p.m. after classes, and with purpose in their stride, made their way up East Market Street, passing through the Southern Railway underpass, which then was the dividing line between black and white Greensboro.
McCain, the tallest, wore his ROTC uniform and a look of determination on his face.
"He wasn't nervous. He was angry," McNeil said.
At the front of the store, the four students bought items.
Holding onto their receipts, they sat down at the lunch counter and asked for coffee and doughnuts.
The waitress walked off after telling them, "Negroes weren't served at the counter," McCain recalled in a 2010 News & Record interview.
But the four sat there, even when a black waitress told them it was people like them who made the race look bad, McCain said.
The students could hear racial slurs over their shoulders.
Years after the sit-in, McCain would often tell of the white lady who approached him.
He was bracing for her to say something negative.
She told McCain that she was proud of him and his friends — and asked what took them so long.
"That little old lady taught me a lesson for life — don't you ever feel prejudice toward somebody because of race, station in life or where they come from," McCain would say.
Word of what the four students had tried to do was getting around back at A&T.
"We weren't surprised to hear it was them, to hear (McCain's) name," said Frances Herbin Lewis, who had attended both Dudley and A&T with McCain and who joined the protests.
The movement downtown grew, allowing others to help sustain it. Early on, they occasionally were on their own, wishing others would show up.
You could always count on McCain.
"He was the valiant one," McNeil said. "He was there when people didn't show up. There was no quit in Frank McCain."
But the four young men were also students on this mission.
"Our parents would remind us they sent us to college and made sacrifices so we could get an education and better ourselves," said McNeil, the other surviving member of the group. "There was a time for protest and there was a time for study and we managed to do all those things."
They didn't feel like heroes, not one of them, as protests spread across the country, McNeil said.
"It wasn't a 'me' kind of thing," McNeil said. "It was all of us: whites, blacks, Muslims, Christians, Jews. It was the biggest student movement our country had ever seen and we were just a part of it.
"People who traditionally didn't protest did something of historical retrospect that changed the way the world did things."
The sit-ins lasted for months and Woolworth's agreed to open the lunch counter under its own terms on July 25, allowing its black employees the first bite to eat at the counter.
McCain, who had gone back to the suburbs of Washington, D.C., during his summer break, bought a plane ticket to get here.
He once said: "I went through the ceremonial aspects of having a meal and stuck around for 20 minutes longer, and dashed off to the airport shortly after."
To some, McCain and the other three A&T students are forever frozen in the photos brought out during Black History Month and other celebrations.
Theirs was an iconic moment in the nation's history that came during a lull in the civil rights movement. It had been years since Rosa Parks refused to give up her seat on the bus for a white person.
The Rev. Martin Luther King crowned the sit-ins as the rebirth of the civil rights movement.
Earl Jones, a co-founder of the civil rights museum that includes an original section of the segregated Woolworth's lunch counter where the students protested, said: Whenever you see people sitting in protest, it's directly linked to Franklin McCain and the Greensboro Four.
"That was a direct link to what happened here Feb. 1, 1960," Jones said. "The impact has been international."
But the young men had only begun to live their lives back in 1960.
"What I think people should remember most about Franklin is that his courage and commitment to doing what was right didn't end at Woolworth's," said Tom Ross, UNC system president. "That commitment continued throughout his life, and he channeled it in ways that really mattered, particularly in his service and devotion to our university and to higher education."
The four students, especially McCain, continued to look for ways to make a difference, albeit on a smaller scale.
While home on summer breaks, McCain picketed at a segregated amusement park in nearby Alexandria, Va., and often slipped into the pews at white churches on Sunday mornings.
Mostly he was ignored, although those already in the pews turned around and made comments to each other.
On a couple of occasions as he left the sanctuary, McCain recalled hearing people say, "'We hope you come back and join us.'"
McCain later married his girlfriend, Bettye Davis, a Bennett Belle, and embedded himself in the civic and political life of Charlotte, where he moved after graduating from A&T with degrees in chemistry and biology.
While working his way up to the executive level at a chemical company, he raised three sons and led bond efforts in the community.
McCain was a chairman of A&T's board of trustees, sat on the Board of Visitors at Bennett College and the board of trustees at N.C. Central University, and served on the UNC Board of Governors until last year.
He had been added to the board of the civil rights museum in October.
McCain never tired of telling the story of the Feb. 1 sit-ins — in context.
"He really did enjoy pointing out to young kids some of the lessons and things we learned and in reminding them that whatever they benefit from today probably came about because somebody sacrificed," McNeil said.
McCain is the second of the Greensboro Four to have passed away. Richmond died in 1990 at age 49.
"Many people follow paths already set by a trailblazer," said Jackson, who also led protests while at A&T. "McCain was a trailblazer. He went through weeds and where there was no path and cleared the way. And that's his legacy."