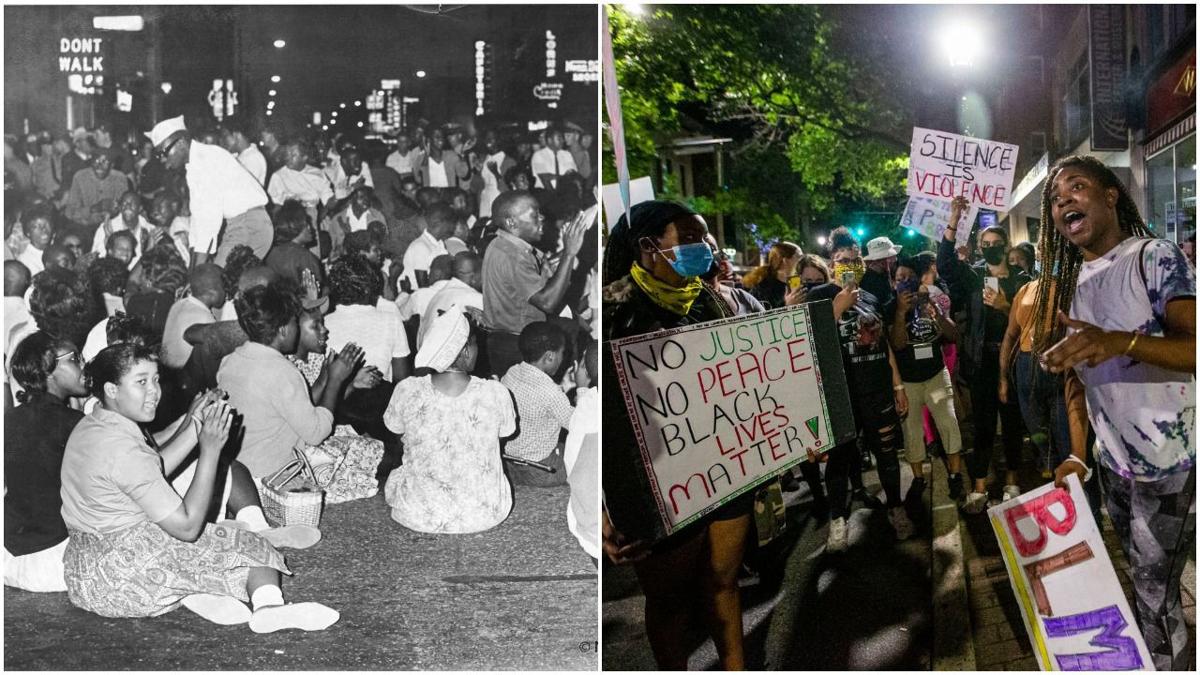 GREENSBORO — Back in the 1950s, Bob Brown held a badge but could not arrest white people.
That was the plight of most black police officers in the South during segregation.
"We were a society separated by race — where we ate, where we lived. Our schools. Our churches. If I'm a policeman, it's the same thing."
Brown, who marched with the Rev. Martin Luther King Jr. for equal rights and opportunities, says those now on the frontline can take the fight for justice even further.
In recent weeks, protests and demonstrations have grown in cities across the country after another black man died at the hands of the police.
"The last week or so, with all these people in the street by the hundreds of thousands all over America," said Brown, a businessman and former presidential aide who later worked in the White House, "the thing that has lifted me up so much is that in many of these cities and areas of country the great majority of people were white. I think the majority of people in the country, white and black, want to see the right thing happen."
The legacies of people like Brown who took part in the civil rights struggles of the '50s and '60s can inspire those struggling to make their voices heard. Their stories also offer a lesson in how protesters can use this collective outrage to make change and just why the movement is still important.
Decades ago, Brown and the others fighting for rights were driven by the same kind of horror that set today's protestors in motion after George Floyd began losing consciousness with the knee of a Minneapolis police officer on his neck. With the unblinking camera lens as an ally decades ago, the public saw water hoses and police dogs turned on those protestors, the cross burnings and the hate-filled speech of white supremacists and the smoke and remnants of bombings with bodies left in the rubble.
Race is a complicated issue. People are afraid to talk about it out of fear of offending someone. It's uncomfortable to discuss, which is part of the problem.
The concept of "white privilege" also means white people don't have to think about it.
But if you are born black in America, your reactions to situations probably are different from an average white person's.
These experiences based on race also help to explain why the majority of whites and the majority of blacks can look at the same set of facts and walk away with different interpretations.
Even as some try to point out flaws in George Floyd and Ahmaud Arbery, activists say that misses the decades-old point that has plagued history: Their lives mattered.
Just like the death of Emmett Till in 1955.
Many who saw the injustice were drawn into a movement.
Some, like four N.C. A&T college freshmen, started a sit-in movement at the downtown Woolworth's store that helped to integrate lunch counters. Others, like the Jewish college student who spent the summer of 1964 in Birmingham, Ala., tutoring black children, would go on to look for ways to provide opportunities where there were none. Ways that they could make a difference.
One of the A&T students, Jibreel Khazan, says he's hurt by what he now sees on TV, as the president calls for using American troops on protesters.
"That's not the America we know," Khazan said this week. "That's not what the United States is supposed to be about."
But he says the people have prevailed before.
Back then, most black people adapted to their place on the back of the bus or at the back door of the restaurant, but at that moment, it was non-negotiable: They wanted to be treated like everybody else.
So in a room in A&T's Scott Hall the night before the sit-in, the four students knew all sorts of things could happen. On TV, they had seen police with billy clubs and dogs.
The next afternoon, at the front of the store, the four students bought items.
Holding on to their receipts, they sat down at the lunch counter. At least one asked for a piece of pie. King credited their work as giving a second wind to the civil rights movement.
Khazan later spent a year at the Howard University Law School before leaving for medical reasons and has worked as a community activist since then.
"I would urge them to never give up," Khazan said. "They are on the verge of making history."
Neil Belenky, that Jewish college student who went to Birmingham as a volunteer, doesn't think he did much. But history shows Belenky and others helped to force the issue by pushing at the barriers of segregation, such as education.
Belenky, now the retired longtime United Way leader, had left the North for Miles College in Birmingham, Ala., to help prepare high school students for the SAT. They had been admitted to colleges in northern states on the condition they could score high enough on the test.
Getting into the car with the black people who picked him up at the airport would be his introduction to a region in turmoil. People started spitting on the car and banging on the window.
"I think, when you are that age, you think you are immortal," Belenky said of spending the hot summer on a campus secured by guards toting rifles. "As a kid, you live in the moment."
He recalls the Saturday he and another student spent the day registering black people to vote.
"I knocked on a door, and a little girl opened it," Belenky said. "She saw me, and you would have thought she saw a monster. ... It really, in that one moment, described everything."
As he has watched what is taking place on TV, Belenky has done a lot of reflecting. He sees important parallels between Birmingham, Ala., in the summer of 1963 and Minneapolis last month.
In 1963, the year before he traveled to the same city, the nation watched on TV with horror, as Birmingham Police Chief Bull Conner unleashed his dogs and fire hoses on peaceful protesters, Belenky said.
"Fast forward 57 years, our nation watched in horror videos of a police officer choking to death George Floyd while three officers appeared to stand by and watch, and only after demonstrators took to the streets was the police officer arrested," Belenky said.
Birmingham was a national tipping point, he said.
"I see the current situation as a possible new tipping point," Belenky said.
Belenky recalls going on a police ride along in the early 1990s as part of a program. The officer was pleasant, and it was uneventful while patrolling Northwest Greensboro. Around 1:30 a.m., a Mercedes went through a yellow light near the corner of Hobbs and Friendly roads headed toward Moses Cone Hospital. The car was not speeding.
"I could see the gentleman in the car was African American because the top was down," Belenky said.
The officer smiled and said he was going to have some fun and then proceeded to pull over the car. After the officer returned to the cruiser, he told Belenky everything was OK, that the gentlemen either lived in the neighborhood or was a doctor on the way to the hospital.
"The details are a little vague but, obviously, he didn't pull him over for speeding or running a red light," Belenky said. "Even back then, I understood that the officer was wrong but didn't say anything. The pain, anger, and possible fear going through the driver's mind for being pulled over in the middle of the night was lost on me and possibly the officer. For him, it was just a prank, and I didn't fully appreciate the gravity of it."
He says it reflected how subtle yet endemic racism is in society.
"My guess is that for many of my Anglo friends, they see the George Floyd killing as a horrible singular incident that needs to be addressed, while for people of color this was just one too many senseless murders in a society that doesn't really value all life equally."
That distinction has been the life's work of many working the protest lines decades ago.
By 1968, Brown was a campaign volunteer and public relations consultant crisscrossing the country with Richard Nixon — troubleshooting, keeping up with the press and supplying names from local businesses and black communities to personalize the presidential candidate's interactions.
Brown had previously worked on the political campaigns of both John and Bobby Kennedy. He was always looking for opportunities to right what he saw as wrongs.
"I'd run into (black) people who said, 'You mess around with that racist Nixon,' " Brown said. "That kind of hurt. But then I had others say to me, 'We've got to be on all sides, and whoever gets in, we need to be in with them. We don't need to be on the outside.' "
When Nixon won office and Brown became a special adviser to the country's 37th president, he was able to fulfill some of the needs he saw, including starting and developing the U. S. Minority Enterprise Program and opening a tap of federal funding to historically black colleges.
"There's been a lot of breakthroughs, but we still have a way to go," Brown said. "We've got to work at it. We all have to come together and we all have to treat each other right.
As my grandmother used to tell me all the time, 'Bobby, you can't go wrong doing right. You have to treat everybody right."
The country has seen large-scale protests like this before, but Ivan Canada of the National Coalition of Community and Justice agrees with Brown that this is a moment.
"We have seen so many organizations and people who did not have to issue any kind of statement around what was going on, issue statements early on," said Canada, whose group works to erase bias, bigotry and racism and noticed right away the calls for justice.
He pointed to Cone Health Systems CEO Terry Akin, who told his 12,000 employees that good people can no longer sit in silence:
"The brutal murder of George Floyd in Minneapolis by a white police officer who held his knee on Mr. Floyd's neck for eight minutes is the latest in a series of long-standing inequalities faced by people of color in general, and black men in particular," Akin wrote.
"These are family members, co-workers, colleagues and friends."
"That's the hopefulness right there," Canada said.
Canada says crisis also creates opportunity and the deeper conversations now taking place.
The real work of this, he said, is going to be when the plywood gets taken down and people go back into their routines.
"It took us hundreds of years to get to this point," Canada said. "This isn't going to get fixed by the end of the calendar year. Are people going to stick with this?"
Some veterans of the movement are encouraging protesters to look for individual ways that they can channel their energy into positive change.
In 1956, Henry Frye was denied the right to vote — even to register to vote — because he failed a "literacy test."
What he should have been asked to do, as part of an established literacy test, was read and write a section of the Constitution to the satisfaction of the registrar.
"The guy started asking me all kinds of questions I knew were not a part of the literacy test, so I refused to try to answer the questions. 'Name the 14th president.' 'Name three signers of the Declaration of Independence.' Unnecessary questions."
He didn't forget. Not after graduating law school. Not after serving as the first black U.S. attorney in the state. Not after starting his own law practice in Greensboro.
When Frye got the chance, he did what other blacks before him had been unable to do: He won a seat in the state legislature — making him the first black person in modern times to be seated in the General Assembly.
Later, he would serve as chief justice of the N.C. Supreme Court, the first African American to do so. He sees greatness among the generation demanding its rights.
"We old folks tend to think the young folks aren't doing as much as they could," Frye said. "I don't think we do enough to encourage them."
Contact Nancy McLaughlin
at 336-373-7049 and follow
@nmclaughlinNR on Twitter.
Be the first to know
Get local news delivered to your inbox!