HIGH POINT — Imagine budding entrepreneurs designing products using state-of-the-art equipment, participating in a development program like on the television show "Shark Tank" or grabbing a cup of coffee and hearing a TED Talk — all under one roof.
Thanks to a $30 million donation, such a place will become reality.
Welcome to Congdon Yards. 
The project, located at the intersection of West English Road and Pine Street, is being developed around the city's new BB&T Point baseball stadium.
What was once the Adams-Millis Hosiery  Mill became Congdon Yards through a nexus of HB365 — an initiative to revitalize downtown — and the Congdon family's commitment to make that happen.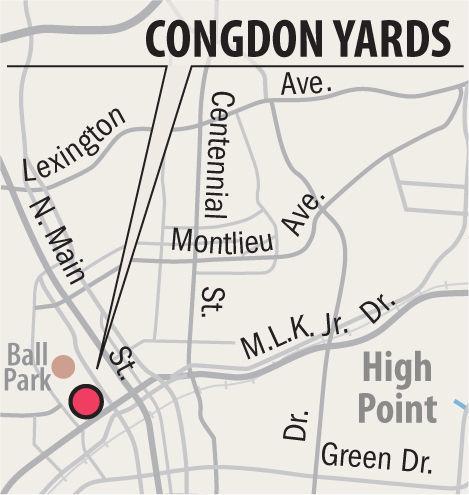 At an event Wednesday night to announce the project, David Congdon talked about why the campus is important to the city's future.
"We need to rebuild business and grow jobs. That's part of what we're doing here," said Congdon, the board chairman of Old Dominion Freight Line, which his family founded. "I believe that Congdon Yards is going to be a catalyst for downtown High Point that we've been dreaming about and talking about for years." 
Congdon, through his family's foundation, purchased the 87-year-old mill last year.
The initial phase of the project was sparked by a $1.5 million state grant. That grant was then matched with private money from High Point University and others.
Patrick Chapin, president and CEO of Business High Point — Chamber of Commerce, said the campus is intended to be a magnet for small-time furniture entrepreneurs.
"There's an eco-system in the furnishings industry that is very prevalent," he said.
Just a couple of decades ago, High Point was a world leader in furniture manufacturing before those jobs went overseas.
HP365 aims to bring that focus back to the city, but in a forward-thinking way with new entrepreneurs and innovation. Congdon Yards is meant to be a piece of that.
"This will be a million dollars' worth of equipment," Chapin said. "It'll be equipment that small to medium-size furniture designers would never have the ability to have access to."
The campus consists of two buildings totaling 225,000 square feet. One, formerly the mill's Plant 1, is now called The Factory.
The other building — the heartbeat of the campus — retained it's original name of Plant 7. Renovations of the four-story building, with it's distinct mushroom-shaped white columns, has begun. When it is completed late this summer, it will include a state-of-the-art fabrication facility, meeting hall, library and common area where people can have coffee and share ideas.
Work on The Factory is nearly complete. It houses a fourth-floor event center and a first-floor space for a restaurant or café.
Through a previous agreement, Bermex, a home furnishings company, will continue to operate showrooms on the second and third floors. Chapin said those floors will eventually become a place for Plant 7 entrepreneurs to showcase their work.
Chapin said the chamber is so impressed with the project that it plans to sell its Main Street building and move into Congdon Yards.
And he thinks he'll have company.
"It's where community and creativity come together," Chapin said.