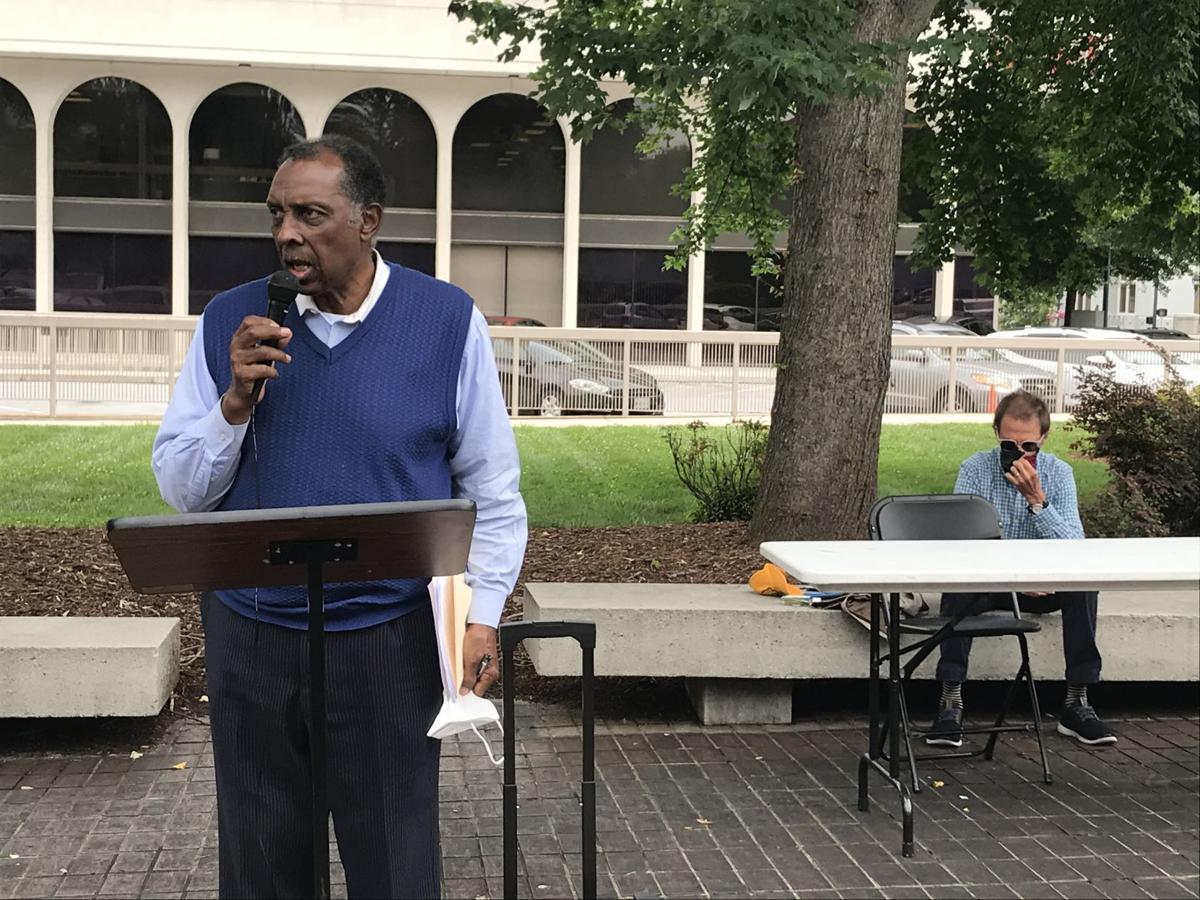 GREENSBORO — Community members want Greensboro City Attorney Chuck Watts fired after they say he lied about a motion filed in the Marcus Smith wrongful death lawsuit.
In their second news conference this week about the case, members of Beloved Community Center and activist group Greensboro Rising voiced concerns Thursday about statements made by Watts at the most recent City Council meeting.
The Rev. Nelson Johnson accused Watts of lying to the council and the public about a critical issue related to the 2018 death of Smith, a black man, while in police custody.
Officers restrained Smith with a RIPP hobble-style device, binding his hands to his feet behind him. That device is no longer used by Greensboro police, according to Watts.
Smith's family has sued Guilford County, the and city of Greensboro, eight Greensboro police officers and two Guilford County paramedics, alleging they violated Smith's constitutional rights by improperly restraining him and failing to treat his medical issues.
In April, a federal judge ruled that several claims in the lawsuit may move toward trial, but last week, the city and county filed a motion to stay the case.
Earlier this week, Johnson and community members requested that the motion be withdrawn, calling it an attempt to delay the trial. The two governments' motion asks to delay the discovery phase of lawsuit, where both sides gather and share evidence ahead of a trial, until Smith's heirs are determined in a separate legal proceeding.
Watts discussed the motion at Tuesday's council meeting.
"Things have come to light to us that were known to the other side," he said during the meeting, referring to Smith's possible children.
"We're not asking for a stay," he said, referring to the trial itself. "We don't expect the delay that we've asked for to delay the date of the trial."
Johnson said Thursday that Watts "openly lied to" Mayor Nancy Vaughan, to all of the City Council members and to Greensboro residents.
In a phone interview Thursday, Watts said he misspoke by saying a stay was not requested, but said he stands by the intent of what he said.
"It's not a complete stay of the litigation," Watts said. "It's a delay of the beginning of discovery."
Beloved Community Center and Greensboro Rising said delaying discovery will push back the trial and cost taxpayers more money for the city's legal expenses.
The judge hasn't ruled on the motion, but on Wednesday, he ordered the Smith family's attorneys to determine a tentative time frame for resolving the issue of Smith's heirs. They have until June 26.
Watts said the motion is not an attempt to push back the trial but was necessary when the city learned of possible new heirs.
He said Smith potentially having children who would be entitled to any money that may stem from the lawsuit is "a material fact that will impact discovery."
"It is fundamental to this case," Watts said. "It changes who you're asking questions to and what questions you're asking."
He said the legal team would have to spend several months of the discovery period sorting out the issue of heirs alone. That's the reason for the temporary delay request — to settle the question of heirs first.
"There were so many ways we could have delayed discovery," Watts said. "If the goal was to delay, we had a lot of other opportunities to that we didn't take."
Flynt Taylor, the lead attorney for the Smith family, suggested in a statement that the motion to stay is a delay to avoid revelation of "damning evidence."
Watts insisted that knowledge of heirship is crucial to moving forward.
He added that he understands the racial injustices Johnson and community members are fighting against but doesn't think they apply here.
"Was this a tragic case? Yes, but nobody sat on his neck for nine minutes," Watts said, referencing the death of George Floyd, a black man who died in the custody of Minneapolis police officers on Memorial Day, sparking protests nationwide, including in Greensboro.