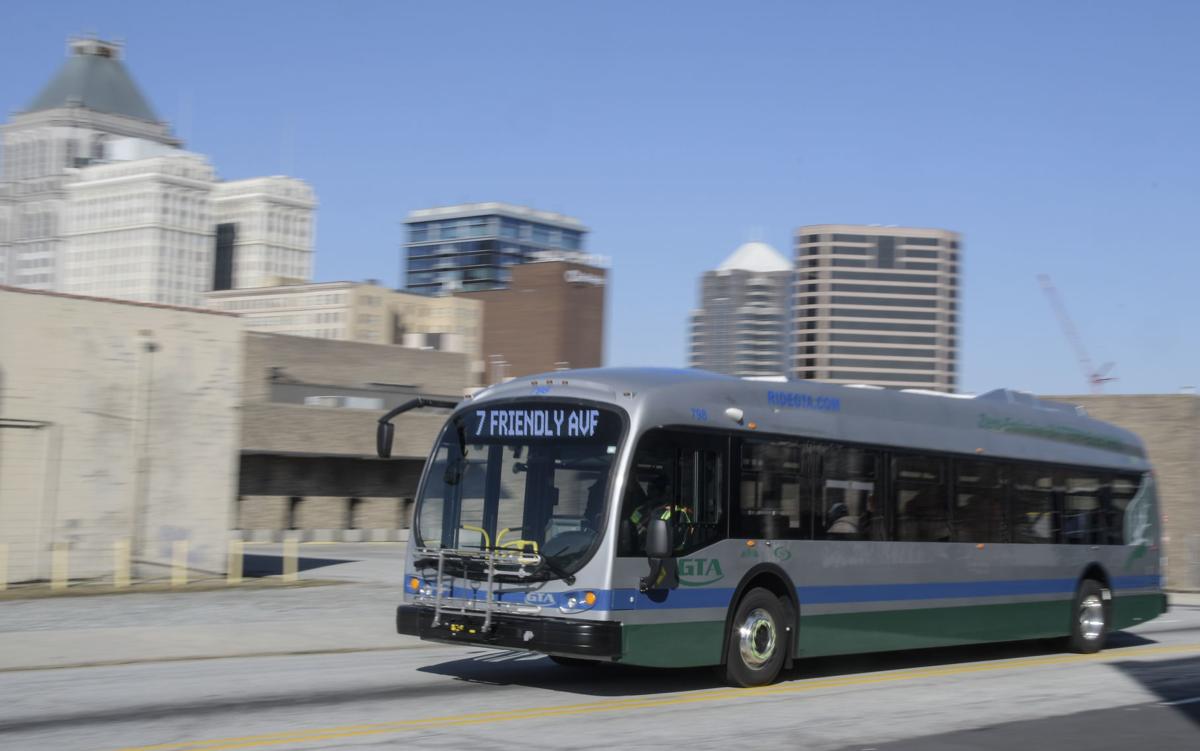 Ride GTA buses for free
Now, you can ride the city bus for free.
The Greensboro Transit Agency made the announcement on its website Friday.
The no-fare policy comes amid changes in response to the coronavirus outbreak.
GTA said earlier this week that it is still operating hourly service along normal routes. The agency normally runs its routes every half hour.
The agency also is making a special effort to clean and sanitize buses more often throughout the day during the COVID-19 crisis.
June High Point Market will be three days
The spring High Point Market will be reduced to three days and held in June instead of April, officials said Wednesday.
The new dates for the semiannual market are now June 12-14, the High Point Market Authority said Wednesday in a news release.
Officials said the market would be delayed after Gov. Roy Cooper advised that large events be canceled due to the COVID-19 pandemic.
The condensed market will likely include minimal programming and focus on appointments and sales meetings within the showrooms, the authority said.
Hanging Rock closed
Hanging Rock is among four state parks that closed late Sunday because of the guidelines implemented with the coronavirus pandemic, according to a tweet from the N.C. Division of Parks and Recreation.
Crowders Mountain Lake Waccamaw and Raven Rock also closed at sunset "due to counties in State of Emergency & continued crowding at parks doesn't adhere to social distancing guidelines," according to the tweet.
Thomas Built Buses suspends production in High Point
Thomas Built Buses in High Point will suspend production for two weeks starting today, after an employee tested positive for coronavirus, according to a report from WGHP/FOX8.
Andrea Corso, who represents the parent company of Thomas Built Buses, told FOX8 that the employee is at home for the next two weeks in isolation.
Individuals who likely came in contact with also have been asked to stay home.
Corso told the station a hard clean of the entire facility will be done.
Proehlific Park closes temporarily
Proehlific Park temporarily closed at 2 p.m. Sunday as a result of the new coronavirus pandemic, according to an email from the facility at 4517 Jessup Grove Road in Greensboro.
"We will be closing the facility, fitness center, youth programs, outdoor fields and the playground," the email said. "We will await further guidance for our city officials on their recommendations on when to reopen."
The email urged people to follow the Proehlific Park on Facebook, YouTube, and Instagram for daily fitness classes and trainer tips.
"We want to continue to be the place you come for your mental and physical well being and we will continue to post workouts and other health topics to keep you connected and interacting with each other," the email said.
Greensboro Bound cancels literary festival
The Greensboro Bound literary festival scheduled for May 14-17 has been canceled because of the new coronavirus pandemic, organizers announced Sunday.
Other related events also are canceled, including the March 31 appearance of Marianne Gingher, author and co-founder of Jabberbox Puppet Theater, at Well-Spring retirement community; poet Jacki Shelton Green's appearance at N.C. A&T on April 1; and novelist Laila Lalami's appearance at UNCG on April 15.
Greensboro Bound said poet Billy Collins still may come to Greensboro on October 3.
The group also is considering presentations and events this fall and hosting some online events.
Vacation rental refunds
People renting beach houses in counties that have blocked visitor access to North Carolina's Outer Banks because of the new coronavirus should get their money refunded, a state panel says.
The North Carolina Real Estate Commission ruled on Thursday that state law sides with tenants in this situation, The Virginian-Pilot of Norfolk, Virginia, reported.
Dare and Currituck counties have approved orders preventing visitors and non-resident property owners from entering the Outer Banks. And Hyde County has blocked visitor access to Ocracoke Island.
Landlords who won't refund money are open to a lawsuit, according to the commission.
RNC still scheduled
The Republican National Convention in Charlotte and the N.C. GOP convention are on as scheduled later this year for now despite uncertainty over the new coronavirus, the state party's top leader says.
In an open letter to state Republicans over the weekend, party Chairman Michael Whatley said the Republican National Committee "is firmly committed to moving forward" with the quadrennial convention set to be held in late August. It's there that President Donald Trump would formally accept the GOP nomination.
Whatley said the RNC is working with governments to determine whether any changes to the convention scheduled are needed.
Whatley also said the state GOP convention slated for mid-May in Greenville is still on, but the schedule or venue could be changed depending on COVID-19 developments.
N.C. passenger train service reduced
North Carolina's passenger rail service will offer a smaller number of daily trips beginning Monday.
The N.C. Department of Transportation said in a news release the reduction is in response to the COVID-19 outbreak.
Piedmont trains 73, 74, 77 and 78 will not operate until further notice, NCDOT said. Piedmont trains 75 and 76, plus Carolinian trains 79 and 80, will continue operating on their normal schedules.
Amtrak is waiving change fees on all existing or new reservations made before April 30, according to NCDOT.
To cancel a reservation with no fee, call 800-298-7246.
Grab-and-go food sites
Guilford County Schools has set up more than 60 grab-and-go food sites for children 18 or younger. Lunch for that day and breakfast the next morning will be available for pickup from 11 a.m. to noon Monday through Friday. Children may pick up food at any grab-and-go site regardless of their assigned school.
Here are the school locations, followed by satellite locations:
In Greensboro: Alderman Elementary, Archer Elementary, Bluford Elementary, Cone Elementary, Dudley High, Foust Elementary, Hairston Middle, Hunter Elementary, Irving Park Elementary, Jackson Middle, Jones Elementary, Morehead Elementary, Peck Elementary, Rankin Elementary, Swann Middle, Washington Elementary, Western Middle and Wiley Elementary.
In Guilford County: Eastern High in Gibsonville; Northeast High in McLeansville; Ragsdale High and Jamestown Elementary in Jamestown; and Southeast High, Southern High and Northwest High.
In High Point: Allen Jay Middle, Fairview Elementary, High Point Central High, Johnson Street Global, Kirkman Park Elementary, Montlieu Elementary, Oak Hill Elementary, Oak View Elementary, Parkview Elementary and Welborn Middle.
Allerton Apartments, 3201 Allerton Circle
Choice Hotel, 110 Seneca Road
Claremont Homes, 2702 Patio Place
Hayleigh Village, 4020 Eight Belles Lane
Northland Apartments, 3319 O. Henry Blvd.
Pathway, 3517 N. Church St.
Plantation Apartments, 1101 Berkley Manor Way
GHA-Ray Warren Homes, 312 N. Swing Road
Smith Homes, 707 W. Florida St.
Ambassador Court Apartments, 2501 Ambassador Court
Bellemeade Apartments, 2350 Bellemeade St.
Brentwood Crossing, 200 Brentwood St.
Carson Stout Homes, 501 Anaheim St.
Daniel Brooks Homes, 1455 W. Ave.
Greater New Hope Baptist Church, 906 Meredith St.
Ingram Woods Apartments, 2704 Ingram Road
Juanita Hills, 2701 Annmore Circle
Kendall Street Apartments, 211 Kendall Ave.
Laurelwood Apartments, 1300 Burton Road
New Gate Apartments, 1605 Ganby Ave.
The Oaks at Silver Ridge, 2926 E. Kivett Drive
Park Street Terrace Apartments, 885 Sharon St.
South Wind Villas, 820 E. South Road
Spring Valley Apartments, 1403 E. Commerce St.
Turnbridge Apartments, 503 Turnbridge Circle, Browns Summit