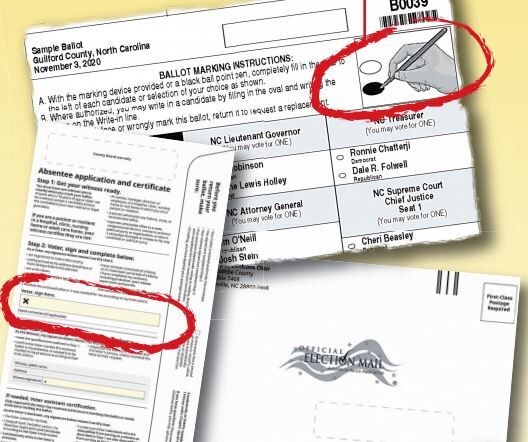 GREENSBORO — Madeline Reed carefully filled out her mail-in ballot, making sure it was filled out exactly as instructed, along with what was required of her witness.
"We're both retired educators," Reed said. "We know how to follow directions."
So Reed, herself a former poll worker, was surprised two weeks later when she got an email from BallotTrax that appeared to indicate her ballot had been rejected. "There is an issue with your returned ballot and it cannot be accepted," the email said.
When she called the elections office, Reed said she was told that the ballot was "rejected but curable." Curable is election lingo for ballots that can be counted if information deemed questionable or unclear is verified.
The reason she was given was that elections officials couldn't read the letter "C" in her witness' written address giving her state as "N.C."
Reed was dumbfounded. "If you could tell me that her address is invalid, or that we forgot to put a witness, or the envelope got ripped, that would make sense," she said. "And yet you verified that she is a voter, she is in Guilford County, the address is a legitimate address and matches her name, but they couldn't read the letter 'C'?"
Guilford County Elections Director Charlie Collicutt said because of problems with ballots like Reed's, the board sought and received clarification from the N.C. State Board of Elections on Sunday.  
"After applying those guidelines to the ballots in our office … our rate of rejection really changed and we are on par with the other counties at this point," Collicutt said Wednesday.
And according to the U.S. Elections Project, which tracks early-voting statistics, 4.8% of the mail-in votes received by Guilford County had been "rejected" as of Thursday — the second highest in the state behind Scotland County's 5.1%. However, on Monday, Guilford's figure had been around 10%, according to U.S. Elections Project.
And Collicutt expects that number to drop more, as workers finish inspecting by hand each of the more than 1,000 ballots deemed "curable."
"It's just kind of a slog of a process," he said.
Still, some ballots ultimately will be rejected. Ballots whose envelopes arrive torn, or those where the voter didn't sign the envelope or the witness didn't sign or provide the required information are likely to be rejected, Collicutt said. Placing two ballots in one envelope also isn't allowed, he said.
"We've mailed out over 60,000 ballots," said Collicutt, who has about 40 temporary workers processing ballots at any given time. The county had received about 21,000 mail-in ballots by Wednesday, with more coming in every day. At the end of the 2016 presidential election, it had counted 12,000 mail-in ballots.
"This is an unprecedented volume," Collicutt said.
And he also expressed frustration that some procedures for mail-in ballots are still tied up in court — such as requiring a witness for mail-in ballots and allowing voters to fix incomplete witness information by simply returning an affidavit to county officials.
"Courts have made various orders that have kind of thrown us for a loop as far as what we are doing," Collicutt said. "We're dealing with this high volume and in the midst of it a lot of it still being litigated."
As for Reed, she opted to cancel her ballot and plans to vote in person when early voting starts Thursday.
Contact Kenwyn Caranna at 336-373-7082 and follow @kcaranna on Twitter.