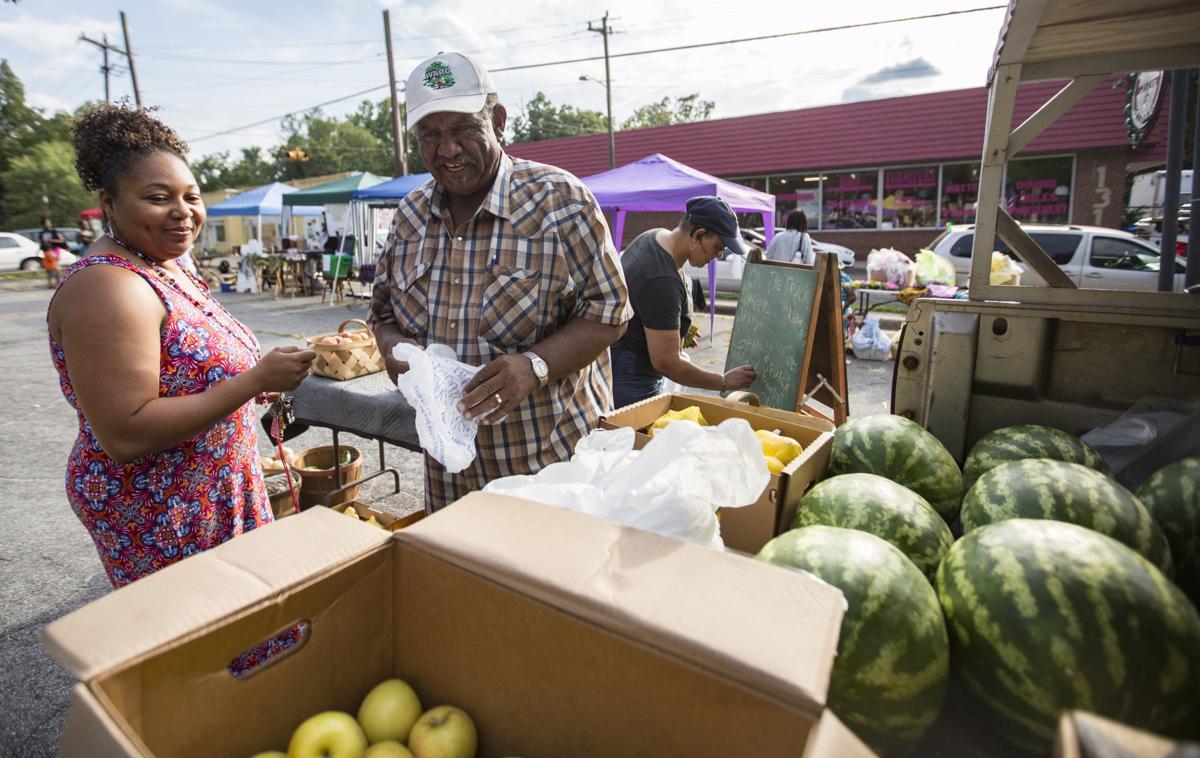 GREENSBORO — On Thursdays, an empty lot along Glenwood Avenue and Grove Street is transformed into a market with food, music and giveaways. While drawing a cross section of the city, the location is intentional because it sits in a low-income tract where people don't have easy access to fresh food.
And with EBT (food stamps) benefits for families with young children and infants expanding to provide extra help buying food, the farmers market is responding with excitement — and activity.
SNAP is the largest federal nutrition assistance program, while the P-EBT program helps families with eligible children whose access to food has been affected by COVID-19.
Both markets, on shoe-string budgets, work together through the nonprofit Greens for Green fund to help those on limited income access food and other items like other shoppers.
The Corner Market, a year-round open-air market featuring bakers and chefs and specialty items like roasted coffee and wild foraged mushrooms, was recently authorized to take WIC vouchers as well. It's located at South Elam and Walker avenues.
"If you take $10 and go to Food Lion or Walmart or Aldi or whatever store you shop at, it's going to be worth $10," said Shante Woody, the People's Market manager. "But if you take those same $10 on your card and come here, we are going to give you $20 to spend."
"It's like getting a gift card to the best food in town," said Corner Farmers Market coordinator Kathy Newsom, which also features local meat vendors.
The People's Market operates every Thursday from April to October, and is going to help kick-off for this year's citywide Juneteenth celebration.
The community rallied and raised over $26,000 to fund the Green for Greens program in 2020. When matched with USDA SNAP dollars, that meant more than $50,000 in nutritious foods, according to organizers, but also a $50,000 investment in local farms and food producers.
With the program currently matching more than $750 in SNAP dollars each week the fund could run out by the Fourth of July. A few weeks ago, The Corner Market matched $986 dollars in EBT and SNAP spending.
"It's so nice to see farmers selling out," Newsom said.
It's also a reality that a lot of the people who are using benefits are using them for the first time, she said. Some of the transactions she processes are from people who were already shopping the farmers market.
"It's missing one paycheck or having your hours cut or having someone get sick," Newsom said.
In the next couple of weeks organizers will be launching a campaign to raise money to continue the match through the rest of the year. The Weaver Foundation has given the markets a $5,000 challenge grant to get it started. So every dollar donated to the Green for Greens fund is doubled.
"That just seemed like a wonderful opportunity to be able to support our community," said Emily McCollum, Weaver Foundation program officer.
Newsom is hoping that others add to the fund to keep it going.
SNAP dollars are typically accepted at grocery stores and a range of other businesses where food is sold, including convenience stores — which have limited options and often higher markups.
"The national figures on how quickly SNAP spending at farmers markets has grown is really impressive," said Liz Seymour, a volunteer at the People's Market.
In 2020 SNAP usage at the two markets quadrupled over the year before, and has continued to grow in 2021.
The products also are unique, Woody said, pointing to popular vegetable mimosas and lemonade — the later of which supports a 15-year-old entrepreneur whose product draws a good number of people.
Some of the buyers at The People's Market come looking for the "plant lady," who sells tomato and other food-bearing plants — which also qualify under the federal government food program.
While the majority of shoppers range in income, they share a bond when they stop at a farmers market, Newsom said.
"The misconception is that people who are poor eat convenience-store food because they don't know better," Newsom said. "That's not true. "
They just need access to fresh food, Newsom said.
Woody, Newsom, Seymour and others point to the high cost of people not having enough food: Hungry children cannot learn. Hungry adults cannot be productive. Hungry communities cannot flourish and grow.
They also want to get a message out to people receiving the food assistance dollars because of the pandemic, when income requirements were loosened. Those families might not realize that these dollars can be used at farmers markets able to process the transactions.
Contact Nancy McLaughlin at 336-373-7049 and follow @nmclaughlinNR on Twitter.