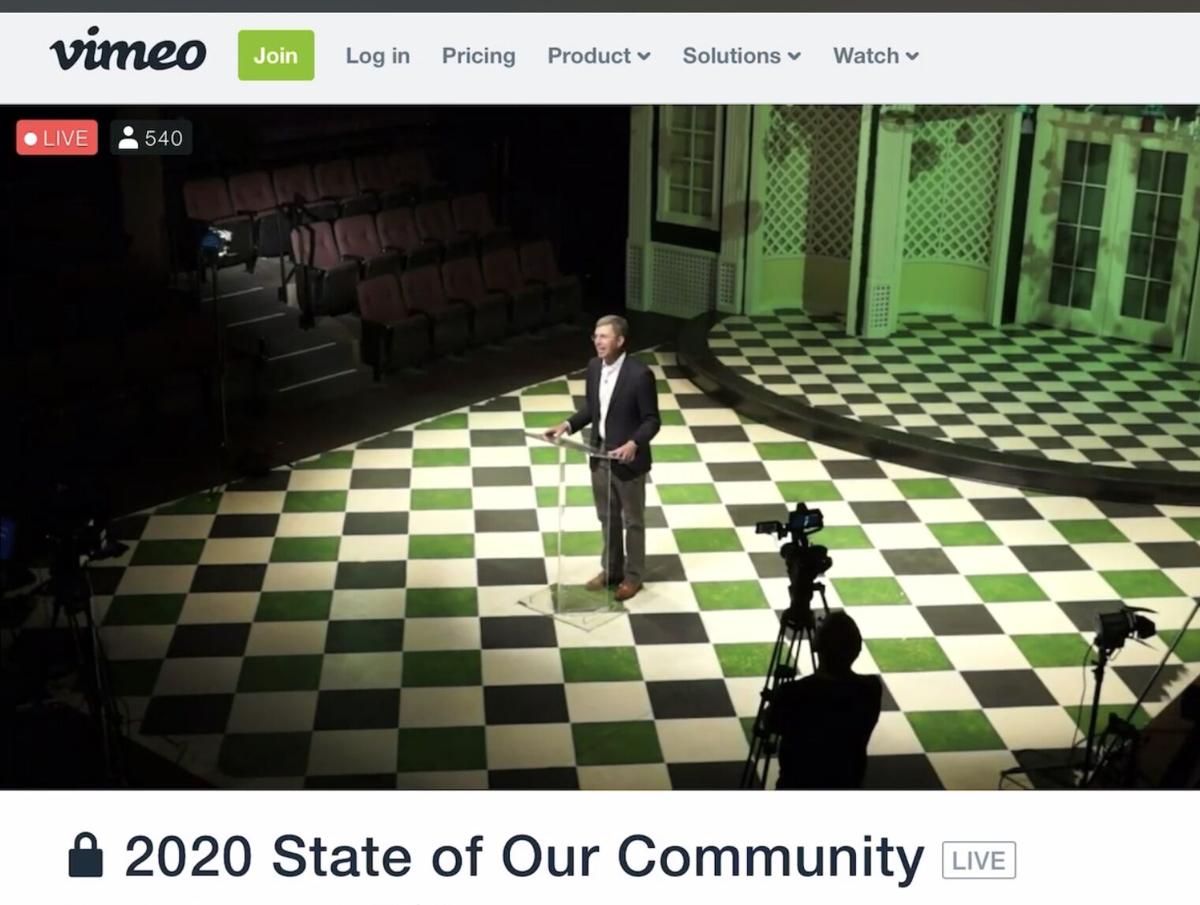 GREENSBORO — The Greensboro Chamber of Commerce's message at its annual State of Our Community meeting Wednesday was that the city needs to emphasize "equity" in the coming months. 
Normally a luncheon at the Koury Convention Center with hundreds of chamber members packed into a large ballroom, this year's event took on a more intimate style even as its message was more sweeping than on previous occasions. 
Forced online by the COVID-19 pandemic, Chamber President and CEO Brent Christensen led the prerecorded event from a podium on an empty set at Triad Stage. 
Guests included local and state health leaders, a regional Federal Reserve banker and the superintendent of Guilford County Schools. 
Their message, repeated in a variety of ways, was that the pandemic's economic and social damage is sweeping and real, some of it unexpected, much of it inevitable, given the racial and economic divides in the community. 
Until a medical solution is reached, the way out of this recession, economic disparity and racial division will require a strong partnership between government, business and the health care community, these leaders said. 
Superintendent Sharon Contreras said as Guilford County's schools pivot to virtual instruction, the system has found that 20% of Black and Hispanic students don't have access to high-speed internet. An equally high number of Black and Hispanic families don't have enough devices for each child to do their schoolwork. 
And with distance learning's inherent disadvantages, she said, "we have to invest more in their schools and their lives. Their success or failure will be our success or failure as a community, as a state and as a nation."
Recovery. That was a theme reiterated by many speakers Wednesday.
"We have a lot of work ahead of us," said Mandy Cohen, North Carolina's secretary of health. "We are very much understanding that slowing the spread of this virus is linked with economic recovery."
Broadly speaking, that economic recovery may not come quickly, according to Tom Barkin, the president and CEO of the Federal Reserve Bank of Richmond. 
"We need to get the virus under control," he said. "It's very hard to have any certainty when you don't have that."
And with tens of millions of people unemployed, many of them from service jobs, retraining them won't be easy, Barkin said. 
"We've simply got to get this mass of people that have been displaced into opportunities," he said. 
Wilson Lester, the CEO of Piedmont Business Capital, runs an agency that offers financial assistance to small businesses owned and managed by minorities and women. He said his group has new grants and contributions from the city of Greensboro and local foundations to begin lending hundreds of thousands of dollars to people trying to keep their businesses alive.