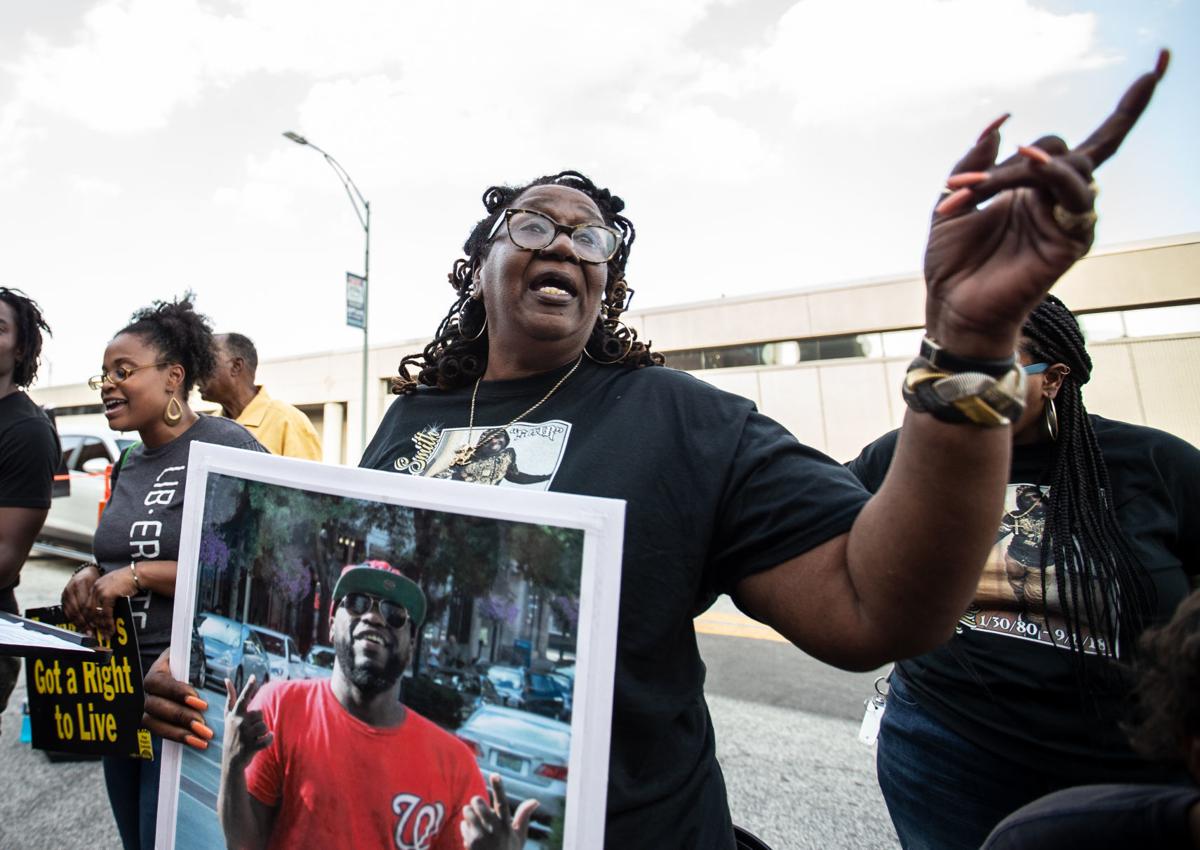 GREENSBORO — A federal judge has said that several claims may move forward toward trial in a lawsuit brought by the family of a homeless man who died while in Greensboro police custody in late 2018.
Judge Loretta C. Biggs also dismissed several portions of the lawsuit filed in 2019 by the family of Marcus Deon Smith.
But some of the family's key claims can proceed through the legal process, Biggs ruled last week.
Smith's family filed suit against Guilford County, the city of Greensboro, eight city police officers and two Guilford County paramedics on allegations that they violated Smith's constitutional rights.
The lawsuit alleges that they improperly restrained him and failed to treat his medical issues.
And although Biggs dismissed several portions of the family's lawsuit, she cleared the way for enough of it that supporters consider it a victory on their way to a settlement or trial.
Smith died Sept. 8, 2018, after police restrained him with a RIPP hobble-style device, binding his hands to his feet behind him.
The lawsuit alleges that police caused Smith's death and that the paramedics "failed to promptly attend to his serious medical needs."
Biggs ruled that those allegations have merit and can go forward in the lawsuit. She also ruled that allegations that police may have improperly restrained Smith have merit and that Smith's family presented a persuasive case to consider that the city did not properly train police in using such restraints.
Smith, 38, died of cardiopulmonary arrest caused by a variety of factors, the state medical examiner said in an autopsy report. Among them: "prone restraint" at the hands of police, cardiovascular disease, and drugs and alcohol in his system.
The autopsy report concluded that Smith's death was a homicide.
After Smith died, the Greensboro Police Department released video taken from cameras worn by the officers who responded to the intersection of East Market and Church streets. About 12:40 a.m., they found a disoriented and agitated Smith running and walking back and forth.
The footage shows Smith asking for help, suggesting he's in danger and saying, "I'm gonna kill myself."
Police ask him to remain still so they can help. Eventually they put him in the back of a police car without restraints.
But Smith becomes increasingly agitated, the video shows. Police open the car door, and he rushes out.
Seconds later, with Smith on the ground, police struggle to restrain Smith's hands behind his back. They begin to bind his feet to his hands.
The police footage shows Smith, bound and lying on his abdomen — hogtied, essentially — struggling and appearing to gasp for air.
Then he becomes still. Officers check for a pulse. Smith is released from his restraints so emergency workers who were there can treat him.
According to police, Smith died about an hour after he was taken to a hospital.
Smith's family alleges that by binding him, police violated his Fourteenth Amendment right to be free from excessive force.
Among other issues, they allege that police ignored Smith's mental health issues, violating his rights as a disabled person, and that paramedics stood idly for more than two minutes and watched Smith suffocate on his abdomen.
Biggs, of the U.S. District Court for the Middle District of North Carolina, issued her ruling last week in a 44-page brief on motions to dismiss the case filed last year by the officers, the paramedics, Guilford County and the city of Greensboro.
She dismissed the family's claim that Guilford County was liable for Smith's death because it employed the paramedics.
She also dismissed claims that police should have taken into account Smith's various mental health issues because, Biggs suggested, police would not likely have had any way of knowing about those.
Chuck Watts, the Greensboro city attorney, said the key development is not that the lawsuit can move forward but that Biggs dismissed several claims by the family.
"The news is that more than half of it got dismissed," Watts said.
"She's doing what any good judge would do, is to give the plaintiff the ability to have his day in court," he said.
Watts said the lawsuit must go through many steps before it reaches the trial stage.
The next steps, he said, involve the legal discovery process and likely a future motion for "summary judgment, in which the defendants in the case ask the judge to rule quickly on its merits without a trial.
Biggs also ruled that the family has a case that the two paramedics could have contributed to a violation of Smith's constitutional right against excessive force when they waited more than two minutes to treat him while police restrained him.
Paramedics can be seen in the police video waiting while Smith struggles.
Biggs wrote that she chose not to view the video. But she said that the family's description means that the paramedics are subject to being sued.
"Even after they 'knew (Smith) was unconscious, unresponsive(,) and not breathing,' the Paramedics waited," Biggs wrote, referring to a description in the family's complaint.
She also ruled that the family has a reasonable argument that the city of Greensboro may not have adequately trained the officers in the use of the RIPP hobble device and that the city is also liable in the lawsuit.
Biggs ruled that the officers are not protected from being sued and that wrongful death claims against them may move forward.
Biggs also wrote that Smith's family made a persuasive case that "officers violated Smith's clearly established constitutional right to be free from excessive force."
The judge cited a previous case that showed when a person is suspected of, at most, a minor crime, that "serious physical force … is constitutionally excessive" when a person is unarmed, does not attempt to flee or attack an officer.
Flint Taylor, the Chicago lawyer who is leading the legal team for Smith's family, wrote in a news release that "the judge's decision recognizes that the brutal hogtying of the defenseless Marcus Smith violated his constitutional rights under the Fourth and Fourteenth Amendments."
Kim Smith, Marcus Smith's sister, also said in the news release that "although we are thankful for the judge's decision, we want this to be a message for the world to know — people are sick of the injustices that take place involving the Greensboro police."
Contact Richard M. Barron at
336-373-7371 and follow
@BarronBizNR on Twitter.