GREENSBORO — With his balding pate and quiet demeanor, Greensboro businessman-turned-federal official Louis DeJoy hardly comes across as a man of mystery.
But just more than two months into his new role as the nation's postmaster general, more questions are swirling around him than the suspect in a cheap detective novel.
Is he a Trojan horse in league with President Donald Trump, aiming to subvert the November elections by mucking up the delivery and return of millions of mail-in ballots?
How much of the recent, widespread backlogs in mail and package delivery was caused by his new policies?
Does he have conflicts of interest through stock investments in companies that do business with the Postal Service and through some of his Guilford County real-estate holdings?
Given all the furor, one of the larger mysteries might be why he even wants the job. Sure, it comes with a salary of $291,650, but that's nothing to a mega-wealthy logistics magnate.
"He could be a lot better off just enjoying the fruits of his life," said E.S. "Jim" Melvin, former Greensboro mayor and president of the Joseph M. Bryan Foundation, who has known DeJoy for more than 20 years.
Melvin said he recently asked DeJoy that very basic question of why. DeJoy said he simply felt that he could make a difference at the financially troubled Postal Service, Melvin said.
DeJoy declined to comment through a Postal Service spokesman.
But ex-mayor Melvin said he has seen DeJoy in action in the business world. He believes the Postal Service Board of Governors made an excellent choice by selecting a man who's proven himself to be a "genius" in logistics and distribution.
"What the post office needs is someone who has his level of logistics experience in a non-governmental setting," Melvin said.
But his genius could prove very destructive for the U.S. Postal Service, DeJoy's critics argue.
U.S. Rep. Alma Adams contends that DeJoy's track record in office so far shows he's "engaging in what's considered to be an unconstitutional assault" on the postal system at Trump's behest.
He aims to dismantle the institution that so many Americans rely on, Adams said during a recent seminar about DeJoy and the Postal Service hosted by the nonprofit International Civil Rights Center & Museum in Greensboro.
"That's exactly what this administration has been about, breaking down things that used to work," said Adams, a Democrat and a former Greensboro congresswoman who now represents a Charlotte-area district.
Adams was the first among a subsequent chorus of Democratic legislators to call for DeJoy's resignation. He has declined to do so.
Recent developments in the Postal Service are part of a long-range plan by Wall Street power brokers and the Trump administration to privatize it, said Mark Dimondstein, a former Greensboro resident who now heads the American Postal Workers Union in Washington.
"Mr. DeJoy has come in without knowing anything about the inner workings of the post office," Dimondstein said during the Aug. 15 museum seminar. "Our DNA is to never delay the mail."
Critics say that after he took office in mid-June, changes DeJoy instituted caused mail delays that affected individuals, neighborhoods and larger communities nationwide, including in parts of the Triad.
Speaker Nancy Pelosi called the U.S. House back into session last weekend to pass a $25 billion funding bill for the Postal Service that also sought to reverse such recent, systemwide developments as the removal of hundreds of mailboxes and sorting machines that postal managers considered no longer needed.
The measure faces an uncertain future in the GOP-run Senate. DeJoy testified he already has ordered the cessation of mailbox and sorting-machine removal until after the election.
He told members of Congress mail-in voters have nothing to fear from him.
"This sacred duty is my No. 1 priority between now and Election Day," he testified this week.
During recent nationally televised House and Senate hearings, DeJoy also said the only change he had made involved ordering regional mail trucks to leave their loading docks on time.
It was a change aimed at getting the mail delivered more promptly, but critics said it flopped.
"Our entire country is experiencing these delays as a result," said Rep. Carolyn Maloney, a Greensboro native who now represents a New York district and who sponsored the bailout bill. "Whatever the cause of these massive delays, the American people want things to go back to the way they were."
The man at the center of this maelstrom of differing opinion and disputed details is a 63-year-old multimillionaire who has called Greensboro home for more than two decades.
He and his wife, former physician Aldona Wos, have carved out reputations as prominent Republican contributors and generous donors to college scholarship, church and other community initiatives.
Wos headed the N.C. Department of Health and Human Services for a time during the Republican administration of former Gov. Pat McCrory. She also was ambassador to Estonia for President George W. Bush and has been nominated by Trump to serve as the nation's Canadian ambassador.
Being selected as the Postal System's chief executive catapulted DeJoy into a small club of people with Greensboro connections who have risen so high in the federal government.
Only former U.S. Attorney General Loretta Lynch who served in the Obama administration from 2015 to 2017 came to mind in the recent past, said Carol Ghiorsi Hart at the Greensboro History Museum and Tim Cole at the city library.
Going farther back in history, Cole also cited House Speaker Joe Cannon who he said was born in an area now probably within Greensboro city limits, but who actually rose to prominence as a congressman from Illinois at the dawn of the last century.
Another recent example is former Greensboro City Manager Denise Turner Roth, who was appointed administrator of the U.S. General Services Administration and served from 2015-17.
To the extent Trump and DeJoy are aligned through partisan fealty, it proves the old saying about politicking and peculiar alliances. Except for shared New York roots — DeJoy hails from Brooklyn — they are a study in contrast.
Trump has said his father helped him get started in business with $1 million in loaned seed money. Conversely, DeJoy helped rescue from near bankruptcy the small, New York trucking company started by his father and uncle.
In a 2004 interview with the News & Record, DeJoy drew a sharp distinction between his management style and Trump's, which was then on display in "The Apprentice" reality TV show hosted by the future president.
"I'd be fired" amid the Trump show's survival-of-the-fittest management competition, DeJoy said at the time.
"That attitude that you are the most important person is self-destructive," he said of Trump's approach to corporate leadership as depicted on the show.
Rather, his business had succeeded through teamwork among employees that had years of experience with the company, he told the N&R.
Under persistent and sometimes harshly worded questioning by House Democrats last week, DeJoy mostly kept his cool in a way that anyone who has watched a Trump news conference probably would consider a difference between the two men.
A factor in DeJoy's decision to move his family's company to High Point in 1993 was a robbery at the New York business in which two members of the DeJoy family were injured, said Michael Woods, a now-retired Kernersville resident who worked with DeJoy in the mid-1990s.
"They got mugged," Woods said.
The oldest of six children, DeJoy had a college degree in business administration, but wound up in charge of the New Breed enterprise because of a more visceral qualification, Woods said.
"He said, 'I was oldest brother,'" Woods recalled him answering someone who had asked how it happened.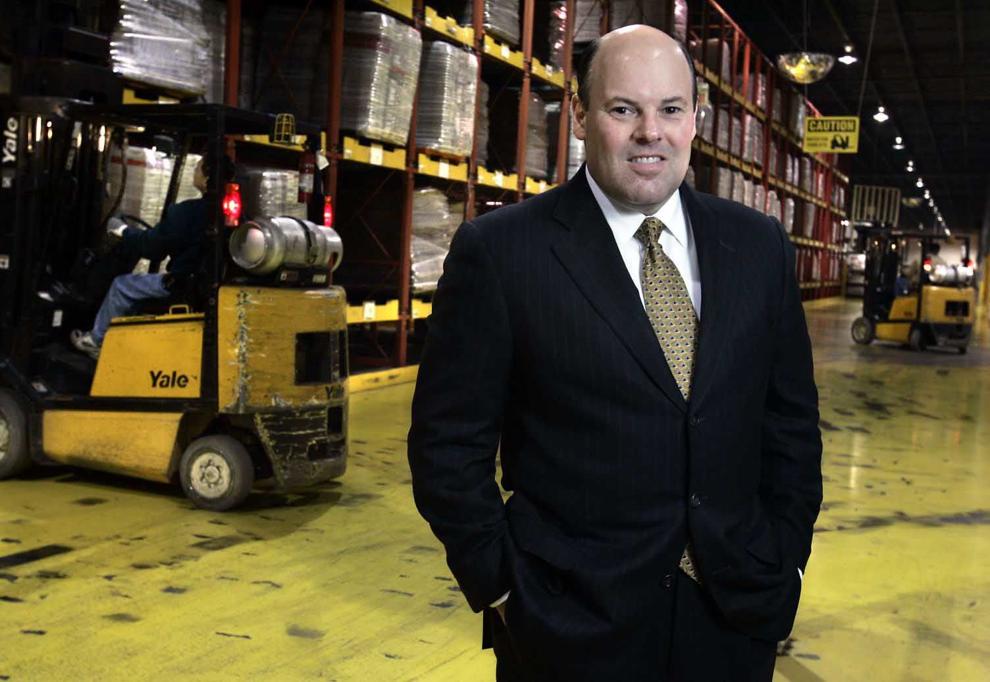 DeJoy branched out from trucking and set up a business in High Point that would become New Breed Logistics after landing a Postal Service contract that required the relocation, Woods said.
The initial USPS contract involved repairing "mail transport equipment" that included various types of carts and other shipping gear from all over the Eastern United States — and it specified the work be done in the Triad, Woods said.
Woods said he worked as one of DeJoy's first employees in North Carolina for several years through the mid-1990s, adding that the then small company's chief executive always treated him fairly and honorably.
DeJoy would build on that first base of operations near Piedmont Triad International Airport, scoring many more governmental contracts. He and his co-workers eventually expanded New Breed into a nationwide corporate entity with 7,000 employees handling logistics and distribution for such companies as Boeing and Verizon.
He sold the company six years ago for more than $600 million to XPO Logistics, a Connecticut-based company in which he continues to have a financial interest and one that rents three local buildings from real-estate partnerships that he leads.
Under questioning by the House Oversight Committee last week, he confirmed having received roughly $1.86 million in rent from XPO without specifying the time frame.
The trio of buildings rented locally by XPO are among four properties that DeJoy-led partnerships own along Piedmont Parkway in western Greensboro and northern High Point, according to Guilford County real-estate records and N.C. Secretary of State corporate disclosures.
The three buildings on the parkway rented by XPO have a combined, estimated value for tax purposes of just less than $10 million, according to county ad-valorem listings.
Testifying in a New York accent that his time in North Carolina has done little to soften, DeJoy told legislators last week that his relationship with XPO had been scrutinized by Postal Service officials.
"I have a significant investment in XPO Logistics which I vetted with the ethics department of the Postal Service and I was given specific types of guidelines I would need to adhere to," he said.
XPO Logistics declined to comment. But a person with direct knowledge of the company's business practices said the logistics firm has been wrongly portrayed as a Postal Service competitor when it actually works for USPS as a contractor that does a small percentage of its business with the agency.
"A postmaster general would never get involved in negotiating a contract at that level," said the source, who asked to remain anonymous out of concern for jeopardizing their relationship with the company.
In his congressional testimony, DeJoy also said the agency's inspector general was looking into such issues as his and Wos' ownership of stock in USPS competitor Amazon, which he told the House committee that he had sold at loss in a "covered call" financial maneuver.
"I don't own anything with Amazon," he testified.
Woods said he doesn't begrudge DeJoy the wealth he eventually amassed, enough to afford a $5.9 million baronial estate in Irving Park and contribute $1.2 million to Trump in recent years.
He was skilled at sizing up business opportunities for the risks as well as potential benefits they might offer his fledgling company. And he worked at an unforgiving pace for hours on end, Woods said.
"I'd find him there in his office with his head on his desk," Woods said. "He would just be exhausted."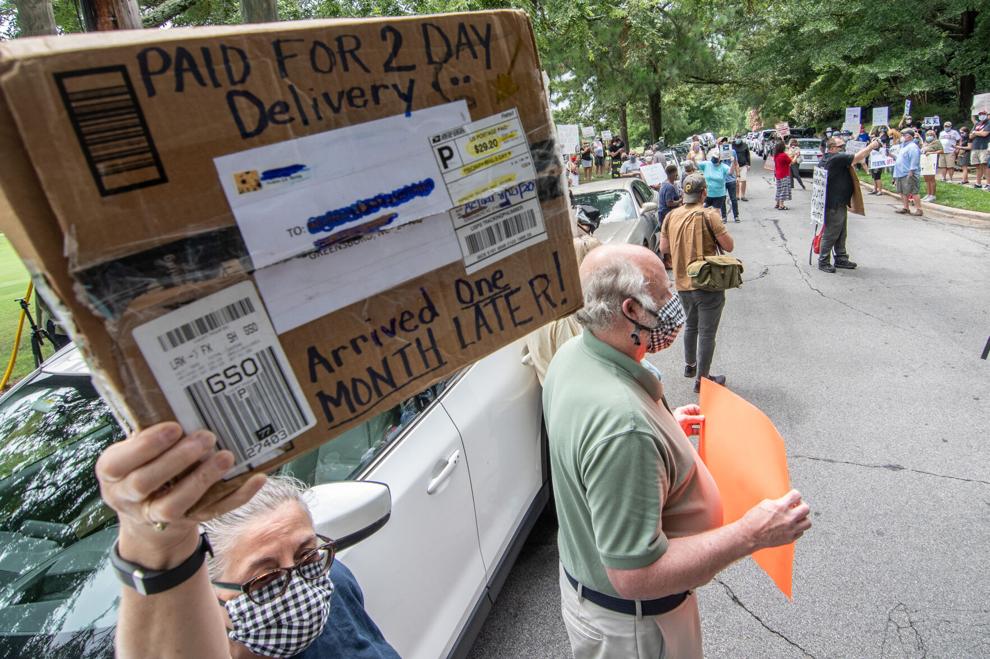 Woods thinks his former boss has been getting a raw deal from critics in the postal union, Democratic Party and the media: Nobody seems willing to cut the man any slack or concede that, as Woods believes, he might have exactly the background and business mindset that a struggling Postal Service needs to get back on track.
Without question, DeJoy faces a daunting task, said logistics expert Paul Steidler of the nonprofit Lexington Institute in Arlington, Va.
The public service that is supposed to be financially "self-sustaining" actually operates at a loss of about $10 billion. In July, the Postal Service reported a loss of more than $1 billion for that month alone, Steidler said.
Despite the recent controversy over delayed services, timely delivery of first-class mail has been falling behind schedule since 2012, said Steidler.
In the main, DeJoy has done a good job during his first weeks in office, Steidler added. But last week's at-times frosty reception on Capitol Hill revealed one shortcoming, he said.
"He has to communicate more and, frankly, schmooze with members of Congress," Steidler said. "It might not seem important, but it goes with the territory."
And yet, there is DeJoy's support for Trump, who speaks generally of the Postal Service with disdain and who has said election fraud is an inevitable outcome of the mail-in voting process in which the USPS is such an essential factor.
Former letter carrier Richard Koritz cited Trump's criticism as the backdrop for DeJoy's only action in office that he applauds. That was the new postmaster general's reported effort to get the president to stop speaking so negatively about the Postal Service, said Greensboro resident Koritz who is a postal union representative.
In DeJoy's recent congressional testimony, he said that he had tried to get word to the president that such comments were not helpful.
Other than that, Koritz said that his fellow Greensboro resident's time in office has not been productive: "Trump has someone in there who is perfectly situated to do a piecemeal privatization on the way to outright privatization."
Such criticisms are "a false narrative" that Democrats and DeJoy's other detractors are spreading without regard for his logistics expertise and his many civic contributions, said U.S. Rep. Mark Walker, R-Greensboro.
The situation has been aggravated by the fact that this is an election year when many officeholders are seeking headline-grabbing opportunities to help themselves get reelected, Walker said.
Still, he said he is hopeful the controversy that has enveloped DeJoy could end happily for the beleaguered Postal Service and its new leader.
"I think it can," Walker said, "if people are willing to be honest."
Contact Taft Wireback at 336-373-7100 and follow @TaftWirebackNR on Twitter.