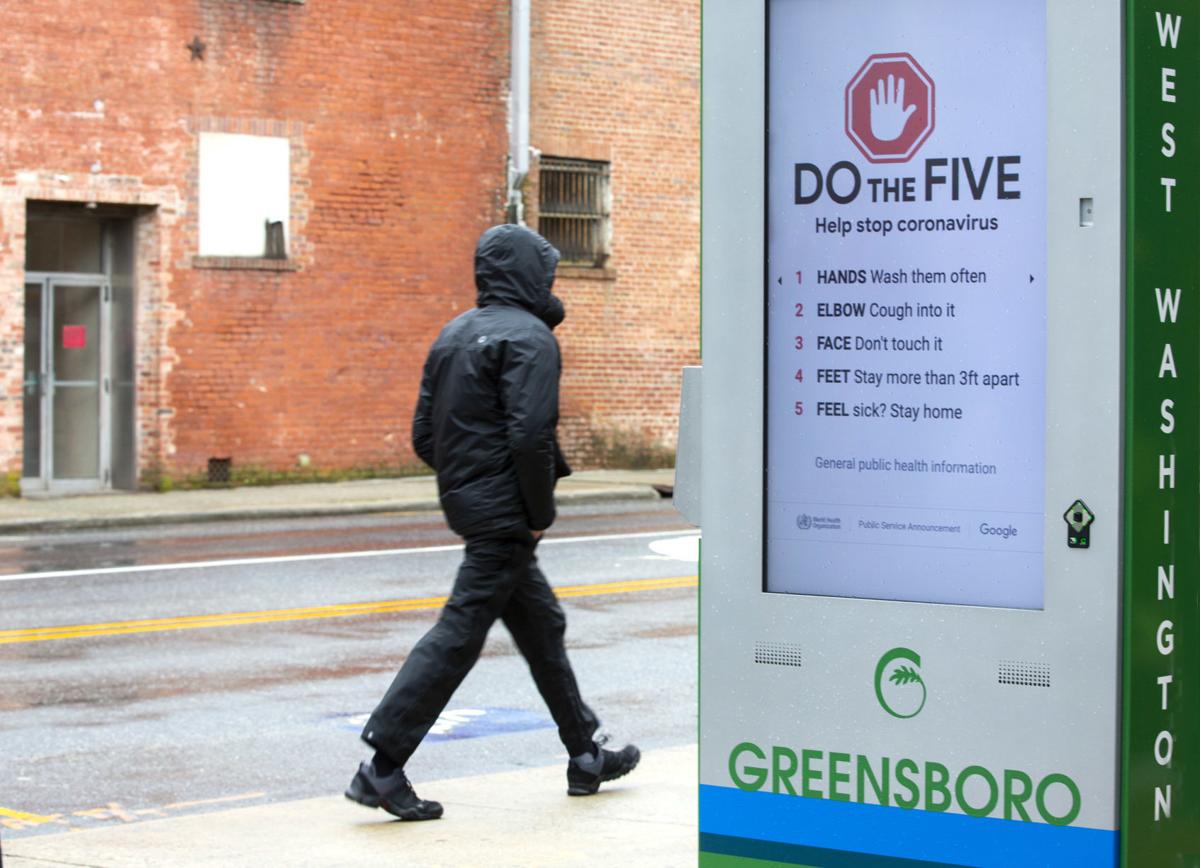 GREENSBORO — Whether they live in a city, town or an unincorporated area, residents of Guilford County will be under a "stay home" order that takes effect at 5 p.m. Friday and aims to rein-in the accelerating spread of the new coronavirus.
The order announced in a joint news conference Wednesday by Guilford County and the cities of Greensboro and High Point bans all non-essential travel and work through April 16.
"We are asking our residents to work with us as we work to hold back the spread of this disease," said Jeff Phillips, chairman of the Guilford County Board of Commissioners.
The order requires local people "to stay at their place of residence except that they may leave to provide or receive certain essential services," go to work in "essential businesses and governmental services," and pursue other necessary functions.
"Many people will be impacted by this decision and it was the most difficult decision I've made as your mayor," Greensboro Mayor Nancy Vaughan said. "There will be those who say we overstepped our authority and those who say we did not go far enough."
The trio of local governments held a 4 p.m. press conference in the Old County Courthouse to unveil this latest development in their battle with COVID-19, which has spread to more than 500 North Carolina residents including at least 22 people in Guilford.
The order comes a day after the county said it had seen its first "community spread" transmission of the illness and the same day North Carolina reported the first deaths in the state due to COVID-19.
The authority to impose the order stems from a March 13 declaration of emergency signed jointly by the leaders of  Guilford County, Greensboro, High Point, Gibsonville, Jamestown, Summerfield, Stokesdale, Oak Ridge, Pleasant Garden, Sedalia and Whitsett.
At Wednesday's announcement Phillips, Vaughan and High Point Mayor Jay Wagner said the order followed in-depth discussions with senior Cone Health administrators and was not aimed at creating a "police state."
Cone Health CEO Terry Akin said in a separate news release Wednesday afternoon that he was grateful to the local leaders for their actions.
"We have a window of opportunity to actually minimize the spread of this virus," Akin said. "Today's action will save lives and reduce COVID-19 cases."
Phillips said that local officials began moving toward Wednesday's decision two days earlier in a meeting with Akin and two other medical experts from the health system.
He said no single event or development triggered the further tightening of rules linked to the March 13 emergency declaration, which local officials most recently tightened earlier this week by limiting public gatherings to 10 people and banning the use of public and some private playgrounds.
Vaughan said leaders became concerned that if they did not act more assertively, the highly contagious disease would overwhelm area hospitals.
The declaration contains a laundry list of exceptions for workers in business and government, ranging from health care, law enforcement and public safety to groceries, pharmacies, critical manufacturing and other businesses key to maintaining the economy.
"This is not a full shutdown. It's not a lockdown," Wagner said, noting that people who do not work in an essential profession can still go out for such activities as buying groceries, getting medicine, helping family and friends, and walking their dogs.
Phillips said exceptions also would include parents helping children continue their education by going to schools — closed countywide by state mandate over virus fears — in order to borrow laptops and other technology used for distance learning or to make use of Wi-Fi hotspots located in eight school parking lots.
Phillips said residents with questions about whether their particular reason for leaving home is good enough can call a new county hotline at 336-641-7527 after 2 p.m. Thursday when it goes live.
He said local officials also plan to post answers to frequently asked questions about the new order on county government's website, guilfordcountync.gov.
If it were absolutely necessary, law enforcement officers could charge someone who willfully violated the order with a misdemeanor, said Don Campbell, the county's emergency management director.
But he said officers likely would be doing "a lot of education," more so than taking violators into custody.
"Our goal in this process is to get people to stay home, not to put people in jail and issue citations," Campbell said.
Here are some frequently asked questions from the city: