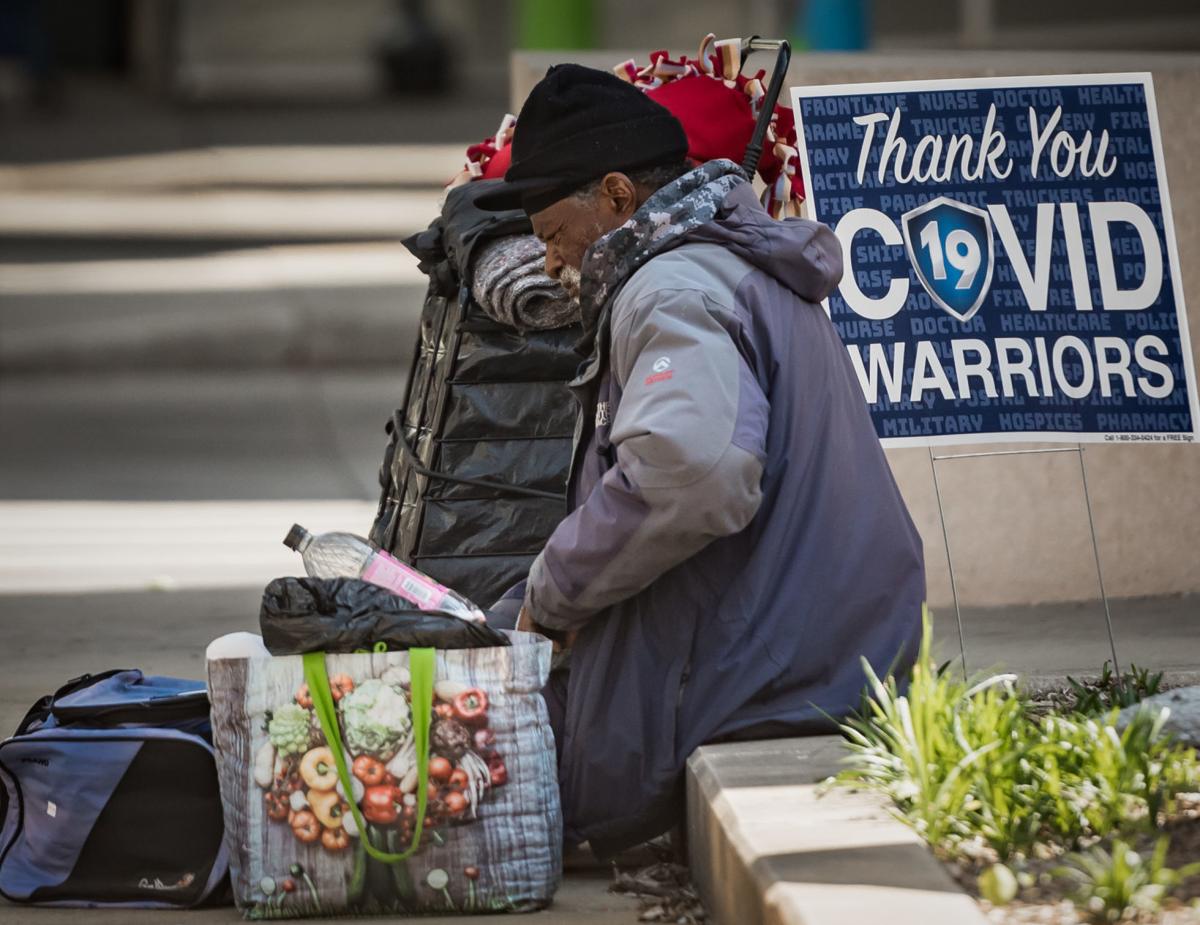 GREENSBORO — Guilford County plans to isolate or quarantine in a hotel all homeless people who show symptoms of or have tested positive for COVID-19.
The county health department and the department of social services, along with Partners Ending Homelessness and the Continuum of Care nonprofit agencies, have worked for two weeks to craft the plan to house people in a centrally-located hotel in Greensboro.
But the plan has already drawn criticism from some advocates for the homeless.
A screening and transportation program began Thursday at all 12 of the county's homeless shelters.
County officials made the announcement to agencies and others who manage shelters for the homeless throughout the county on a conference call Thursday morning.
County Commissioners Chairman Jeff Phillips, Guilford County Health Department Director Dr. Iulia Vann and Emergency Management Director Don Campbell told the 61 people on the call that the county will screen every person in a homeless shelter in Guilford County.
If someone has a fever, cough or shortness of breath, that person will be tested for COVID-19. While the person awaits results, the county will take the person by van to the hotel.
Those sent to the hotel must stay there at least until they test negative for the virus. A person who tests positive will be required by law to stay alone in a hotel room for at least 14 days or until they test negative for the disease.
The officials did not name the hotel but said it's centrally located in Greensboro, has all outside doors for the rooms and each room has its own air-conditioning system.
Vann said the rooms have televisions, microwave ovens and refrigerators.
People in the hotel will receive a "Bill of Rights/Rules for Hotel Guest" that will guarantee three meals a day delivered to the room, provide contacts for questions or emergencies, trash pickup and other services. Each person must stay in the room full time and have no visitors during the quarantine period.
If a person tries to leave, security guards at the hotel will explain the requirements of the order and that they will be arrested and subject to charges if they violate the order, Campbell said.
"We have the ability to use our law enforcement system and our justice system," he told the group. "That is a last resort."
Vann said that the terms "isolation" and "quarantine" are not interchangeable. A person under isolation has tested positive for the disease and is subject to the longest period alone in a hotel room. A person under quarantine has experienced symptoms and is awaiting results of a test.
Transportation will be provided to each person under quarantine or isolation by two vans operated by the Guilford County Department of Social Services.
Vann said transportation will cover the entire county and will be available 24 hours a day, seven days a week.
Once homeless shelters have screened someone who needs testing and isolation or quarantine, Vann said, the health department will be called and county officials will handle the case from that point.
"That's where your burden stops at that time. You will not be responsible for transportation or hotel arrangements. That will be our process," Vann said.
County officials said they realize that not all shelters have medical personnel on staff. They prefer that someone with minimal medical training perform the screenings but are offering a webinar to all staffers of homeless shelters on Monday to show how to correctly take a person's temperature and evaluate symptoms.
Felicia Reid of the health department said homeless shelters should isolate anyone they suspect has well-defined symptoms.
Michelle Kennedy, who manages the Interactive Resource Center and is also a Greensboro City Council member, said the county has wasted valuable time as the pandemic grew more serious.
"I haven't heard from anybody or seen anybody (from the county) unless it's a call we've initiated," Kennedy said. "I don't think any of us need a press conference. What we needed was leadership a month ago. What we got was a huge vacuum."
The city of Greensboro and IRC have set up a shelter at the Parks and Recreation Department's Greensboro Sportsplex on 16th Street and, with the help of nonprofits, placed a group of vulnerable homeless people over 60 in a hotel for their own protection.
Campbell, in answering a question on the conference call, said the hotel rooms are all non-smoking and no alcohol or other substances will be allowed. He said patients with substance-abuse problems will essentially be on their own to take care of themselves unless they have an emergency health issue.
Patients are not allowed to smoke or use other substances in hospitals, either, he said.
Kennedy said a nurse and a social worker should be available for those with substance abuse problems who might suffer life-threatening illnesses if they were to suddenly stop using drugs or alcohol.
"The failure to include harm-reduction strategies in a quarantine or isolation situation as it relates to people with alcoholism or substance use disorders is completely irresponsible," Kennedy said.
Marcus Hyde, a founder of the Homeless Union of Greensboro, said officials should find a way to move all homeless people into hotel rooms before those exposed to the virus in group settings all contract the disease.
Hyde said in an email: "They are letting a bunch of potentially asymptomatic people infect each other, and then they'll offer them 14 days in a hotel."
He called the plan misguided and reactive — "the opposite of what public health is supposed to be about — being proactive and stopping the spread of disease before our systems get overwhelmed. It's also just wasting a lot of opportunities when there is funding available."
The Rev. Mike Aiken, a retired director of Greensboro Urban Ministry, was involved as a community volunteer while officials worked out this plan.
He believes the plan is needed, if not perfect. Putting all homeless people into hotel rooms during the outbreak is a worthy goal, he said.
"That might happen later, but in the meantime if somebody shows symptoms, to get them out of that environment and get them into a location like they're talking about seems like a real good start," Aiken said.
Campbell said the county has no information yet about how to get direct federal funding for the program.
On Wednesday, Gov. Roy Cooper said state and federal authorities are ready to pay for hotel rooms for homeless people during the crisis. Details are still being sorted out.
Cooper said that while the Federal Emergency Management Agency has approved assistance for those being served by public health agencies, North Carolina has not been approved to assist individual cases.
The state will work with local hospitality groups to provide more than 16,500 units of individual housing in dormitories, hotels, trailers or other spaces. The federal government, through FEMA, will pay 75% of the costs associated with operating the "non-congregate sheltering program," while North Carolina will pay the remaining 25%.
The Winston-Salem Journal was used in this report.