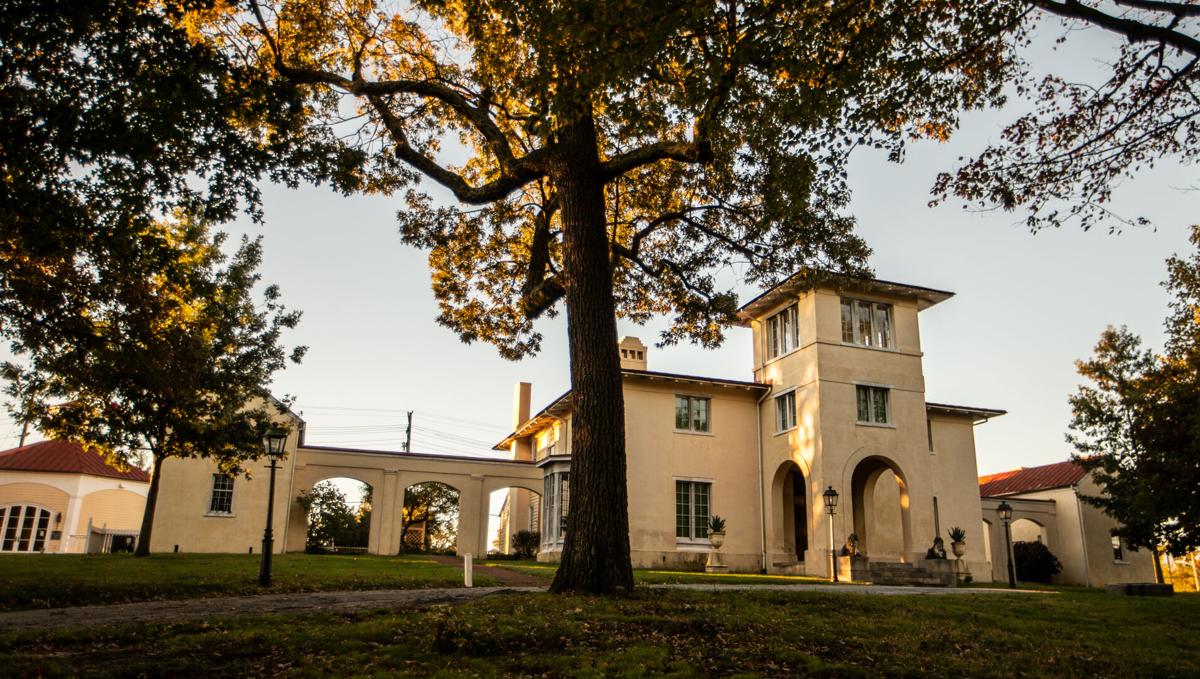 GREENSBORO — Friends seeking Halloween fun find what they think is a commercial haunted house. Then their experience turns ghostly.
Movie producers at local CMB Studios, and a cast and crew have turned that plot into an online fictional film. It's set at Blandwood Mansion, the 19th century home of Gov. John Motley Morehead that has become a historic house museum.
"It's a traditional horror film combined with history and a Millennial feel," said Tiffany Luard, the film's executive producer.
The 30-minute film titled "Unrest" premiered Friday night on the website macabreatblandwood.com. The website will stay live through Nov. 20.
Viewers will pay $5 to see the entire film. That will raise money for Preservation Greensboro, the nonprofit that runs Blandwood.
The film has other benefits, said Benjamin Briggs, executive director of Preservation Greensboro.
"We want to introduce Blandwood to a new group of people, people who are new to the city, people who are young who maybe haven't known Blandwood very well," Briggs said. "It's to broaden our audience."
It also showcases the talent of the Triad film industry, which has suffered from lost work during the COVID-19 pandemic.
"It's a different approach to Halloween, to history, to promoting our film industry, to championing the themes of Blandwood," Briggs said.
"And maybe most importantly, it's out there to give some fun," Briggs said. 
Website visitors also can view a virtual tour of the home at 447 W. Washington St.
It also features five ghost stories set in the Victorian era, written by authors such as Bram Stoker, Edgar Allen Poe and Dora Sigerson Shorter.
Briggs had planned for actors to dramatize those stories for Halloween at Blandwood.
The COVID-19 pandemic changed that. Blandwood has closed to the public until further notice.
Briggs looked for videographers to produce the ghost stories online.
Preservation Greensboro board member Sunny Gravely introduced him to Luard.
Luard grew up in Greensboro and graduated from college at the UNC School of the Arts.
Her career as a film producer has taken her to New York and Los Angeles. She has worked on films such as "Leatherheads" and on television series such as "ToyMakerz."
Now she's back in the city, running CMB Studios with Christopher Bray. 
Luard suggested to Briggs that they put characters from the five ghost stories into the film with a new story line. Bray wrote the script and directed.
They joined with supervising producers Angela Carroll and Steven Jones and a cast of 12. 
They filmed it all within two weeks.
Preservation Greensboro contributed $7,500 to help pay film costs. Filmmakers donated more than $40,000 through deferred costs for equipment rental, labor and catering, Luard said. 
Because the online film can be seen around the country, Luard believes it will eventually create tourism and bring in visitors to Blandwood and the city.
Luard commends Blandwood staff, who operate a low-tech historic location, for their willingness to take a risk.
"For them to embrace such a technologically advanced creative project is something to admire," she said.
Briggs is impressed with the results.
"Maybe this is a way that shows that we are all encountering these new experiences with being isolated and having to play safe," he said. "We are looking at new ways to approach old opportunities and thinking outside the box."
Contact Dawn DeCwikiel-Kane at 336-373-5204 and follow @dawndkaneNR on Twitter.