JAMESTOWN — Residents have long enjoyed running and walking along the brick sidewalks that follow many of the main roads throughout Jamestown.
By summer, they'll have something new to explore on East Fork Road: a pedestrian bridge over City Lake.
Jamestown Mayor, Lynn Montgomery, says the project has been under consideration for two decades, and in active planning for more than seven years.
"We were very fortunate to be able to obtain federal and state grants to make this dream a reality," she said. "Residents are delighted to have a safe way to access trails."
The total cost for the project is about $1.8 million, and is funded entirely with state and federal grants. Town Planner Matthew Johnson said the idea for the bridge first surfaced around 2000 when the N.C. Department of Transportation replaced the vehicle bridge on East Fork Road over the lake. John Frezell, the town manager at the time, asked for a bridge deck for walkers and cyclists.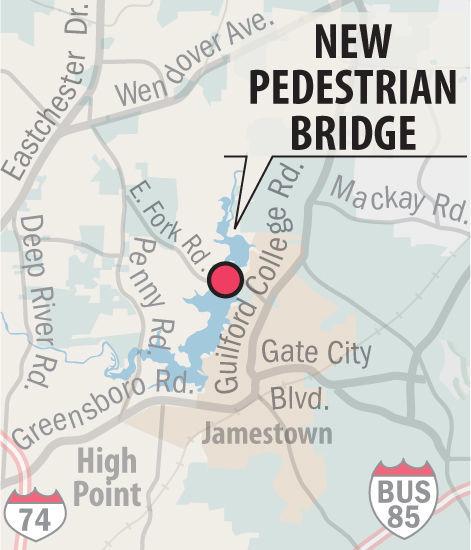 That area near Jamestown Golf Course is a popular spot for dog walkers, joggers and cyclists who cross the road to use the Bicentennial Greenway. The greenway connects to Piedmont Environmental Center to the south and Gibson Park to the north.
The late Charlie Jones, of Jamestown Engineering Group, designed the first iteration of the bridge. However, the wooden structure he proposed would have been difficult and costly to maintain over time. Environmental restrictions and the cost of it prevented the project from advancing very far.
It was the economic downturn in the late 2000s and early 2010s that really got it off the ground. Jamestown leaders learned that state and federal grants were available for municipal projects with plans in place. Although town leaders responded quickly, it still took another seven years to approve at state, federal and local levels. Work finally began in February.
The new bridge, designed by town engineer, Paul Blanchard, is a single-span steel structure, weighing 55 tons. Its rusty appearance is by design. A light layer of protective rust is intentional because once it oxidizes, it won't rust any further. This is to ensure the bridge wouldn't need repainting or maintenance, Johnson said: "Because it's over a water-supply lake, we didn't want worry about environmental hazards that might come with having to repaint it."
The 10-foot wide bridge deck will allow enough room for people to walk and cycle past each other easily. It stretches 200 feet from end to end — to put it into perspective, the length of the playing area of a football field is 300 feet. It also rises 8 to 10 inches higher than the vehicle bridge, so boaters can pass underneath without any problem. It was lifted and set into place on April 7.
East Fork Road has been closed since Feb. 3 for the project, inconveniencing many motorists, including school bus drivers and commuters. But since the governor's stay-at-home orders were announced in March, fewer drivers have had to contend with the closure, he said.
Because the project is ahead of schedule, Johnson said, the road should reopen before June.
Once the stay-at-home orders are lifted and it's safe to gather again, Johnson said there will be a bridge dedication.
"This has spanned a number of council members over the years. It couldn't have been done without their support and everybody's patience with us," Johnson says. "It's been a lot of hard work on the part of the staff, especially Paul Blanchard. Thank you, Jamestown, for being patient with us."
Be the first to know
Get local news delivered to your inbox!