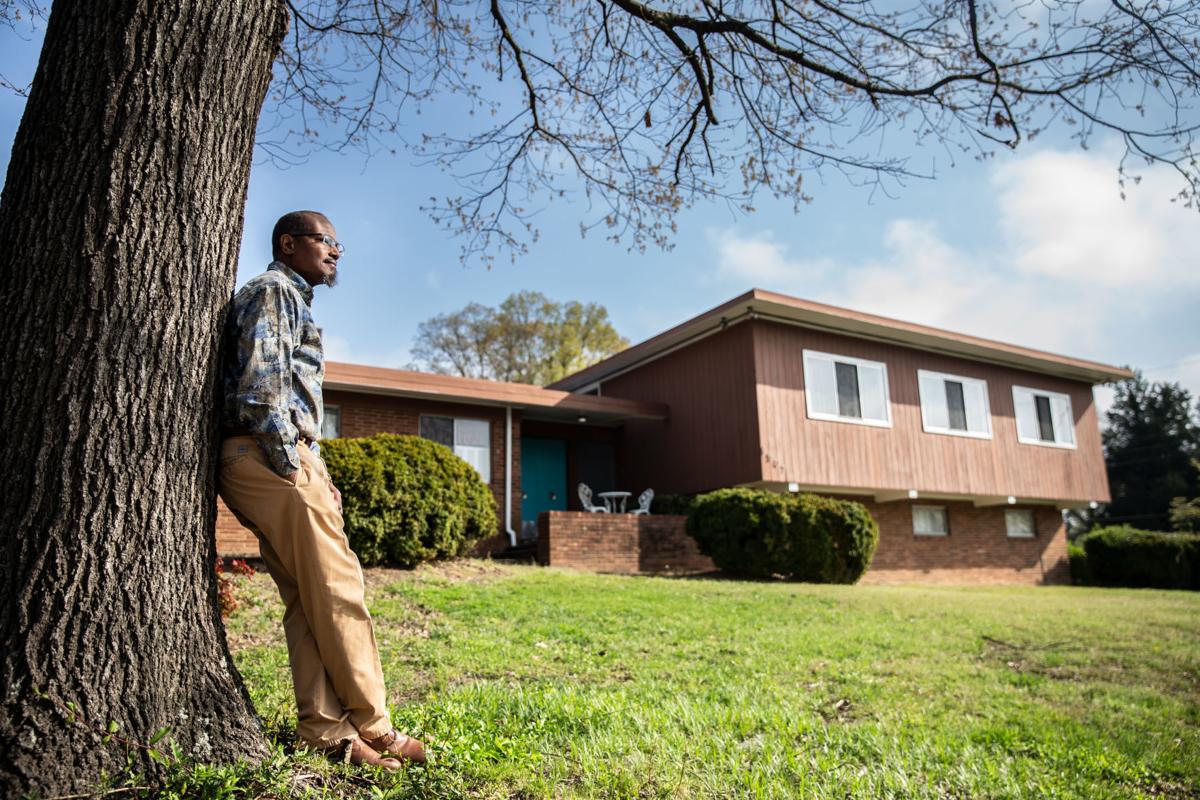 Editor's note: This installment is the first in a series of stories following the grassroots effort to document Greensboro's South Benbow Road area as a candidate for the National Register of Historic Places.
GREENSBORO — When Scott Wood bought the 1960s modernist-style home noted civil rights attorney J. Kenneth Lee built and lived in off South Benbow Road until shortly before his death in 2018, he repaired flooring and updated the bathrooms on the house's main floor.
"I really didn't want to touch the basement," the Dudley High assistant basketball coach said, "because the basement has a lot of history."
Lee kept an office there, and it was around a large table that he talked strategy with the likes of future U.S. Supreme Court Justice Thurgood Marshall and the Rev. Martin Luther King Jr.
Eric Woodard learned about Lee and other fascinating stories about the people and buildings making up communities off South Benbow, a road that was prominent black people's answer to Irving Park during segregation.
"That's national history, and world history, in those few blocks," Woodard said.
A grassroots effort instigated by Woodard's curiosity is now underway to survey the distinct design styles of the homes, churches and residential neighborhoods in the South Benbow Road area — along with the impact of its residents on American history.
Yes, American history. The list of firsts by African Americans coming from these neighborhoods is that important.
The home of civil rights attorney J. Kenneth Lee was built in Benbow Park by a Ku Klux Klan leader named Clyde Webster. "He said, 'You and me …
Dr. Alvin Blount, who lived on East Side Drive, was among the Greensboro doctors who asked courts to integrate Moses Cone Hospital, leading to hospitals across the country having to do the same.
The home of Judge Henry Frye, the first African American chief justice of the N.C. Supreme Court, is within walking distance.
Lee, one of the earliest residents to build a home on what had been red dirt, had been a plaintiff in a case argued by Marshall, then chief legal counselor with the NAACP's Legal Defense Fund, to desegregate UNC-Chapel Hill's law school. The case successfully opened the university's doors for entry to other black students.
Oddly enough, Benbow, a road that symbolizes so much black accomplishment, is named after a white dentist born in 1832.
It's also a reference that for locals is a catch-all term, encompassing many of the neighborhoods off the main road.
As with segregated areas at the time, the range of black economic classes were often separated by just blocks, but could be found among the same church pews during Sunday morning services.
Woodward moved here in 1994 and later discovered South Benbow Road and its inventory of mid-century modern buildings.
Many of the homes were designed by black architects — some who taught or attended N.C. A&T.
Woodard got a few friends interested in finding a way to tell the area's story — and his research caught on.
Neighbors there, like UNCG professor Christina Yongue, who inherited her grandparents' home in the community, and members of groups such as the St. James Presbyterian Social Justice & Advocacy Commission, Greensboro History Museum and Preservation Greensboro have taken an interest.
The group has already begun documenting the homes and history in hopes of the South Benbow Road area earning a spot on the North Carolina Study List, a preliminary determination of eligibility for the National Register of Historic Places.
Woodard says he only brought "fresh eyes" to an area that has a fascinating story.
"It's a story that hasn't been told to the degree that it needs to be told," Woodard said.
'It was a huge moment'
South Benbow Road communities — with names like Benbow Park, Spaulding and Clinton Hills — make up a wide swath roughly from East Gate City Boulevard and U.S. 29 to Florida Street and Martin Luther King Jr. Drive.
Lee convinced a young Marvin Watkins to build in the area not too far from his Broad Avenue lot, where just one other house had been erected, and that was for the Rev. Charles Anderson, the pastor of Institutional Baptist Church.
Lee told Watkins the owner of the properties needed cash, so he could probably get a deal.
But the downtown bank limited loans to African Americans, and the most they would give him was $13,500.
Lee had also mentioned that a few local people, including himself, were working to start a minority-owned bank.
"He said it's going to mean you have to delay building the house," the now-retired former A&T administrator said.
And when American Federal Savings and Loan opened, Watkins built his home on Broad Avenue, where he continues to live.
Ground was broken in the late 1950s for St. James Presbyterian Church at 820 Ross Ave. From left are the Rev J.T. Douglas, Vance Chavis, Dr Ge…
Members of Durham's Spaulding family had moved to Greensboro and owned the property surrounding Lee's home. Caveats came with purchasing the lots, Watkins said. The homes had to be primarily brick, for example, and sit back from the street.
"We lived on the other side of the tracks," Watkins said of segregation. "So we took care to make certain that whatever we did, we did it well."
Homebuyers wanted contemporary styles, characterized by big windows, sleek designs and open floor plans.
They included sprawling ranch houses, split-level buildings and other features such as flat roofs.
As a young girl, Yongue, the UNCG professor, recalled coming to the South Benbow Road area with her parents for one of her grandmother's big Sunday dinners.
Samuel Hodges, one of the first black agriculture extension specialists in the state, and Virginia Hodges, a home-economics teacher, lived in a ranch-style brick house with a carport and basement.
"The children would eat in the basement and the parents and the adults would eat upstairs," Yongue recalled. "It was hours and hours that we would just be here visiting over a meal."
Among the reasons she's excited about getting a historical designation is that it would formally recognize the work of local black architects. During segregation, black architects were limited by society in what they were allowed to do.
"When people are undervalued, the whole society suffers because you lose out on their creativity," Yongue said.
Many of the black architects who designed houses in Greensboro were proteges of Edward Lowenstein, whose large architectural firm was based in the city and was the first white architectural firm in the state to hire black professionals, including Edward "Blue" Jenkins, who designed Dudley High School's gymnasium and was the third licensed black architect in the state.
Other black architects connected to Lowenstein, including William Streat, Major Sanders and Clinton Gravely.
Streat was also the chair of the architectural engineering department at A&T.
Gravely, who is based in Greensboro, continues to design projects across the country.
"We tried to please the client, whether it was contemporary or colonial or whatever," Gravely said. "If we had a choice, it would have been contemporary."
Woodard gathered stories related to the architects as he knocked on doors trying to get people to attend community meetings to talk about the area's history and what could be done to have it recognized. By then, Woodard was a board member of Preservation Greensboro.
He would often leave his day job to walk the streets off Benbow to invite residents to come together to talk about pursuing a historical designation.
He sent letters to residents, but got no response.
At the sight of the young stranger on their steps, some homeowners never came to the door. Others listened to his talk with a wary eye.
Someone had told him that Blue Jenkins' daughter had moved back into the family home. When he stopped by the house, a woman came to the door. It was the daughter of the man whose work he so admired.
"This is the embarrassing part — I started crying," Woodard said. "It was a huge moment for me."
'Storylines that we are still uncovering'
Wood, like other young professionals who didn't grow up in the South Benbow Road area, felt drawn to live there.
He often drove down Benbow Road on the commute from his home in Summerfield to Dudley High School.
He had lost out on a couple of houses off South Benbow when a friend told him about Lee's house at the corner of Benbow and Broad Avenue. The family had moved Lee to an assisted-living facility by then and was about to put the house on the market.
"This is not just another house," he said.
The sprawling two-story also has a circular driveway — and a history that is part of the group's application for the historical designation.
While a champion of people seeking justice, Lee also had enemies.
In the early 1950s and 60s, he served as assistant legal counsel for the state NAACP, which made him local counsel in the first suits brought in the state to integrate elementary and secondary public schools.
Anthony Connor, 9, rides his Red Ryder wagon in the drizzling rain on the sidewalk along South Benbow St. in Greensboro, NC on Saturday, April…
In 1957, Lee successfully represented five black children suing Greensboro City Schools for admission to all-white Gillespie Park Elementary. They, along with Josephine Boyd, who entered Greensboro Senior High at the same time, became among the first black students in the state to attend previously all-white schools.
A carpenter by trade, Clyde Webster marched with KKK banners on the day those black children integrated and later threw bottles through the plate-glass window of Lee's office.
Webster was given a jail sentence for the vandalism. His case was on appeal when he showed up at Lee's office to say that he had been fired from his job.
Webster happened to be the chief carpenter for the company Lee had just hired to build his home, which Jenkins designed.
Knowing the history between the two, the company fired Webster.
Webster told him they would never agree on race, but he was the best carpenter around.
So Lee persuaded Webster's company to let him stay on the job.
Lee's home had been completed by the time Webster's appeal came up, and Webster's lawyer subpoenaed Lee to talk about the time the two men had spent together. As a result of Lee's testimony, Webster was given a suspended sentence.
They saw each other just outside the courtroom. Webster, surrounded by other KKK members, extended his hand toward Lee.
"He said, 'I just want to let you know that if anybody in this town ever messes with you, all you've got to do is call us," Lee recalled in interviews with the News & Record before his death.
That moment in history has brought an energy to the project.
"There are storylines that we are still uncovering," said Benjamin Briggs, the executive director of Preservation Greensboro.
Contact Nancy McLaughlin at
336-373-7049 and follow
@nmclaughlinNR on Twitter.