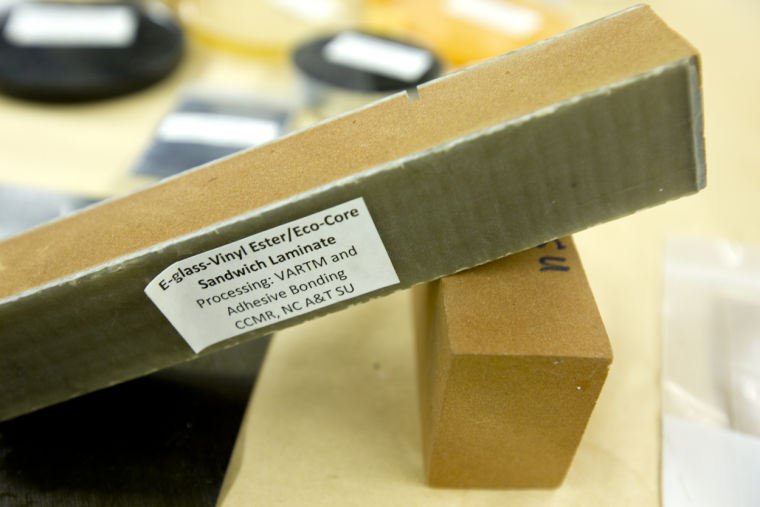 N.C. A&T researchers Kunigal Shivakumar, Robert Sadler and their colleagues have developed a "miracle material" that's lightweight, waterproof, fire resistant, anti-corrosive and nontoxic.
Oh, yeah, it also deflects explosions.
And, perhaps most notably, the stuff is 95 percent coal ash.
Their so-called Eco-Core composite comes from the refined fly ash part of power-plant waste, said Shivakumar, the director of A&T's Center for Composite Materials Research.
"We said, 'OK, this can be manufactured,' " Shivakumar said of their eureka moment in 2003.
They've spent the past 10 years testing and perfecting such qualities as the material's impressive strength per ounce, its lack of toxicity in a fire, its slowness to burn and its ability to absorb the impact of a blast without buckling.
But Shivakumar and Sadler have watched the unfolding aftermath of the coal ash spill this winter at the retired Dan River Steam Station near Eden with dismay.
An estimated release of up to 39,000 tons of ash escaped from a Duke Energy storage pond in February, gushing through a ruptured drainage pipe and into the river, triggering great public outcry and a continuing political controversy.
Since then, the powdery, grayish substance they see as full of potential has been portrayed widely as a health threat of monumental proportions.
"Everything has been bad-mouthing it," said Sadler, an adjunct research professor at the center. "And here we have made a miracle material out of it. ... It's got this rare combination of properties."
Even more frustrating for the researchers, they've done all they can with their new material, which includes testing it every which way from Sunday and writing more than a dozen scholarly papers proving their claims.
They just don't have the means to produce it en masse. They make Eco-Core at their lab in small quantities, basically for testing and educational purposes.
But reaping the benefits that society could see one day from Eco-Core requires someone with a different skill set: a manufacturing expert who could figure out how to produce it on a grand scale, what blend of ingredients would be most popular with consumers and how it could be marketed.
"Our work was how do we take this and make it an engineering material," said Shivakumar, whose expertise is mechanical engineering. "Somebody else must spend the money to take it from a laboratory process to commercialization."
Their predicament highlights the hit-and-miss way technology catches on or just never gets off the ground, Sadler said.
"You find all these things in the lab that have great potential. But they just die if no one is willing to take it to the next level."
Duke Energy was unaware of the work at A&T but welcomes it as another potential use for coal ash that the utility wants to recycle in every way that's feasible, company spokesman Jeff Brooks said.
"Certainly, we have a great interest in exploring options like this and any others that are available to use coal ash effectively," Brooks said.
He said he alerted Duke Energy's coal-ash team to A&T's work last week after the News & Record asked about the utility's familiarity with it.
The utility owns 14 active and retired coal-fired plants with a total of 33 on-site storage ponds for submerged coal ash.
After the Dan River incident, Duke Energy announced plans to eventually close all the ponds and to upgrade its coal-fired plants that are still operating so they produce only dry ash.
Eco-Core couldn't solve all the utility's coal-ash problems even if it became a popular building material, because it's only made from fly ash that is much different from the mixture found in the ponds.
The initial A&T research 11 years ago was part of a U.S. Navy effort to develop a composite material for use in ships and submarines, something less flammable or toxic than other commonly used materials , like balsa wood, PVC plastic and other polymer mixes.
The resulting Eco-Core is useful as the interior part of a wall or ship's hull, a lightweight "core" encased front and back by a layer or coating of some other surface material.
The need for such an alternative became apparent when a Norwegian minesweeper sank in November 2002 after a fire spread out of control, partly because the polymer compound inside the ship's framework burned so readily.
"They could not stop it," Shivakumar said. "And finally, it engulfed the ship."
The A&T researchers settled on fly ash as the perfect substance because of its versatile attributes, not necessarily because power companies produce so much and don't know what to do with much of what they've stored away.
The researchers use a highly refined form of fly ash, which is named for its behavior when burned in coal-fired power plants. It's the lighter form of coal ash that "flies" up the smokestack, as opposed to the heavier stuff that remains earth-bound in the furnace.
Coal-fired plants capture large amounts of fly ash these days because tighter, air-quality regulations require special equipment to trap and remove it.
The fly ash emerges almost immune to fire after the intense heat of power production, the two researchers said.
They make Eco-Core by mixing a much larger amount of fly ash with a special, liquid resin. The resulting paste then goes in a mold, where it is "hot pressed" into a hard, but lightweight shape.
Then researchers boost the fire resistance even more, up to U.S. Navy submarine standards, by heating it again in an oven.
"We have put a propane blowtorch on it for 30 minutes, and it didn't burn through," Sadler said of the new material. "It glows white hot on the surface, but it does not go through.
"The back side just gets warm. ... There's really nothing else structural that does that."
In addition to its use in submarines and surface ships, Eco-Core could find a place in commerce some day as a structural element in furniture, fire walls, subway cars and other transit equipment, and any other spot that requires strength and a protective shield in a confined or narrow space, Shivakumar and Sadler said.
A doctoral candidate carried out the center's most recent work on Eco-Core, successfully testing its resistance to nearby explosions.
That's probably the last research A&T will do on the new material, Shivakumar said.
Not much left to prove, he said.
Contact Taft Wireback at (336) 373-7100, and follow @TaftWirebackNR on Twitter.