When the Oxygen network's true-crime show "Snapped" headed to the South to explore "killer cases enmeshed with secrets, deception, and Southern charm," Blanche Taylor Moore was an obvious choice for inclusion.
"This month's slate of true crime investigations includes several unassuming women in the American South who poisoned, shot, and bludgeoned those closest to them," Oxygen proclaims on its website. "Don't be fooled by their churchgoing, socialite statuses — these women will do whatever it takes to keep their secrets and their true identities under wraps."
"Snapped: Blanche Taylor Moore" will air at 6 p.m. Sunday and later at Oxygen.com.
Here is a look back at Moore's tale, written in 2015 by then-staff writer Margaret Moffett. A few numbers and dates have been updated.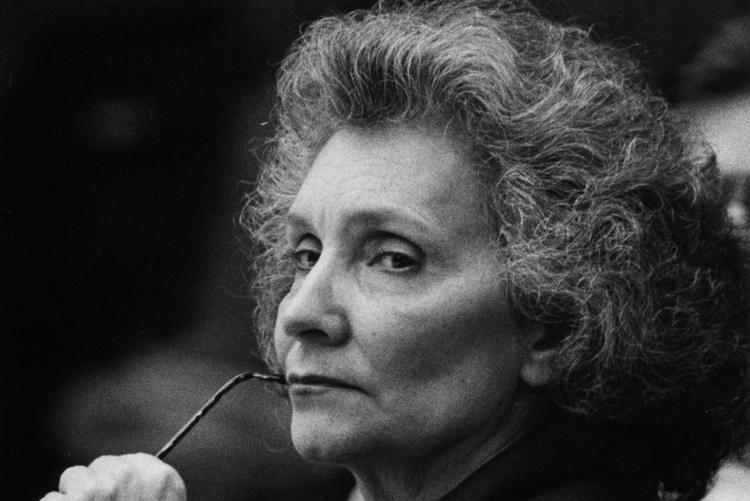 She was the Black Widow from Central Casting:
Southern and demure, with big '80s hair and a string of pearls. A preacher's daughter, a preacher's wife. A grandmother, even, secretly slipping arsenic into food — like her homemade banana pudding — hoping to induce slow, painful deaths for those closest to her.
Or around these parts, simply Blanche.
Thirty years ago this November, a Forsyth County jury found Blanche guilty of first-degree murder in the 1986 arsenic-poisoning death of Raymond Reid, her longtime boyfriend.
She was 57 when the same jury sentenced her to death on Nov. 16, 1990.
Technically, she was convicted for killing Reid and Reid alone.
But in reality, she stood trial as a serial killer, the presumed perpetrator of a string of arsenic poisonings — some fatal — that investigators, prosecutors and family members believed began in 1966.
Father. Mother-in-law. Sister-in-law. First husband.
And the Rev. Dwight Moore, her second husband, poisoned five days after their wedding in April 1989. By surviving what normally would have been a lethal dose of arsenic, Moore lived to testify, to seal his wife's fate.
"The only thing these victims had in common was chronic arsenic poisoning and their romantic or personal association with Blanche Taylor Moore," said Vincent Rabil, a former Forsyth County prosecutor, now an assistant capital defender, who helped convict Blanche.
Today, Blanche remains at the N.C. Correctional Institution for Women. She is one of 148 people awaiting execution in North Carolina.
At 87, she is the state's oldest death-row inmate, the second-longest serving and one of only three women.
We weren't able to ask her how she's doing or what she has done to pass the time for 25 years. State prison officials require written consent from the attorneys of death row inmates before forwarding requests for interviews, said Keith Acree, a spokesman for the N.C. Department of Public Safety.
Washington-based attorney William Taylor III, who has represented Moore since 1995, was considering our request at publication time.
Many others involved in the case either can't talk or don't want to.
Dwight Moore, who remarried and moved to Virginia, died of natural causes in 2013.
Lead Forsyth County prosecutor Janet Branch, whose crying spells in the courtroom nearly prompted a mistrial, committed suicide in October.
Mitchell McEntire, one of Blanche's defense attorneys who still maintains a practice in Graham, didn't return a call.
The details of her case, however, are preserved in hundreds of newspaper articles, books, even a made-for-TV movie, with former "Bewitched" star Elizabeth Montgomery cast as Blanche.
The mysterious deaths, spanning three decades.
Arsenic-laden bodies exhumed from cemeteries in Alamance County.
Intensive care nurses who said they watched Blanche spoon-feed banana pudding to Reid just days before he died.
And, of course, lots of odorless, tasteless Anti-Ant.
Poison in the pudding
If not for the Rev. Dwight Moore's strong constitution and will to live, the world may never have learned the extent of Blanche Taylor Moore's crimes.
Fresh from their brief honeymoon in April 1989, the minister became violently ill a half-hour after eating a fast-food chicken sandwich Blanche had given him. He went to the emergency room with severe nausea and vomiting.
Three weeks later, he was near death at a Chapel Hill hospital, hooked to a ventilator, his liver, kidneys and heart failing. He wasn't expected to live.
Doctors threw a Hail Mary: They ordered blood tests for herbicide poisoning, because he had used the chemicals before his illness.
The results revealed more arsenic than his doctors had ever seen in a living person — 100 times the normal amount.
The hospital alerted police, who interviewed him as he lay on what was supposed to be his deathbed.
Moore mentioned to police that Blanche's former boyfriend, Raymond Reid, died in 1986 of Guillain-Barré syndrome, an immune system disorder with symptoms similar to arsenic poisoning.
That's when investigators started to exhume bodies.
In the summer of 1989, workers unearthed five caskets from Alamance County cemeteries. Each contained the remains of someone close to Blanche.
Autopsies revealed a new cause of death — arsenic poisoning — for two of the five: Reid, whose arsenic level was 30 times higher than normal, and James Taylor, her first husband, whose 1973 death from an apparent heart attack was the result of an arsenic level 60 times higher than normal.
Two other bodies that were exhumed — those of her father, the Rev. Parker Kiser Sr., and her mother-in-law, Isla Taylor — had high levels of arsenic, but not high enough to kill them, the medical examiner said.
The body of Joseph Mitchell, a former co-worker of Blanche's who died in 1985, also was exhumed. The autopsy didn't reveal any unusual level of arsenic.
David Hedgecock, the State Bureau of Investigation agent whose investigation led to the exhumations, said the names of more than 30 people arose as possible arsenic victims.
"There was a good bit of hysteria going on,'' Hedgecock said at the time. "It seemed like anyone that had a family member dead who at some point knew Blanche thought that Blanche had something to do with the death.''
On July 18, 1989, authorities arrested Blanche and held her without bail. She was charged with first-degree murder in the deaths of Taylor and Reid and assault with a deadly weapon in the poisoning of Dwight Moore.
She hasn't experienced a moment of freedom since.
A trial of tears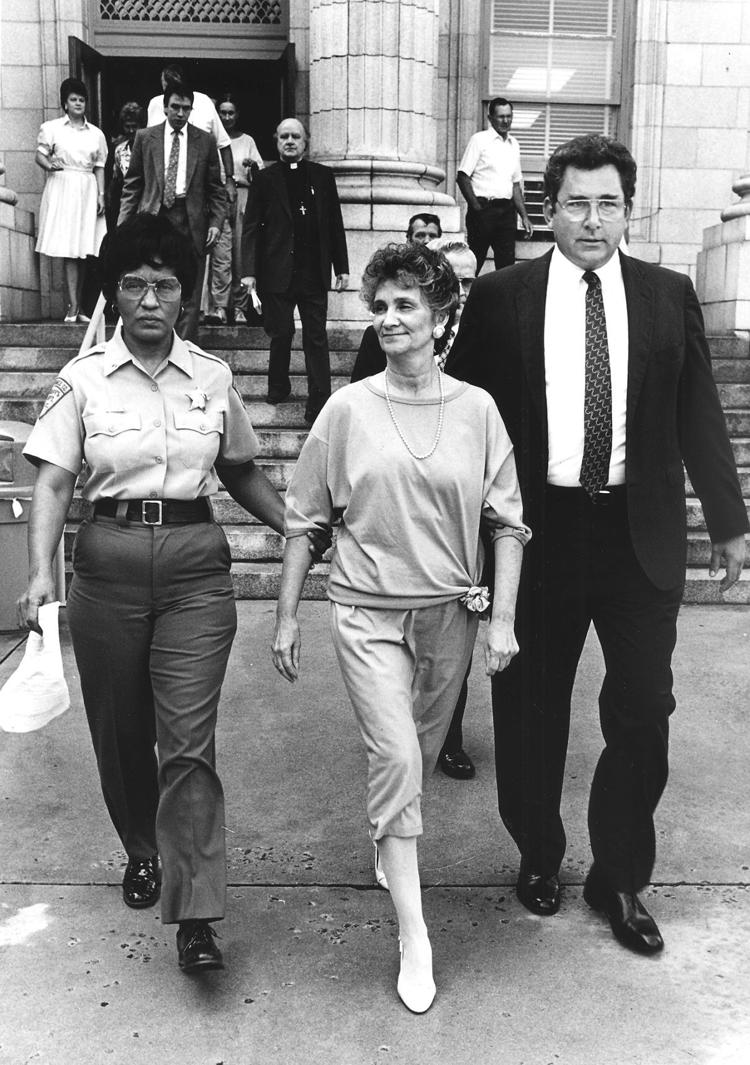 Prosecutors had a problem. A big one. No one saw Blanche Taylor Moore poison anyone.
There was circumstantial evidence — and plenty of it — but nothing tangible.
That deeply concerned Forsyth County prosecutors, who had jurisdiction over Reid's murder because he had died at what was then N.C. Baptist Hospital in Winston-Salem.
Help came in the form of a court ruling issued just days before the trial started. Judge William Freeman of Forsyth County Superior Court said prosecutors could discuss the arsenic poisonings of James Taylor, Dwight Moore and Kiser.
The decision laid the groundwork for the state's case against Blanche: She secretly poured an odorless, colorless arsenic-based ant killer called Anti-Ant into food and drinks, then fed it to her victims.
Enter lead prosecutor Janet Branch — blonde, smartly dressed, 100 pounds soaking wet. This flamboyant, aggressive former labor lawyer described the victims' suffering with such gruesome detail that she twice broke down in court.
"Raymond Reid lay in Baptist Hospital flat on his back, bed sores on his back, completely unable to move, tears in his eyes on the days that this woman who was killing him doesn't come," Branch told the jury, tears streaming down her face.
"He's crying because his murderer isn't coming to see him! Can you imagine anything more pitiful in this whole world? And he loves her with all his heart. ... But she's running around on him, and she's sleeping with Dwight Moore, and she's going to that hospital."
The defense wanted a mistrial for her crying fits but didn't get one.
But there was more to the trial than raw emotion. Branch and Rabil unleashed a torrent of witnesses — 53 in all — who, collectively, painted a picture of Blanche as a cunning, ruthless killer.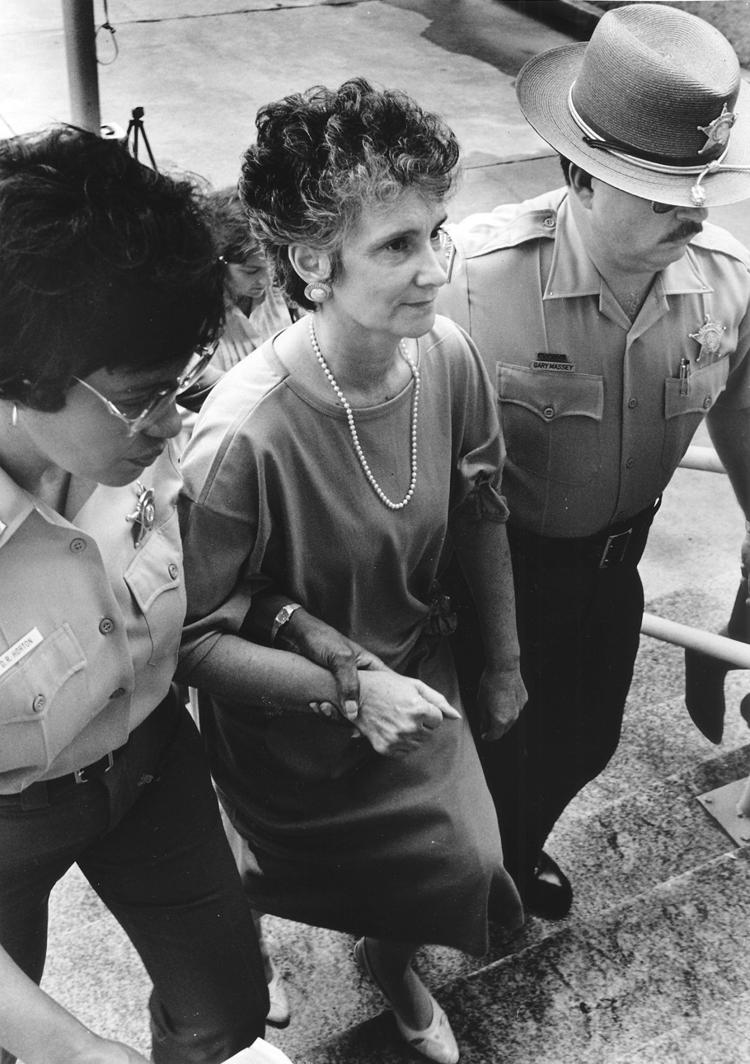 Three of Reid's intensive care nurses at Baptist Hospital who said they watched Moore feed him banana pudding Oct. 1, 1986. They said Moore offered them helpings from a separate container. Reid had been getting better. But on Oct. 2, he became deathly ill again and died five days later. During the trial, Blanche steadfastly denied ever bringing banana pudding to the hospital. "I did not do anything that I feel harmed Raymond," she said.
A clerk at a convenience store in Burlington who said Blanche shopped there for bug poison in April 1989, a few weeks before Dwight Moore became ill. "She asked me if I had any Anti-Ant in stock," the clerk testified. "I told her I didn't have it. She told me to get some. It was good stuff.''
Dwight Moore, whose frail, shaky appearance on the stand helped Branch and Rabil establish a pattern of Blanche's poisoning of the men in her life. Moore also testified that Blanche asked him to buy Anti-Ant for her in 1985, a few months before Blanche started poisoning Reid, prosecutors argued.
Deborah Moore, Dwight Moore's daughter from his first marriage, who recounted a conversation with Blanche in 1986, where Blanche said Dwight Moore was evil and deserved whatever happened to him.
The jury found her guilty after six hours of deliberation and sentenced her to death after just four more.
"I don't see how anybody could have sat in that courtroom, saw the evidence given, heard the defense and come up with anything different than we did," a juror told the News & Record after sentencing Blanche to death.
"I don't care if it was us 12, the next 12 or 112 people down the road, I think the decision would have been the same.''
Blanche never stood trial for the death of her first husband, Taylor, or for poisoning her second husband, Moore.
Officials in Alamance County dropped those charges soon after she was sentenced to death.
'The ultimate penalty'
You can find a picture of her on the prison system's website, death row roster page at www.ncdps.gov.
It is not the Blanche Taylor Moore we remember — big glasses, tailored outfits, perfectly permed hair.
It's an elderly woman with silver hair.
Like all death row cases, Blanche's attorneys filed numerous appeals, all unsuccessful.
One argued that Freeman, the judge in the murder trial, shouldn't have let the jury hear allegations that she poisoned her first husband, Taylor, and attempted to poison her second husband, Moore.
Another claimed that Freeman improperly socialized with jurors, posing for pictures, sharing popcorn and birthday cake.
Taylor, her attorney, launched his most recent argument in 2010. He and attorneys for almost every other death row inmate in North Carolina asked that their sentences be converted to life in prison under the state's 2009 Racial Justice Act. The law allowed death row inmates to challenge their sentences based on statistical evidence of racism.
Gov. Pat McCrory repealed that act in 2013, ending any hope for such a move.
Rabil said the aftermath of Blanche's trial, including the lengthy appeals process, has helped shape his belief that capital punishment should be abolished.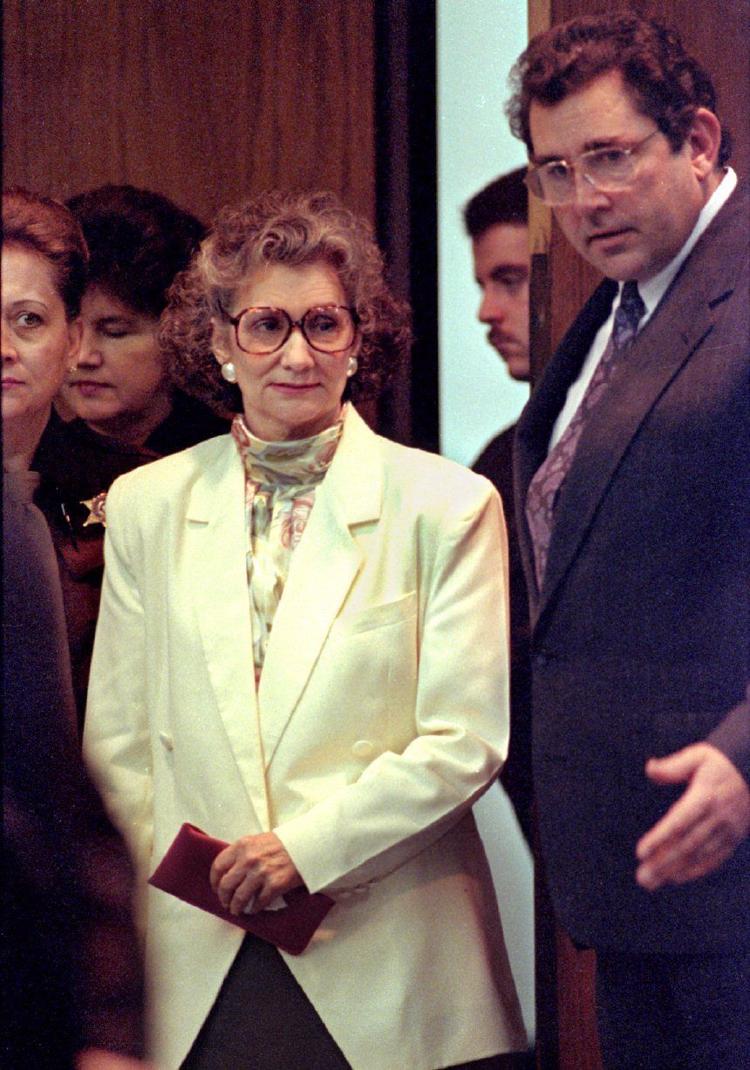 In November 1990, as Rabil sought to persuade jurors to sentence Blanche to death, he said Reid's murder set "a new standard for cruelty in the history of this country."
Blanche, he told them, deserved "the ultimate penalty."
Now an assistant capital defender in Forsyth County, Rabil is no longer convinced.
In 2015, he asked: "Have the endless rounds of appeals and hearings rehashing the gory details of the case achieved justice or provided closure to the victims and survivors?
"Isn't the 25 years and more than $1 million spent litigating this case just a monument to another failed government program?"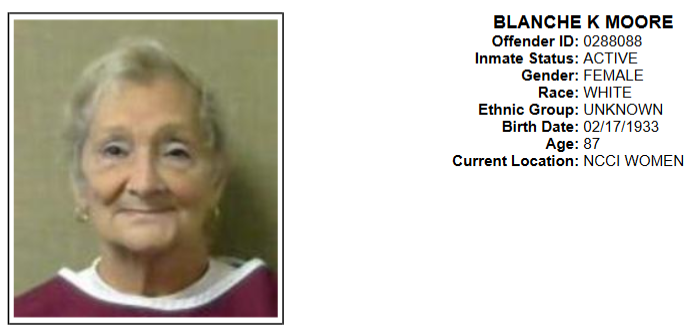 Timeline of events
(Note: On Nov. 15, 1990, the News & Record published the following timeline of events in the Blanche Taylor Moore saga. It was compiled in 1990 by two reporters who covered the trial: current News & Record reporter Taft Wireback and Justin Catanoso, a former News & Record reporter who served as a technical consultant on the made-for-TV movie about Moore.)
• Oct. 2, 1973: James Taylor, Blanche's first husband, dies of apparent heart attack at home.
• Mid-1976: Blanche Taylor begins dating Raymond Reid, a co-worker at Kroger.
• April 7, 1985: Blanche Taylor meets the Rev. Dwight Moore at Easter sunrise service.
• Oct. 16, 1985: Blanche Taylor accuses Kroger manager Robert Hutton of sexual harassment. She later files a $15 million lawsuit against Kroger, her longtime employer.
• May 30, 1986: Raymond Reid enters Wesley Long Community Hospital with severe nausea and vomiting.
• June 13, 1986: Reid transfers to N.C. Baptist Hospital in Winston-Salem; his illness is a mystery to doctors.
• Sept. 2, 1986: Reid appears to be recovering. He signs his will making Blanche Taylor the executor and one-third beneficiary of his estate.
• Oct. 1, 1986: Nurses observe Blanche Taylor feeding Reid banana pudding in the hospital.
• Oct. 7, 1986: Reid dies, apparently of heart failure.
• Nov. 4, 1986: Dwight Moore buys a $571 ruby and diamond engagement ring for Blanche Taylor.
• July 29, 1987: Blanche Taylor accepts a $275,000 settlement from Kroger in the harassment suit.
• Nov. 26, 1988: Dwight Moore's planned marriage to Blanche Taylor is canceled because he must be hospitalized for nausea and vomiting.
• April 19, 1989: Dwight Moore and Blanche Taylor marry.
• April 24, 1989: Dwight Moore is hospitalized again for nausea and vomiting.
• May 13, 1989: Doctors in Chapel Hill determine that the near-dead Dwight Moore had been poisoned with arsenic.
• May 21, 1989: Investigators talk with Dwight Moore for first time. He tells them of Reid's mysterious death.
• June 13, 1989: Reid's body is exhumed. Autopsy reveals he died of arsenic poisoning.
• July 6, 1989: James Taylor's body is exhumed. Autopsy reveals he died of arsenic poisoning.
• July 18, 1989: Police arrest Blanche Taylor Moore and charge her with two counts of murder and one count of assault.
• July 21, 1989: The body of Parker D. Kiser Sr., Moore's father, is exhumed. Autopsy reveals elevated but non-lethal levels of arsenic.
• Aug. 29, 1989: Moore pleads not guilty to all charges.
• May 29, 1990: Moore receives in jail the controversial "deathbed confession" attributed to Garvin Thomas. Prosecutors believe Moore wrote the letter.
• Oct. 15, 1990: Jury selection begins in Moore's murder trial.
• Nov. 14, 1990: Jury convicts Moore of first-degree murder in Reid's death.
KEY EVENTS SINCE
• Nov. 16, 1990: Jury sentences Moore to death.
• Dec. 4, 1990: Dwight Moore files for divorce from Blanche Taylor Moore in Alamance County. 
• Oct. 12, 1991: Prosecuting attorney Janet Branch is arrested on charges that she hit her estranged husband, Larry Branch, with a tire iron.
• Oct. 30, 1991: Moore's attorney says she is attacked by another death-row inmate at N.C. Correctional Institution for Women who objected to Moore's afternoon shower. Prison officials say there's no evidence the other prisoner touched Moore.
• February 1993: The N.C. State Bar reprimands Branch for courting a TV movie deal during the trial.
• May 3, 1993: A made-for-TV movie about Moore, "Black Widow Murders: The Blanche Taylor Moore Story," airs on NBC. Former "Bewitched" star Elizabeth Montgomery plays Moore.
• 1994: The N.C. Supreme Court and the U.S. Supreme Court each refuse to hear Moore's appeals.
• March 1995: Moore gets a new attorney – William Taylor III of Washington, D.C.
• Dec. 11, 1997: A Forsyth County Superior Court judge denies Moore's third request for a new trial.
• Oct. 6, 2000: The N.C. Supreme Court refuses to consider another request for a new trial.
• 2010: Moore is one of more than 150 death row inmates asking that their sentences be converted to life in prison under the Racial Justice Act. N.C. Gov. Pat McCrory repealed the act in 2013.
• Oct. 10, 2015: Branch, now Janet Downing, commits suicide by stepping into traffic on Interstate 485 in Charlotte.