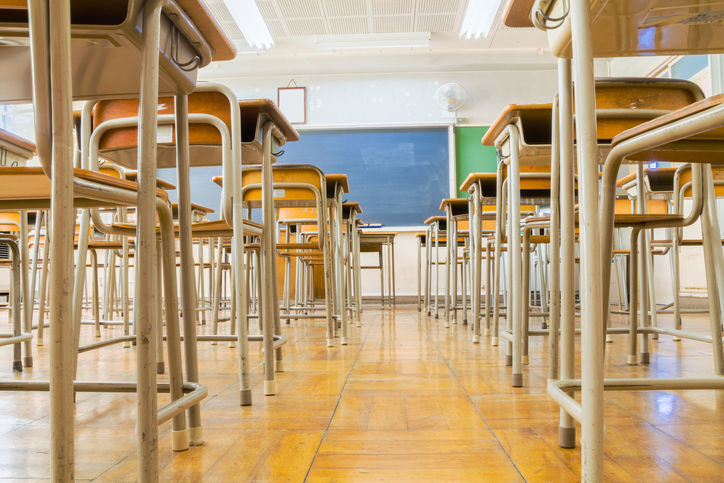 GREENSBORO — Superintendent Sharon Contreras recommended Tuesday that Guilford County Schools begin the academic year with five weeks of remote learning with hopes of bringing back grades K-8 or K-9 for classroom instruction.
Under that scenario, high school students wouldn't return to school and would learn remotely instead. That would free up space in high schools to house seventh- and eighth-grade classrooms.
Contreras presented her recommendation to the Guilford County Board of Education on the same day that Gov. Roy Cooper announced his much-anticipated plan for schools to reopen on Aug. 17.
Under his plan, K-12 public schools will reopen under a "moderate social distancing" plan that limits how many people can be on campus, forcing many students to get a mix of in-person and remote instruction.
The reopening plan requires daily temperature checks, maintaining 6 feet of social distancing and face coverings to be worn by all school employees and students.
Cooper said school districts can reopen with remote-only instruction if they determine that it's best for students, parents and teachers.
The school board will make the final choice on a plan, according to a district spokesman. He said the matter would be addressed again at the school board's July 28 meeting.
On Tuesday, Contreras laid out three different reopening options for the school board to consider.
Her preferred option would involve sending students in grades K-8 or possibly K-9 to school every day while high school students would learn remotely.
A second option is for students to attend school for two consecutive days a week. Students would be split into two groups, with one group attending in person on Mondays and Tuesdays and another group attending on Thursdays and Fridays.
Students would therefore receive three days of remote instruction and two days of in-person learning each week.
A third option is for students to attend classes on alternate weeks. So one group would attend a week and learn remotely the next week while another group would do the opposite.
Board member Darlene Garrett told Contreras she thought the idea of delaying in-person instruction for five weeks was wise, but didn't think high school students should be limited to remote instruction.
"They are getting cheated," she said. "I feel like we are failing them."
Contreras told Garrett she agreed with her. However, she feels worse about the idea of not providing daily instruction to the youngest students, who need the first building blocks of their education.  
"There is not a perfect solution," Contreras said. "There's not even a good solution here."
She also suggested a couple of other opportunities for high school students. Many juniors and seniors, she said, should consider enrolling in virtual or in-person courses at Guilford Technical Community College through Career & College Promise, the free North Carolina dual enrollment program. And she said the district is looking at creating small group support groups for at-risk high school students to be housed at local churches. One of the school board members also brought up the idea of considering bringing high school students back to school during the summer next summer, given that many buildings sit empty during the summers.
Board member Pat Tillman said he was concerned about a five weeks delay to in-person learning and wondered if it could be shortened. He asked Contreras to specify why she wanted the delay. And board member Anita Sharpe also wondered what Contreras thought the criteria would be to return to school after five weeks.
Contreras said she thought the delay would give them time continue to monitor COVID-19 infections to make sure they aren't continuing to spike. She said they could use the delay to demonstrate to parents that they could successfully open the schools with social distancing in place, given the situation of rising COVID-19 cases. She wants to use some of the time to conduct training for school staff on the new COVID-19 safety protocols and to schedule opportunities for parents to come in and see their children's new classrooms.
She said the five weeks would also give the district additional time to reshuffle, including working with furniture companies to move a massive amount of furniture out of the schools to make more room in the classrooms and to add more equipment in spaces like libraries and cafeterias that are likely to be turned into classroom spaces.
For any district families that want remote learning all year long, the district is offering the opportunity to enroll in virtual academies. There are no prerequisites to apply. District leaders opened the application process Tuesday. The online application is available here.
Board member T. Dianne Bellamy-Small said she felt nervous about the idea of opening of schools in person at all. She said she understands the importance of education, but also felt concern about saving lives in the pandemic.
Contreras and school administrators also talked about funding challenges for the complex restarting of school with social distancing.
"It's OK for us to be frustrated that we have to do more with less," board member Byron Gladden said. "We as school districts across the country are past the breaking point."
Contact Jessie Pounds at 336-373-7002 and follow @JessiePounds on Twitter.​