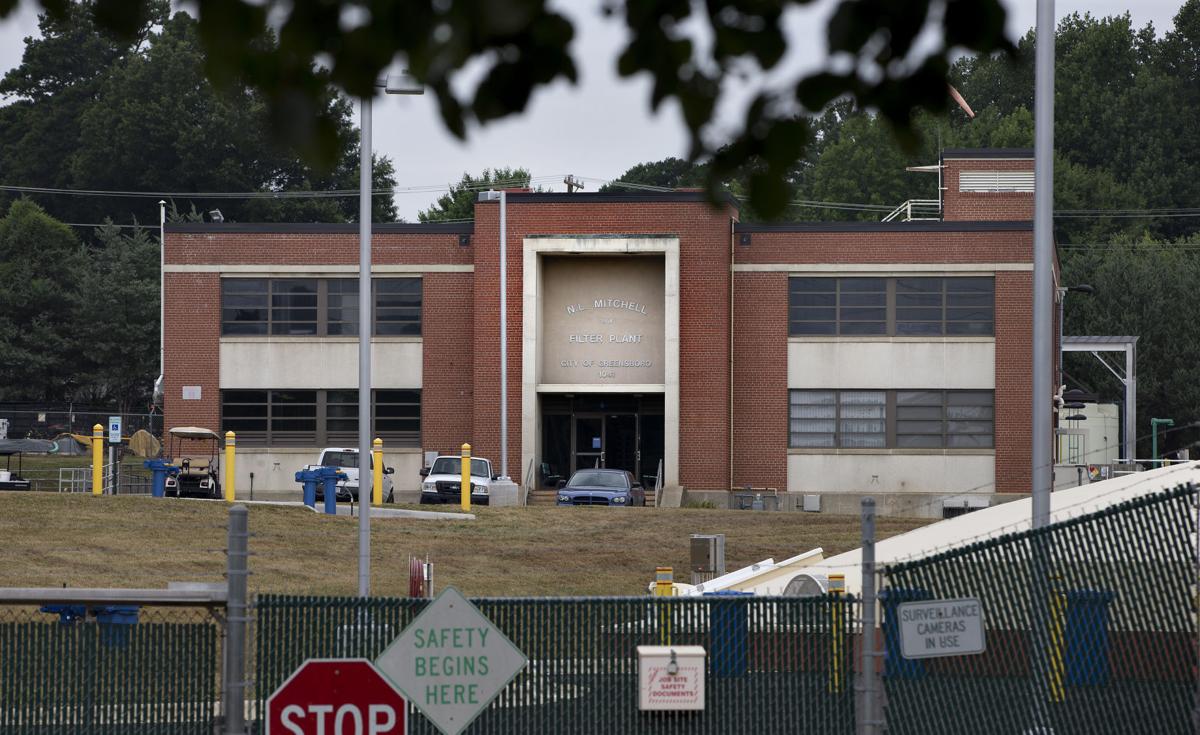 GREENSBORO — Water-supply managers here are battling a chemical contaminant from the same family of man-made compounds as the GenX substance that made headlines recently by infiltrating the drinking water in North Carolina's southeastern region.
During the past three years, scientists have found water from Greensboro's Mitchell Water Treatment Plant with relatively high levels of an industrial chemical known as PFOS — short for perfluorooctane sulfonate — which is suspected of causing human health problems and damage to developing fetuses when consumed over time in large enough doses.
PFOS is on the U.S. Environmental Protection Agency's watch list for unregulated contaminants, so called because they may be harmful but there are no nationwide safety standards governing their release into the environment.
The compound belongs to a family of similar chemicals, including GenX, with commercial uses that go back decades and range from waterproofing to protecting carpet from stains and lining bags of microwave popcorn to prevent hot butter or oil from soaking through the paper.
Sister chemical GenX has been in the news recently after researchers linked very high levels of that substance in Wilmington's water supply to releases from a chemical plant in Fayetteville into the Cape Fear River.
Greensboro Water Resources Director Steve Drew said city officials and two private consultants have been looking for the local source of PFOS without success.
"We're basically doing a CSI-type investigation in the upper reaches of the watershed upstream of Lake Higgins and Lake Brandt," Drew said.
Environmental regulators persuaded chemical manufacturers to voluntarily phase out production of PFOS starting about 15 years ago, but it is still in use in some products and it is a resilient compound that persists in the environment indefinitely once it has been set loose.
The city first tested its drinking water for PFOS during 2014 in line with a nationwide EPA directive, finding traces at concerning levels only in treated water produced by the Mitchell plant at Battleground Avenue and Benjamin Parkway that is supplied by lakes Brandt and Higgins to the north of town, Drew said.
Water from the Townsend treatment plant, to the northeast and near the lake it's named after, contained much lower levels of PFOS that were not concerning, Drew said.
Levels fluctuate
Continued testing at the Mitchell plant has shown fluctuating PFOS levels that seem to increase after periods of rain, suggesting that the contaminant is being carried off the landscape by storm water that runs into a lake or feeder streams at one or more sites, Drew said.
But he added that since PFOS was detected at the relatively high level of 90 parts per trillion in Mitchell plant water during the October quarter of 2014, continued testing there has consistently found PFOS below the 40 parts-per-trillion threshold at which water departments are supposed to report the finding to federal and state authorities.
Last year, the EPA established a "health advisory" level of 70 parts per trillion for PFOS in drinking water. The agency believes PFOs below that level won't harm people over a lifetime, based on the rate of water consumed by women who are breastfeeding. Lactating women were chosen as the standard because they tend to drink more water and because they can pass along contaminants to nursing infants.
Three other rounds of Mitchell plant testing during 2014 detected no PFOS in the January quarter, 44 parts per trillion in the April quarter and 64 parts per trillion in the July quarter, Drew said.
By contrast, the last time Greensboro tested its drinking water for PFOS two months ago, samples from the Mitchell and Townsend plants registered at similar levels — 30 and 28 parts per trillion, respectively.
Treated water from the Mitchell plant was never unsafe to drink, Drew said.
But Drew said he is still troubled by the continuing presence of PFOS because the man-made compound does not belong there and city officials cannot figure out exactly where it is coming from.
"We remain concerned and aim to remove it at the source in the watershed once there is enough data to analyze and evidence to draw some conclusions so as to narrow down and identify a site or sites with a high level of certainty," he said in a Friday email.
But it's not an easy task, he said.
"We have no industrial dischargers upstream like there is for the good folks in Wilmington," he said, referring to the Cape Fear chemical plant behind the GenX releases. "They were able to go right to a discharger and that was where it was coming from."
EPA 'directly involved'
Among North Carolina communities, EPA flagged only two cities for elevated PFOS levels in nationwide testing from 2013 through 2015 — Greensboro and Pinehurst, said Sarah Young, spokeswoman for the state Department of Environmental Quality.
"DEQ communicated with both systems. Pinehurst took the well with perfluorinated compounds offline permanently," Young said, referring to the chemical class that includes PFOS and its siblings.
Greensboro knew it had a problem before DEQ contacted it and "acted well before the release of EPA's health advisory," Young said of the water department's sleuthing efforts.
"EPA is directly involved in tracking Greensboro's efforts to reduce levels," Young said of PFOS. "The city has proactively provided periodic updates to the department and EPA."
Young and Drew both noted that the city also has hired consultants to examine alternative treatment methods to remove the offensive chemical if the city's detective efforts fail to identify where the PFOS is coming from and eliminate the source.
High Point water administrators also checked for PFOS in drinking water from that community's Oak Hollow and City lakes as part of EPA's recent testing initiative and came through unblemished, said Terry Houk, that city's public services director.
"It was 'non-detect' for us," Houk said, meaning either that the chemical was not there at all or it was present in amounts too small for testing equipment to identify.
Drew said Greensboro officials also tested drinking water they distribute locally from Randleman Reservoir and that the incoming stream from the Piedmont Triad Regional Water Authority also had low quantities of PFOS — 10 parts per trillion.
The waters of Greensboro, High Point and the regional water authority also were tested for PFOA — another potentially harmful sibling of PFOS and GenX. That compound was present in drinking water from both Greensboro and Randleman Reservoir, but not in worrisome amounts.
Greensboro's water has not been tested yet for GenX, Drew said.
Foam to parking lots
The culprits behind Greensboro's PFOS problem could be anything from one or more locations that use flame-retardant foam containing the chemical — such as a fire station or airport — to some long forgotten and abandoned industrial landfill, to people dumping waste illegally in watershed areas, to parking lots where workers wash down the pavement with cleansers that include PFOS as an ingredient, Drew said.
PFOS numbers at Mitchell vary depending on weather patterns, so its water has peaks and valleys of concern, Drew said.
Readings go up for a while after significant rainfall, "then you go for a spell and don't see it at all," he said.
The detective work required to sort through the possibilities and narrow them down to a probable cause is tedious and time-consuming, said Pete D'Adamo, a Raleigh-based consultant who is helping the city.
"We're still months away from seeing if we can pinpoint it and be able to say whether this is something current or something that happened a long time ago," said D'Adamo, national water treatment director for HDR.
Greensboro also has hired N.C. State University professor and water expert Detlef Knappe to help track down the source, Drew said. Knappe was part of the research team that recently uncovered the Lower Cape Fear's problem with GenX.
Efforts to reach Knappe for comment about Greensboro's PFOS situation were unsuccessful last week.
Water safety
The EPA's 70 parts-per-trillion advisory protects the health of a person who drinks water with that concentration of PFOS every day, year after year. But agency literature also raises caution flags about shorter-term exposure for women who are pregnant or breast-feeding because of PFOS's potential to cause developmental lapses in children exposed to it in the womb or in mother's milk.
Large-scale population studies implicate PFOS as a possible trigger for adult health problems that include high cholesterol, thyroid disease, immune suppression and such reproductive problems as reduced fertility, the EPA said in a report last year. The agency added that evidence is weaker linking it to bladder, colon and prostate cancer.
But "the developing fetus is particularly sensitive to PFOS-induced toxicity," the EPA said in its 2016 report, citing such possible outcomes as lower birth weight, decreased survival rates, learning deficiencies and susceptibility to cancers of the thyroid or liver.
Meanwhile, GenX readings in Wilmington's drinking water dwarfed even the highest PFOS levels locally — samples from the New Hanover County community's Cape Fear Public Utility system averaged 631 parts per trillion.
GenX is a newer chemical composition so EPA does not have a health advisory for it to put such high readings in context. But state health officials noted in a statement after the Wilmington crisis erupted that European researchers recently completed a lab-based cancer study that suggested it was safe at concentrations 100 times greater than found in the coastal city's drinking water.
The situation involving PFOS, GenX and their close relative PFOA illustrates the topsy-turvy nature of environmental pollutants and the rules created to govern them under the nation's Safe Drinking Water Act of 1974.
PFOS and PFOA are longstanding industrial chemicals that fall into the unregulated category because they were not known to be problems when the act was put into effect or for years afterward.
But they are under federal review now because it has become generally accepted that they are harmful at certain levels of exposure. So they are on a list of such chemicals that the EPA directed public water systems to test for several years ago, with an eye to possibly setting strict limits on their presence in drinking water.
GenX is not on the EPA's radar yet in that regard because of its more recent development specifically as a better alternative in such applications as Teflon manufacture.
Nonstick surfaces
PFOS and its sister chemical PFOA were popular for much of the 20th century because they are resistant to both water and fatty acids, making them useful in altering the surface properties of everything from frying pans to raincoats.
But PFOS does not readily break down biologically so it remains intact for an eternity, resisting a variety of chemical and other forces that would destroy less stable compounds in days, months or years.
People encounter it not only in their water, but in food as well as the air they breathe.
"Water sources contaminated by PFOS have been associated with releases from manufacturing sites, industrial fire/crash training areas, and industrial or municipal waste sites where products are disposed of or applied," the EPA said in its health advisory last year.
PFOS is not the first chemical on the watch list of federal regulators that Greensboro water officials have tangled with in recent times.
Last year, they confronted hexavalent chromium, another occupant of EPA's unregulated contaminant file that was turning up in drinking water treated at both city plants.
They spent weeks last summer studying the problem before tracing it to a lime slurry used at both plants to control the drinking water's acidity and alkalinity.