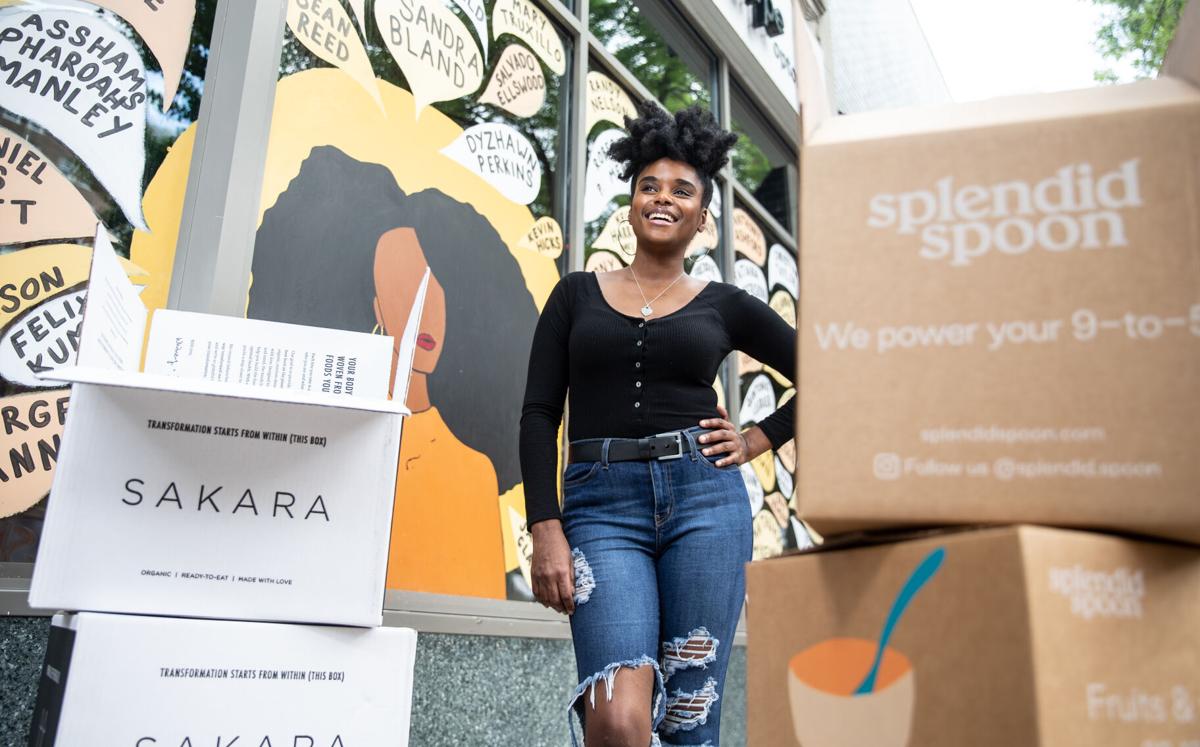 GREENSBORO — While quarantining at her mother's house in High Point this spring, Kimberly Barnes scrolled past a story on her cell phone about girls in New York who had come up with a virtual matchmaker service during the pandemic.
That could be creepy, she thought.
But at the same time, it gave her an idea.
"What if I could do the same thing?" she recalled thinking at the time. "What if I could play matchmaker with food?"
In paying attention to the world around her, she knew that some families didn't have enough to eat, especially those already living paycheck to paycheck and struggling during the coronavirus pandemic.
Barnes had long had a love affair with food. She had bonded with her grandmother and learned at her mother's knee how to create the kind of dishes that filled her home with tantalizing aromas.
And for Barnes, who considers herself a "kitchen adventurer," there was now purpose bubbling up during the coronavirus pandemic.
Her response to COVID-19 would be something called Food Love.
It's a program dedicated to those experiencing food insecurity. It's a way they can get fresh fruits and vegetables, among other things, delivered to their doorstep.
For the more adventurous, Barnes offers a website that can tell people how to turn those raw ingredients into healthy meals.
She is much like a traffic cop behind a computer screen now, finding businesses and individuals wanting to take part in her idea.
"I feel as if food insecurity is a logistics problem and not a quantity problem," said the Dudley High School and N.C. A&T graduate. "It's how do we get food to people who need it?"
So Barnes made those connections.
"She had a great idea, and it's helping people," said Elise Matatall, a social worker with Warren Village in Denver, Colo., which helps low-income, single-parent families make the journey from poverty to self-sufficiency.
Before coronavirus became a household word earlier this year, Barnes was living in Atlanta, heading her own concept development agency. With a team of eight writers, she created concepts for companies.
By 2018, her business was in trouble. So by the time doctors were warning people to quarantine to avoid possible infection to COVID-19, Barnes, by then working freelance, packed up her bags and headed to High Point while deciding her next move. 
It would be familiar territory.
Barnes, whose mother taught school locally before retiring, grew up attending New Light Missionary Baptist Church and Dudley High, where she was a scholar-athlete. 
Her grandmother had been her earliest babysitter.
"I would be in her bedroom with her, watching 'Food TV,'" said Barnes about the day-long programming on the Food Network. 
But it was her mom who would often call her into the kitchen to test something she was preparing.
"My mother taught me how to cook by teaching me how to taste," Barnes said. "She would say, 'Kimberly, come in here. Taste this, and what does it need?'"
She soon could identify seasonings and spices with ease.
"I would have to identify the flavor that was missing," said Barnes, who doesn't write down recipes for her own use. "Today, I have in my mind what I want something to taste like and I build flavors until I get it."
She grew curious about food as a teenager and began to read about the effects of meat.
As a teenager, she gave up pork and later beef.
"Even now, the World Health Organization has placed processed meat in the same category as tobacco as far as being a carcinogen," Barnes said. "If you want to do better by your body, you have to put better things in it."
It took her about a decade to commit to being fully vegan.
"I am a Southern girl at heart," Barnes explained.
Arriving back in the Triad this past spring, she set up her computer and started thinking about her next move.
"I love how food brings people together," Barnes said. "It's how we celebrate each other."
She played around with fresh foods. It took research and understanding to turn ingredients into delectable dishes.
That eventually turned into a blog called "Might Be Vegan."
Since then, the successful blogger has appeared on cooking segments on morning TV shows around the country.
"What we are putting in our body," Barnes said, "is giving us life or not."
Even before the pandemic, Barnes was an advocate for a plant-based lifestyle. She recognized poor diets are the result of generations of systemic issues that for minorities have led to disproportionate access to healthy, fresh food.
Years ago, her friends wanted her to start a vegan restaurant. She didn't go in that direction, but she was concerned about what other people were eating.
"The statistics say that Black people in America have the highest percentage of diet-related preventable diseases," Barnes said.
Diets rich in plant-based foods have been proven to improve immune systems, but they also have been shown to reverse many of these diet-related illnesses over time, Barnes said.
Food Love by Might Be Vegan, the project she came up with, focuses on minorities who are experiencing food insecurity and don't have access to fresh, plant-based food.
Recently, she was featured in Essence magazine in an article entitled: "These Dope Food Bloggers On Instagram Will Change Your Mind About Vegan Cuisine."
"I don't want to be part of those statistics and I didn't want them to be part of the statistics," Barnes said of trying to make a difference. "A lot of people go vegan because they want to save the animals. I became vegan because I wanted to save my family.
"I wanted to save people who looked like me."
Food Love, which launched in April, partners with community organizers, social workers and others to help identify people who could benefit from the program.
Might Be Vegan volunteers then match the brands with individuals within their region to have fresh food shipped or delivered to their doorstep, Barnes said.
Partners include Splendid Spoon, Boycemode and many others.
In April, Barnes connected with a social worker friend locally who sent over a batch of about 10 families.
"We used that to test our processes," Barnes said.
Now, Barnes' group is serving 48 states and Washington, D.C.
On a typical day, the group processes orders for almost 400 meals to get delivered to families around the country.
And this work is ongoing and growing.
Barnes runs the entire program from her computer, with a spreadsheet and the help of just over a dozen volunteers.
As the country is still grappling with the effects of the pandemic, she's also doing something about it that benefits others.
"I don't have the answer," Barnes said, "but for every person we are able to help, the picture becomes clearer."
Contact Nancy McLaughlin at 336-373-7049 and follow @nmclaughlinNR on Twitter.