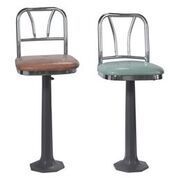 GREENSBORO — The nation's African American museum will house a well-known artifact from here.
Stools from the then-segregated downtown F.W. Woolworth store lunch counter, where four N.C. A&T freshmen sat down in 1960, igniting a movement, were spotted during a sneak-peek inside the National Museum of African American History and Culture in Washington, which opens later this month.
"I'm happy that's included in the history that goes forward," said Joseph McNeil, one of the two surviving members of the group, whose efforts the Rev. Martin Luther King Jr. credited with giving a second wind to the civil rights movement.
The stools, along with a portion of the iconic counter, are expected to remain on permanent display at the museum, which is part of the Smithsonian Institution.
"It's an absolute salute to Greensboro," said Melvin "Skip" Alston, one of the co-founders of the International Civil Rights Center and Museum, which opened in the refurbished Woolworth building in 2010 and houses much of the original counter.
The museum officially opens Sept. 24 on the National Mall, featuring an Oprah Winfrey Theater and other artifacts ranging from the training aircraft used by the all-black Tuskegee Airmen to shards of glass from the 1963 bombing of the African American 16th Street Baptist Church in Birmingham, Ala.
Greensboro's contribution comes from the four A&T students simply wanting the option of ordering a sandwich from the counter. The four were: McNeil, the Socrates-quoting quiet guy from Wilmington; David Richmond, the four-letter high school athlete who had grown up in Greensboro; Jibreel Khazan (formerly Ezell Blair Jr.), the Boy Scout from Greensboro who also had a sense of drama; and Franklin McCain, the tall, lanky one who had arrived from Washington with nerves of steel.
"We could not imagine all the positive things that came out of the demonstrations and protest," McNeil said. "It acted as a catalyst, no doubt."
The Smithsonian's older Museum of American History has housed an 8-foot section of the lunch counter and four stools from the five-and-dime since 1995. The items were handed over shortly after the store closed. There is also a display at the Greensboro Historical Museum.
Local museum officials hope the high-profile display will motivate tourists to travel to Greensboro.
"We hope to use the Smithsonian museum piece as an appetizer for the full course meal when they come to Greensboro," said Alston, a board member of the organization that runs it. "To be able to be there and to be on the same grounds and in the same building and to hear the story, that's another thing."
Contact Nancy McLaughlin at (336) 373-7049, and follow @nmclaughlinNR on Twitter.