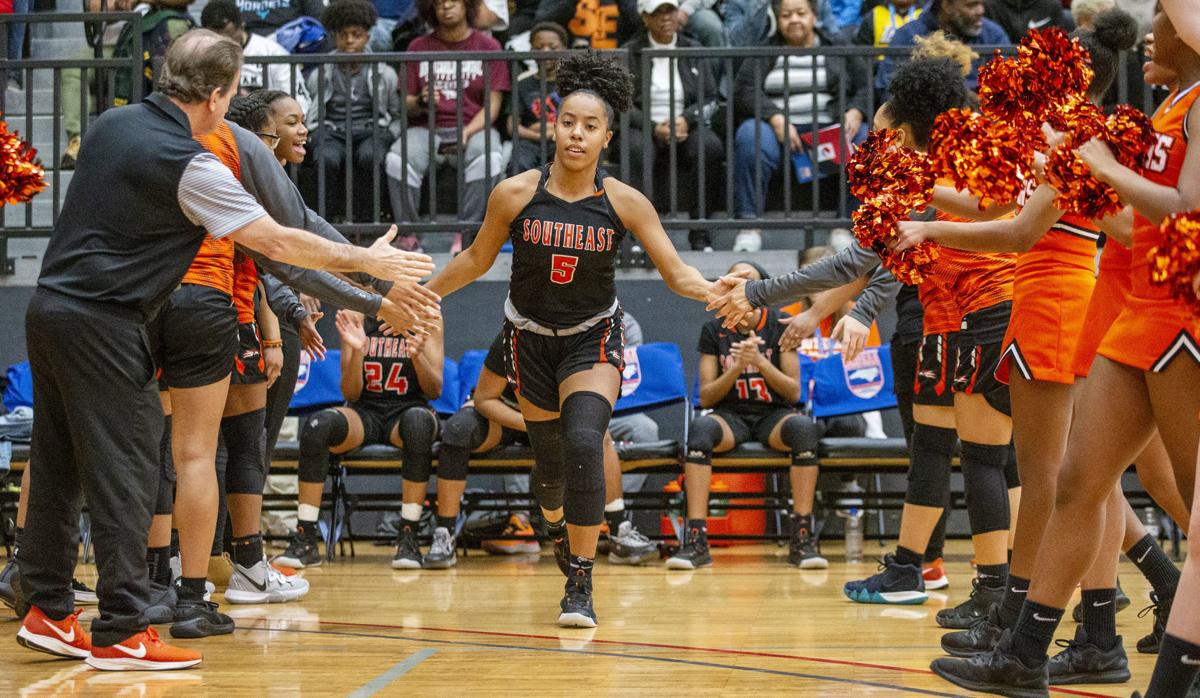 GREENSBORO — It looks as if the Southeast Guilford girls basketball team's season may have ended, not on the court but in an email.
The N.C. High School Athletic Association (NCHSAA) announced in an email Thursday that, "Due to the threat from COVID-19, (the association) has made the decision to postpone the 2020 Men's and Women's Basketball State Championships indefinitely."
"As much as we would like this opportunity for our student-athletes, coaches and their communities, we know that ultimately any decision we make must err on the side of caution," NCHSAA Commissioner Que Tucker wrote in the email.
The Southeast Guilford Falcons, seeking their second straight Class 3-A championship, will have to wait until at least April for a chance to repeat. The Falcons (30-1) were scheduled to face Fayetteville E.E. Smith (31-1) at 5:05 p.m. Saturday at N.C. State's Reynolds Coliseum in Raleigh. The NCHSAA initially announced that the championship games would be played without fans, but the decision to postpone the games was announced Thursday afternoon.
The Southeast players, who found out through social media before coach Rachel Clark had a chance to tell them, did not take the news well.
"They were just devastated … crying, screaming," Clark said. "It was very sad."
Southeast's players were not available Thursday to talk about the NCHSAA's decision because their emotions were still too raw. It was hard for Clark, as well, even though she knew there was a possibility that the game would not be played Saturday.
"All week I was prepping myself for this, having the best wishes that it wouldn't come to that," she said. "I was just very upset for the girls."
The association did not say it was canceling the championship games, but it also announced that "all workouts, skill development, practices and contests" for all sports would be suspended beginning from 11:59 p.m. today through "at least" April 6. That would mean no basketball practices for Southeast or any of the other 15 teams that were scheduled to play in state championship games Saturday, although most schools in the area were still competing in spring sports as scheduled Thursday and today.
The NCISAA, the state's largest athletics association for private schools, announced Thursday that it was suspending athletics competition effective Friday. The NCISAA did say that "member schools may conduct practice and/or training sessions at their discretion."
Clark said it would be difficult to play the NCHSAA basketball championship games after a prolonged layoff. When asked how much practice time her team would need, the Falcons coach said, "It definitely would take more than a week. I would say a month.
"Basketball shape isn't your normal shape. It isn't where you just get on a treadmill. You're making lateral movements, you're jumping, you're sprinting, you're changing directions. You can't get into basketball shape in one week. … I've encouraged them to try to stay in shape and work out among themselves."
If the games are not played, the likely outcome is that the two regional champions in each of the state's four classifications would be declared co-champions in an unprecedented move for an association whose basketball playoffs date to 1915.
"Our players were not happy with the idea of a co-championship," Clark said.
"It's my hope that we get to play," she added. "They've worked so hard so much this year. I'm just going to put my faith in Que Tucker and the NCHSAA and hope that they will do their utmost to let us play that game when this is all under control."
Contact Joe Sirera at 336-373-7034, and follow @JoeSireraNR on Twitter.