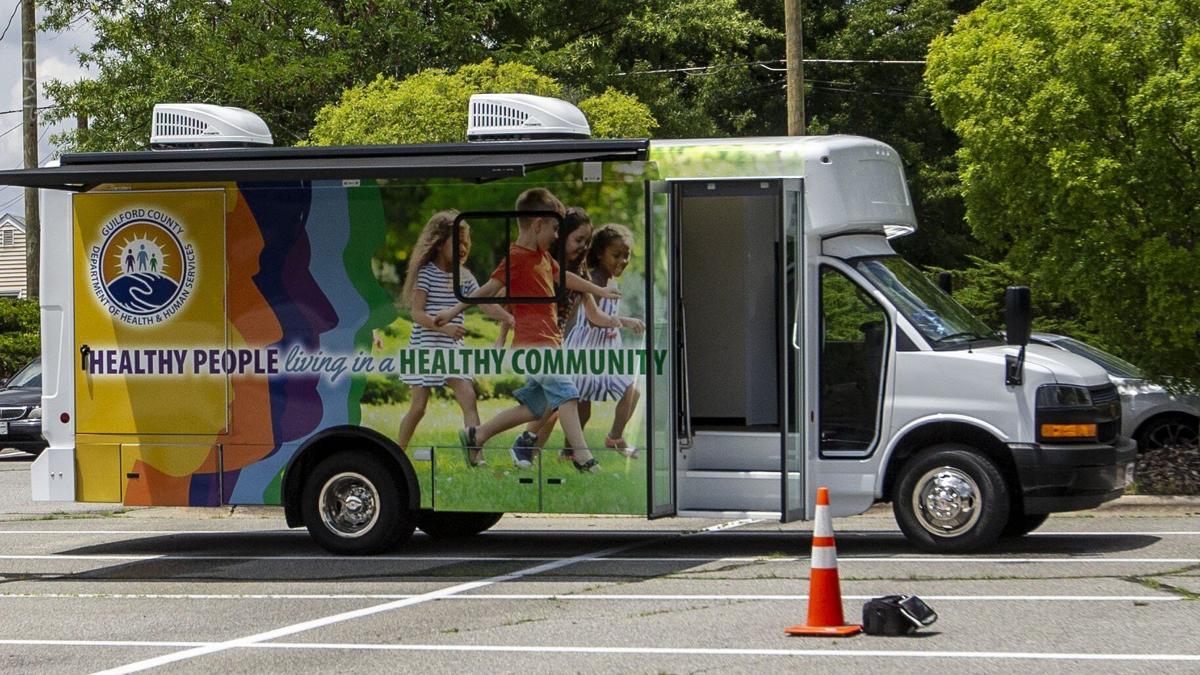 GREENSBORO — As soon as the license plate arrives, the county's new mobile COVID-19 vaccination clinic is on the road. Soon, it will deliver shots while it idles in the parking lot of a grocery store or along a residential road.
"If they can't get to us," said Melvin "Skip" Alston, chair of the Guilford County Board of Commissioners, before offering that "we are coming to you."
County health officials gave a tour of the new mobile health clinic on Wednesday, which will initially be used for coronavirus vaccinations and later possibly for range of things from health fairs to wellness checks. The oversized van has an exam room with a bed, work station, privacy door and wheelchair lift.
County Health Director Dr. Iulia Vann said staff has already begun mapping out stops based on data from the Centers for Disease Control and Prevention that pinpoints areas with low vaccination rates.
Once a site has been scheduled, health educators will canvass the area ahead of time to answer questions residents may have, Vann said.
The actual vaccination process isn't expected to take long.
The $120,000 specially-designed vehicle— with $50,000 more in upgrades and equipment— which was purchased with federal CARES Act funds, will be stocked with two different vaccines at all times. For two-dose vaccines, the mobile clinic will return 21 days later to provide the second shot.
Vann said the county doesn't expect 1,000 people to show up at every stop. Maybe not even 100. But each person vaccinated gets the county that much closer to herd immunity.
With the county, Cone Health and FEMA operating vaccination sites for months, residents had a variety of choices where to get inoculated.
But CDC data also shows there are large swaths of the county where many people aren't vaccinated.
"Every vaccination we give out is going to count and we are excited for every dose," Vann said.
As of late May, 53% of county residents eligible for the coronavirus vaccine were partially vaccinated and 48% were fully vaccinated.
When broken down by race, only 28% of Black residents and 6% of those Latinx have received shots — a shockingly low number.
Alston said some who aren't vaccinated live in rural areas and others simply can't get to a clinic.
He also expects that people initially apprehensive about being vaccinated are now seeing community leaders, celebrities, politicians and family members receiving the shot.
"I think there are comfort levels and we just have to get it to them," Alston said.
Staff writer Kenwyn Caranna contributed to this story.
Contact Nancy McLaughlin at 336-373-7049 and follow @nmclaughlinNR on Twitter.