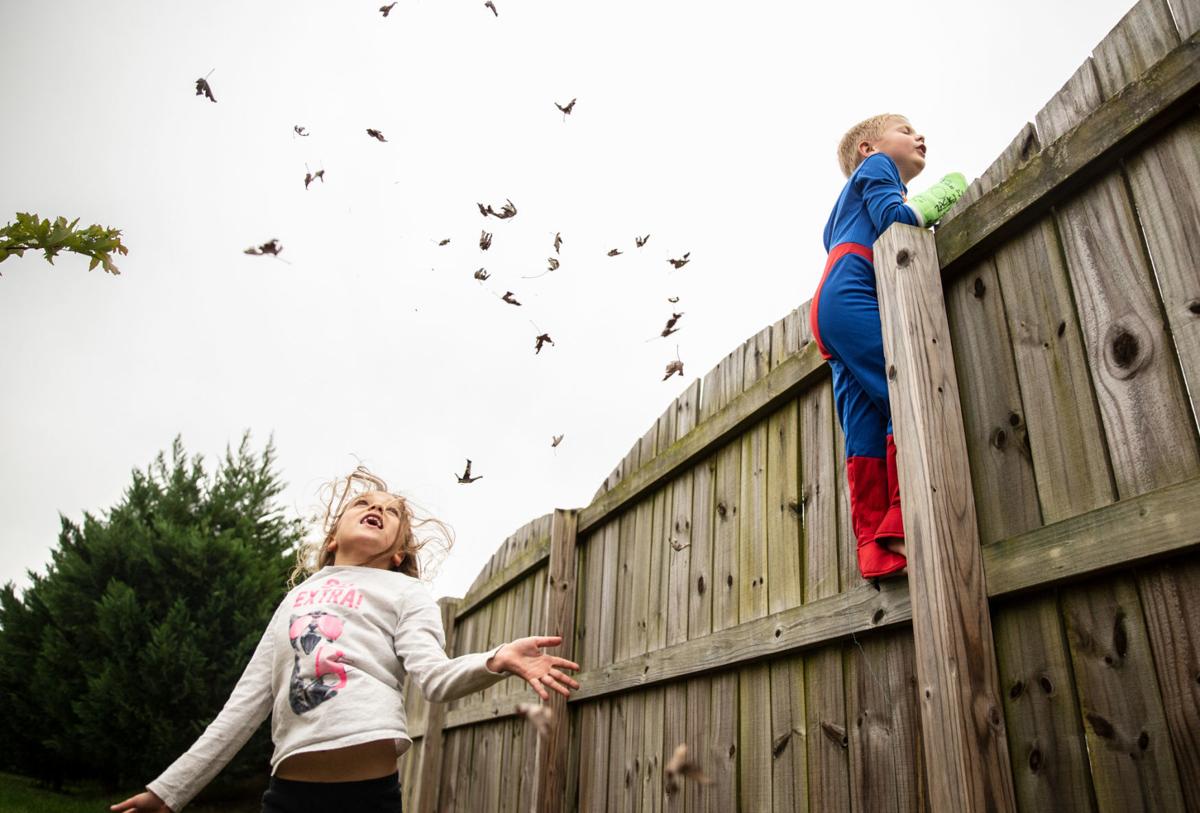 "How do I go about this?"
Mike Allred had doubts about fostering and possibly adopting a child.
"There was a lot of 'I'm not sure I can do this,'" Allred said of the questions swirling in his head as he, his wife, Jennifer, and their then 9-year-old son, Jacob, discussed the possibility.
Nearly a decade later, after adopting three children ages 5, 8 and 18 — and fostering many others — he has a different take.
"If I would have caved in to the doubt," Allred said, "I wouldn't have two beautiful daughters, I wouldn't have two beautiful grandchildren, an awesome daughter-in-law — all this stuff I would miss out on."
Running out of time
Finding homes for older children, especially teens, is difficult because they carry a stigma that their behavioral problems are greater than those of other children.
Reenee Scroggins, who helps place children for adoption with Guilford County, said there were 103 adoptions in fiscal year 2018-19. Of those, Scroggins' unit — which includes five adoption workers — handled only 14 adoptions of teens. 
Nationally, only 5% of all children adopted were between the ages of 15 and 18, according to AdoptUSKids, a federally-funded initiative to help increase the number of children in foster care who are placed with permanent families. 
"There really is a struggle to find families to foster teenagers, much less adopt them," Scroggins said in an email.
It's a struggle shared by the Children's Home Society of North Carolina. The Greensboro-based organization operates statewide and placed 870 children with foster-care families and 203 with adoptive parents last year.
"We are always in need of people who are open to older youth," said Matt Anderson, the nonprofit's vice president of programs and business development.
Nearly 12,000 children are in foster care in North Carolina, according to the Children's Home Society. And each year, more than 500 age out without finding a permanent family.
Along came Dylan
Amber and Travis Thompson of Whitsett were among those who discounted fostering or adopting a teenager. They only wanted children ages 2 to 7.
"We did not want to take any children that were older than our biological children and we also were done with the baby phase," said Amber, whose son, Will, was 7 at the time, and daughter Maggie, was 6.
But the first call they received was for a 5-week-old girl. "We said yes, and (the age restriction) went out the window all of a sudden."
They adopted Willow, who is now 7.
They next fostered a 7-year-old boy, who returned to his biological family after 14 months.
"The ultimate goal (in foster care) is always reunification, and we support that," said Amber, 39. "And that's hard."
The third call was for one of Amber's high school students. While teaching a health-science course, she noticed one of her students, Dylan, was having a rough time at home.
"I had mentioned to him that 'Hey, I know things aren't that great. I don't know what else is going on, but if you need a place to stay or something … you're more than welcome to come and live with us.'
"He thought I was crazy."
But sometime after that, she got a phone call that the 14-year-old had been taken into foster care.
"(Dylan) gave them my name," she recalled. "We were very honest with him to say this is the first time that we've parented a teen, so you'll just have to bear with us. We don't know when your curfew should be, but we'll figure it out."
While foster children may have trauma and trust issues, Amber said she's found they're like any other child.
"A lot of times the stability of the environment and the care and the being there is really enough to give them what they needed the whole time," she said.
Dylan's adoption became official when he was 17. Now 21, he'll graduate from Appalachian State next year with a degree in political science.
The Thompsons adopted one more child, 5-year-old Christopher, who was a few days old and in the hospital when they picked him up.
"The children have blessed us," said Travis, 43. "I guess the biggest surprise is how well they adapted and adopted."
Amber said she was a bit shocked when Dylan, at 16, told her that he wanted to be adopted. "I thought he would just want to age out of the system."
She said the family still laughs over her reaction, which was to ask Dylan what kind of family he would want.
"He said, 'Well, like this kind of family,'" she recalled. "I was so shocked because teenagers get to choose, and he chose us. I feel like that was a huge honor because he could have said, 'I want to look for a different family.'"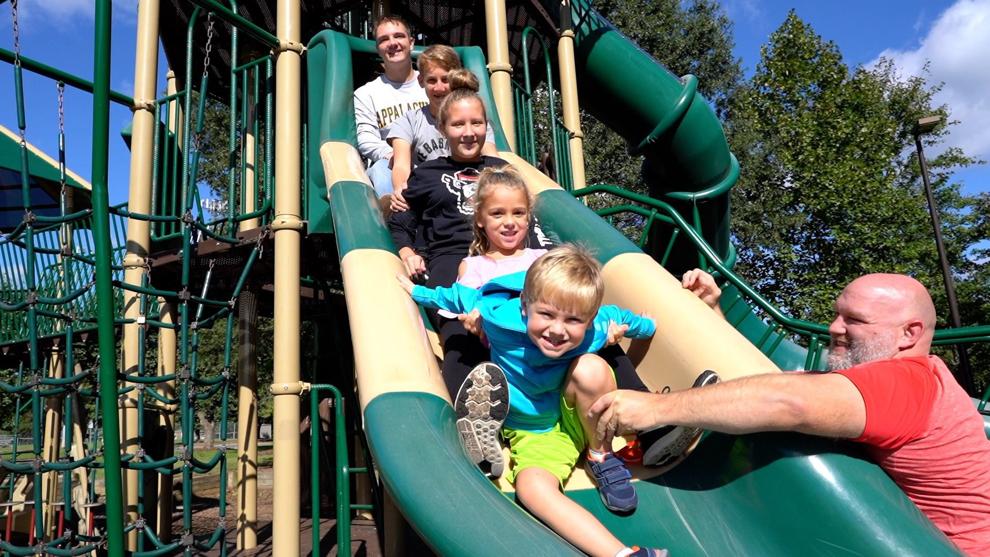 Meet Andrew
Initially, Jennifer and Mike Allred also wanted younger children. The Asheboro couple started by fostering two young boys.
"We wanted 2 to 5 years old," Jennifer said. "That would fit in the scheme of things — we thought. And then we got the 2- to 5-year-old and we said, 'Noooo, that's not what we want.' That was not a success."
But they also took in another foster child during that time.
"Our oldest son, Andrew, came to us on his 18th birthday," Jennifer remembered. "And he just meshed with the family."
Andrew Allred Rodriguez had been through about 16 foster homes when he was adopted by the Allreds. He's 26 and married now, with two girls ages 1 and 2.
"We just kind of started taking in more teenagers," said Jennifer, 44. "They fit with our family and they fit where we were at in our life."
Added Mike: "And you don't have to change the diapers."
The Allreds also adopted two sisters, Amber, 17, and Misty, 14, seven years ago.
They've fostered at least a dozen children and are the long-term legal guardians of 17-year-old twins — a boy and girl who were in homes three hours apart until the Allreds took them into theirs. Jennifer asked that their names not be used to protect their privacy.
"They still have family in the community, so it was one of those situations where where adoption wasn't necessary," she said. "We try — if it's safe and it's possible — to keep that connection (to the biological families)." 
The Allreds keep in touch with many of the children they fostered, including 20-year-old Nasir Richards, who aged out of the foster-care system but is still considered part of the family.
"This is what he considers home," she said.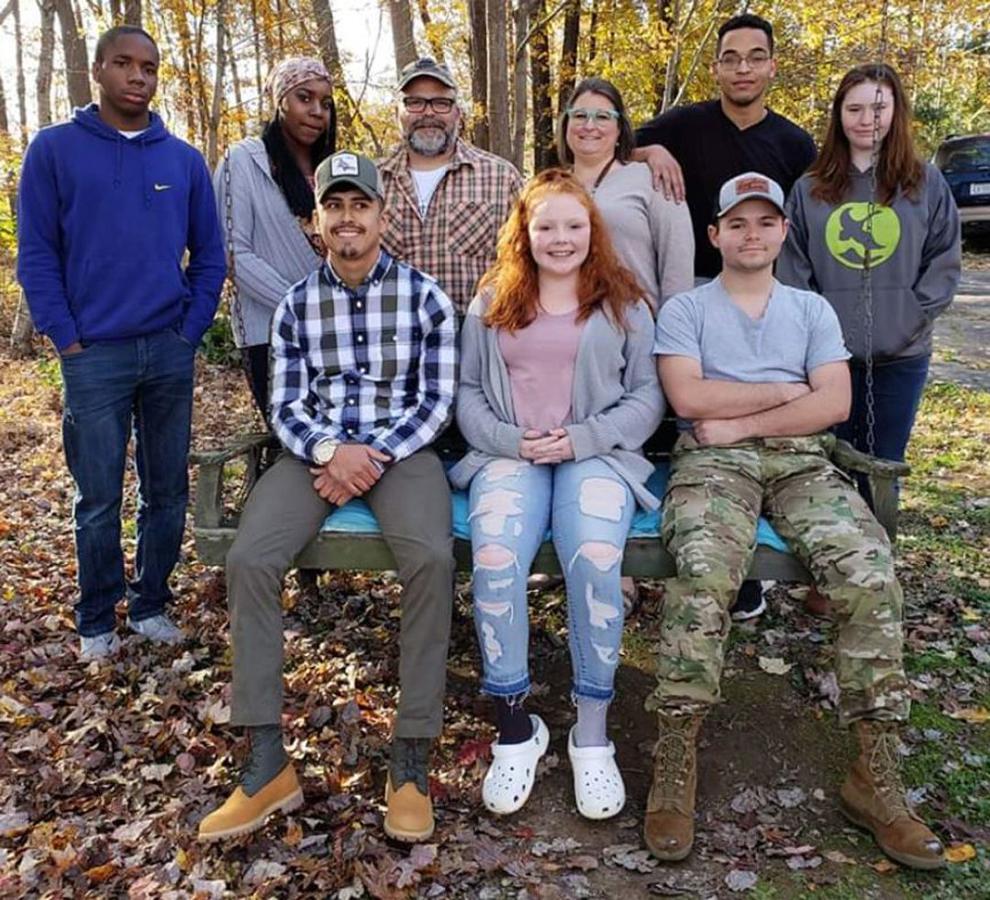 Finding their place
It was while raiding the refrigerator that Dylan believes he began to feel part of the Thompson family.
"It took a little while," Dylan admitted. "But once you could go into the kitchen, into the pantry," it felt like home.
And while the other children welcomed him, Willow's attention especially meant something.
"Willow helped a lot. Already, I was her big brother," Dylan said.
While fostering him, the Thompsons had a shared parenting agreement with his biological family.
Going to court a lot and seeing his biological family was difficult, Dylan said, but he's glad he's been able to keep in touch with them and that both families accept one another.
"It's always nice to have people accept what your decisions are," he said.
For Andrew, who had been in and out of foster care since age 7, settling into the Allred family was a longer adjustment. He recalled it took a year or two — and a big argument.
He had left the house and Jennifer — worried about his whereabouts — called the police.
That proved to be the catalyst for Andrew, a self-described quiet kid who found it hard to open up. 
"I would hold things in and once we got into that argument, I let things out," he said.
He also wasn't sent packing, which is what had occurred with previous families.
"They took that argument well and I took that argument well," Andrew explained. "Communication is really what it was."
Breaking barriers
Although he's adopted into a white family, Andrew is proud of his Hispanic heritage.
That's why he kept his last name — Rodriguez — and made Allred his middle name.
"I didn't want to forget where I came from," Andrew said. "I was still proud of my last name, and they were OK with that."
His heritage was something he clung to going from foster family to foster family. And while he appreciated the culture of his various foster families, they didn't always respect his, Andrew recalled.
Some of the families were resistant to his wanting to attend the Catholic church. 
And he recalls one fellow foster child who wanted a quinceañera, a 15th-birthday celebration common among Latinos.
"That's all she wanted and (the foster family) either couldn't do it or didn't know how to do it," said Andrew, who still keeps in touch with his biological family.
Jennifer admits that some are skeptical a white family can adequately relate to a child of different heritage.
"We break a lot of racial and cultural barriers," she said. "We appreciate their culture. We appreciate their race. We are the first ones to acknowledge it ... and that they remain in those communities that they were raised in."
The 17-year-old twins the Allreds are fostering participate in the Village of Barnabas, a nonprofit group that mentors African-American youth and takes them on trips to places like The King Center in Atlanta.
"We love what they're doing. They're so supportive of (the twins)," said Gene Woodle, the organization's co-founder and vice president.
Race, the Allreds explained, is not a deciding factor in being good parents and loving children.
"It's the work we put in, you know, behind closed doors and one-on-one — that's what counts," Jennifer said.
Family matters
The Thompsons said some in their family initially worried about their decision to foster and possibly adopt — something they both prayed about.
"They were concerned," Amber said. "They were fearful of, like, what are you going to do if something happens to Will and Maggie?
"I kept saying, 'You know, that's not something we're going to focus on. We're just going to focus on how we can help these kids.'
"You do hear horror stories. But it's like you get one bad story and like 50,000 success stories — and you don't hear anything about those."
Meeting acquaintances in public can be a challenge. Their comments aren't always sensitive to the children, who are often present.
"People usually know you're fostering, but the number one thing that people say? 'So, is this your foster child?' Well, nobody wants that label," Amber said.
"Or they'll say, 'Which ones are yours?"
"All of them" is Amber's standard response.
"What is she mixed with?" was one question that kept cropping up one summer about Willow, who tans easily.
"Human being," Amber would reply.
"I think how you answer those questions are really important to the kids," she said, noting that Willow later asked her what was meant by "mixed with."
The Thompsons and Allreds say they have gotten a lot of support from their families, churches and the community.
"We could not have (fostered and adopted) this many kids if we didn't have that support system, with people stepping up to be mentors to our kids," Jennifer Allred said.
She also mentors other parents through the process, and there's a Facebook group and a social support group for them.
It's an experience both families and advocates hope others will try.
"What people don't fully understand is how transformative it can be for them to open their home and their heart to a child," said Anderson of the Children's Home Society.
Mike Allred, who had so many doubts initially, wholeheartedly agrees.
"Luckily, I got a chance to prove myself wrong," he said. "You're not a biological parent, but you can still be a dad to these kids."
Contact Kenwyn Caranna at (336) 373-7082.