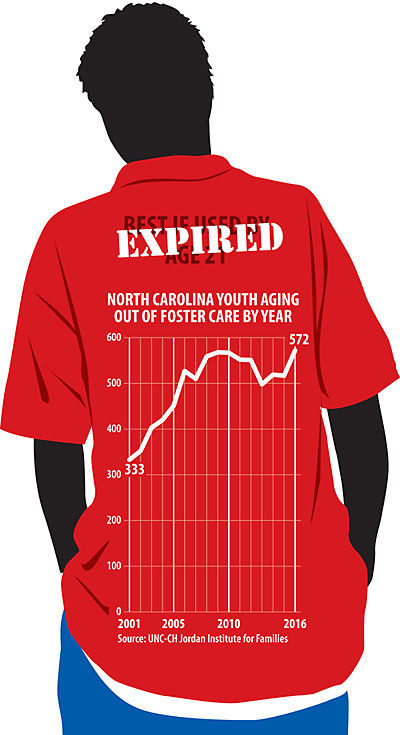 Record numbers of young people are aging out of foster care and many have no real safety net once they leave. In fact, the number of North Carolina children last year who became too old to stay in the system was the highest in more than 10 years, according to figures compiled by UNC-Chapel Hill's Jordan Institute for Families.
The numbers worry children's advocates. Those who age out without some type of support are more likely than other children to end up homeless, unemployed, in jail or parents before they are ready.
In 2001, the number of children statewide who aged out of foster care was 333.
Experts aren't exactly sure why the number of children in the foster care system has increased.
A new state law that went into effect Jan. 1, which extends benefits to age 21, provides a little more security.
Meanwhile, the Children's Home Society of North Carolina is among the groups that want to bring attention to the issue while looking for ways to get more people involved with helping these kids move forward.
"They're legally young adults, but they are functioning in a society that hasn't really set them up for success," said Rebecca Starnes, the vice president of family education for the Children's Home Society.
Since 2001, the number of children aging out of foster care has climbed. Month by month, the number of children in foster care in 2016 was also higher than the same period in 2015.
"They have so much potential and they are so bright. ... They just need a little bit of support to get that started," said Alicia Kaplan, an assistant professor of social work at UNC-Greensboro, who also wrote a play titled "The Foster Care Chronicles," based on the stories of children who are in or have been in foster care.
Turning 18 used to mean the state no longer had any financial responsibility for young people in foster care. Those young people who had not built strong ties with a family could end up living on the streets before they graduated from high school.
But not anymore. As of Jan. 1, 18-year-olds aging out can continue to receive some services until they turn 21, as long as they go to school, enter job training or get a job.
Thing is, not all of them choose to stay in the system.
Experts who work with these young people recognize that some of them have had such a bad experience growing up that they just want out.
Kaplan's "Foster Care Chronicles" points to why young people aging out of foster care may need extra emotional help entering adulthood. They may carry burdens of sexual abuse, post-traumatic stress disorder and depression.
A number of groups, such as Youth Villages North Carolina, provide individualized services to those aging out to help ease the transition.
Statistics show that one year after completing the nonprofit group's Transitional Living program, more than 80 percent of the youths live independently or are reunited at home with family. They've also graduated from high school or are in GED classes or at post-secondary schools.
"Their success definitely impacts the community as a whole," said Tara Ward, Youth Village's regional supervisor for Greensboro.
Contact Nancy McLaughlin at 336-373-7049 and follow @nmclaughlinNR on Twitter.