GREENSBORO — For the first time, Cone Health is treating more than 100 people with COVID-19 in its hospitals, the health care system announced in a news release.
As of Tuesday morning, 103 patients were hospitalized, Cone said.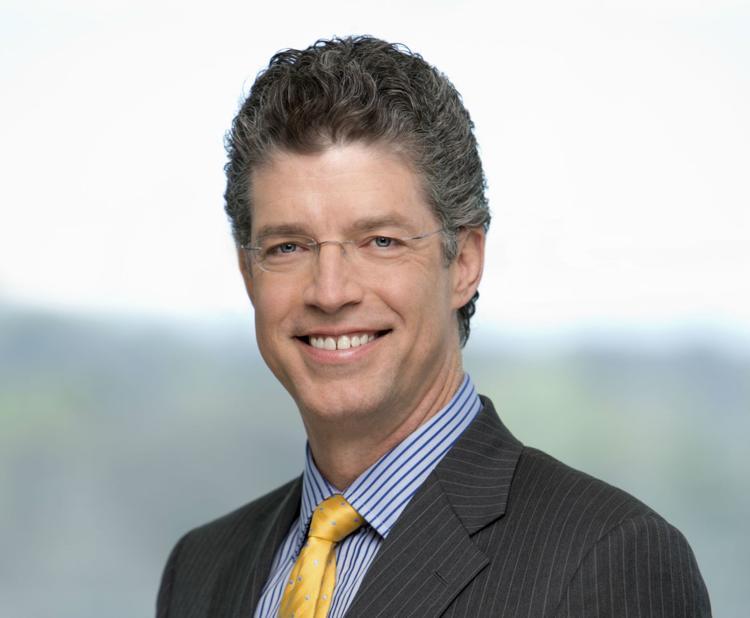 "These trends are very alarming," Cone Health CEO Terry Akin said in the release. "Our extremely committed doctors and nurses, our facilities and resources, are becoming stretched."
Cone Health said it might be forced to reduce non-COVID-19 care and services if cases of the respiratory disease continue to rise.
The health care system has capacity to treat 116 people at its Green Valley campus — the former Women's Hospital — which was converted into a coronavirus-only facility. Its other hospitals have capacity to treat additional people with COVID-19.
However, projections show that capacity could also be stretched in the coming months, according to the release.
The announcement came on the same day that Gov. Roy Cooper unveiled a new COVID-19 alert system that ranks counties in tiers based on three metrics: the rate of cases within a county's population, the percentage of positive cases and the impact COVID-19 is having on local hospitals.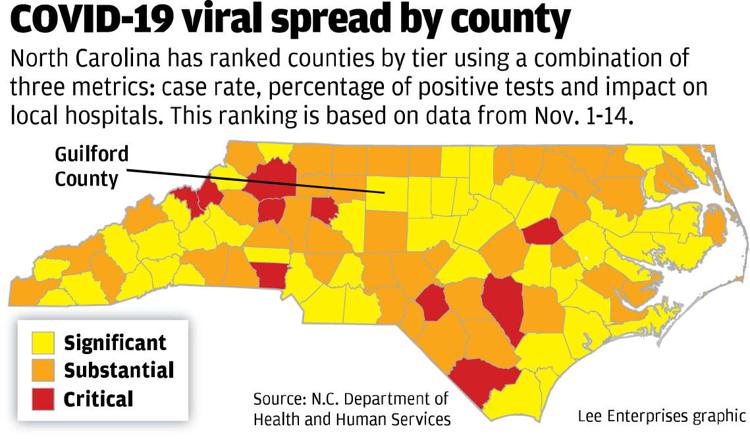 Guilford County is in the lowest tier and has "significant" spread, according to metrics taken Nov. 1-14. The other two tiers are "substantial" and "critical" spread.
"Today, we have the highest rate of hospitalizations since the pandemic began," Cooper said at a news conference on Tuesday, referring to statewide figures that also reflect Cone's status.
Accompanying the state's alert system are recommendations that local governments, businesses and individuals should take based on the tiers, Cooper said.
"Simply put, this new county alert system shows our state's viral hotspots," he said. "Right now, North Carolina's metrics are increasing, not surging. But a surge can happen quickly."
Mandy Cohen, North Carolina's secretary of health, said that hospitals are feeling the strain, "particularly in the Triad area."
While Cooper strongly suggested counties with high levels of transmission should more aggressively enforce statewide health guidelines and punish noncompliant businesses, he also raised the possibility of the state placing greater restrictions on them.
Leaders in over half of the state's counties, including 10 deemed to have "critical community spread," are now being encouraged to pass ordinances levying fines against residents and businesses not complying with public health directives. They include the statewide mask mandate Cooper enacted months ago as well as limits on indoor and outdoor gatherings.
The 10 "critical" counties, mainly in rural areas, and 44 others with "substantial" spread also are being asked to consider cutting off alcohol sales earlier than the current 11 p.m. statewide deadline.
And churches in those counties are advised not to hold any indoor gatherings of more than 10 people.
The Democratic governor warned of further restrictions if counties don't heed the state's advice.
"We may have to do more even on a statewide level or at a local level in some way," Cooper said. "That decision has not yet been made, but we are hoping that this effort can help us slow the spread."
Cone health officials embraced the state's new alert system.
"Anything that helps people understand how rapidly cases are rising in our area and encourages them to take appropriate action to slow the spread of this virus is certainly welcome," Cone Health spokesman Doug Allred said.
In the news release, Akin went further.
"We are quickly reaching the point where governments will need to consider imposing more restrictions," he said. "Thanks to the folks across our communities who are being careful, but we really need everyone to get serious and take steps to bring this virus under control.
"No one likes the idea of more drastic measures or restrictions. But if we don't all act soon, we may have no other choice."
The Associated Press contributed to this story.
Contact Kenwyn Caranna at 336-373-7082 and follow @kcaranna on Twitter.
Concerned about COVID-19?
Sign up now to get the most recent coronavirus headlines and other important local and national news sent to your email inbox daily.