GREENSBORO — James Minish served two tours in Vietnam and returned with post-traumatic stress disorder, or PTSD, which left his twin sons, who were born much later, broken as well.
"You learned the first time, never to sneak up on him," said Jamie, the eldest of the boys by seven minutes. "Vietnam haunted him his entire post-war life."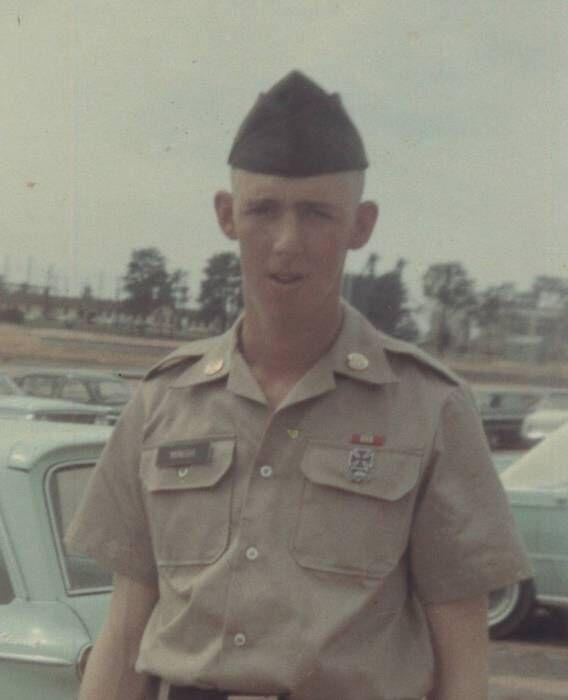 James Minish, who died in 2017, served as a door gunner and crew chief on a medevac helicopter.
"Sometimes you'd load five or six pieces of the same person," he told the News & Record in 2013. "It didn't bother me so much then, but when I got back, I started to dwell on it. I felt like I was still there."
At the time, there wasn't a name for what drove James Minish to alcohol and rages.
As the country observes the soldiers who never made it home this Memorial Day, there are others like Minish — given a chest of medals — who came back nursing the kind of physical and psychological wounds that continue to haunt families.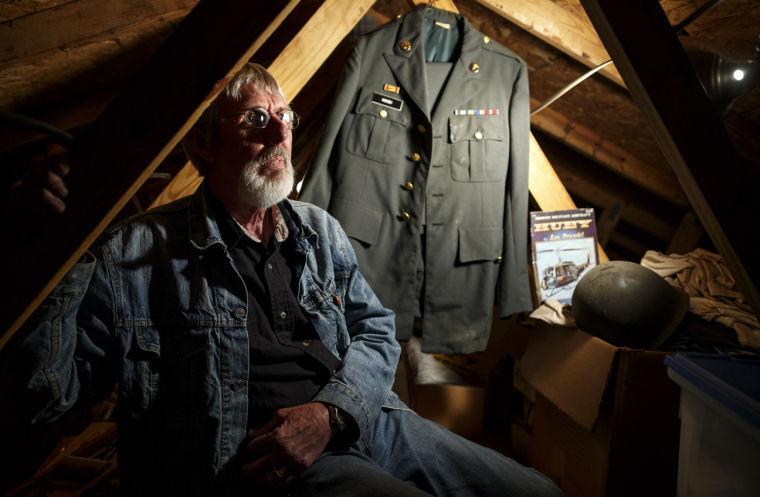 Time would give context to Minish's plight for the boys as adults. He later sought help — repeatedly and in different ways — for his PTSD. James Minish eventually accomplished many things, including helping found the local Veterans of the Vietnam War chapter and serving as its first commander. The organization put a light on the effects of PTSD, pushed for the acknowledgement of the affects of Agent Orange as well as better assistance for veterans exposure to this chemical.
His and other organizations together offered rewards to help bring home service members who might have remained captive when the Americans left.
Minish also was among the returning soldiers who started an organization to help the Montagnards — who were instrumental in helping American soldiers survive the dense jungles of Vietnam — resettle in the United States.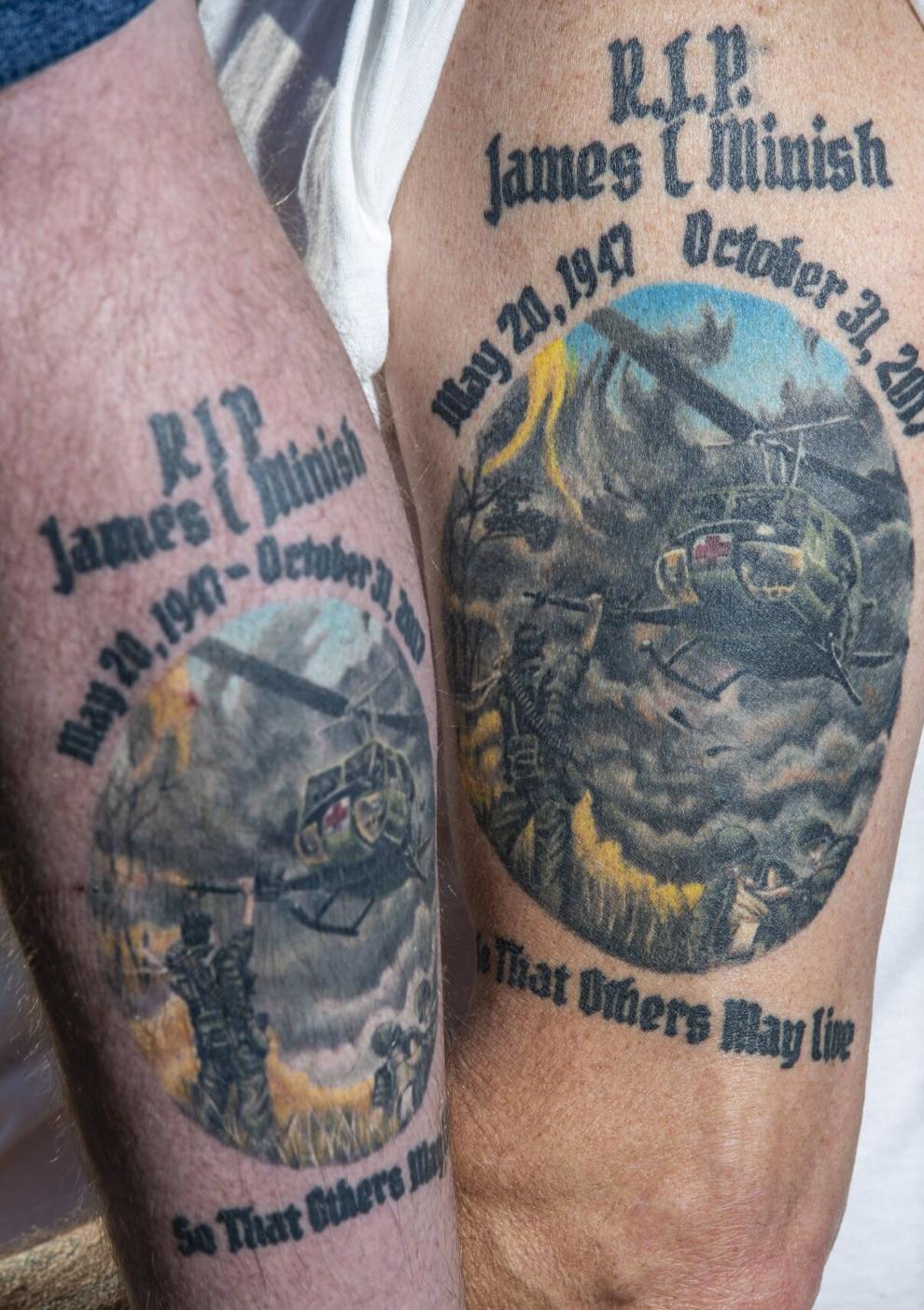 His sons were at the 1987 unveiling of the bronze North Carolina Vietnam Veterans Memorial statue, for which he was one of the models, on the state Capitol grounds in Raleigh. People called him a hero.
"He didn't play ball with us, or do those kinds of things," said Bryan Minish, who like his brother later got a tattoo of a medevac helicopter as part of a tribute to their dad. "He probably did the best he could with us."
Unlike friends who had been drafted, Minish, a Grimsley High School graduate, volunteered to serve in Vietnam in 1967 at the age of 19.
"He couldn't watch them go over there and not go himself," said Bryan Minish, the operations manager for a HVAC company.
James Minish's grandfather had served in World War II.
As a member of the 4th Infantry Division, James Minish had helped recover downed helicopters from the jungle. After a year, he extended his tour for six months, joining the 1st Air Cavalry Division. He extended again, and in his last six months, served as a door gunner and crew chief on a medevac helicopter.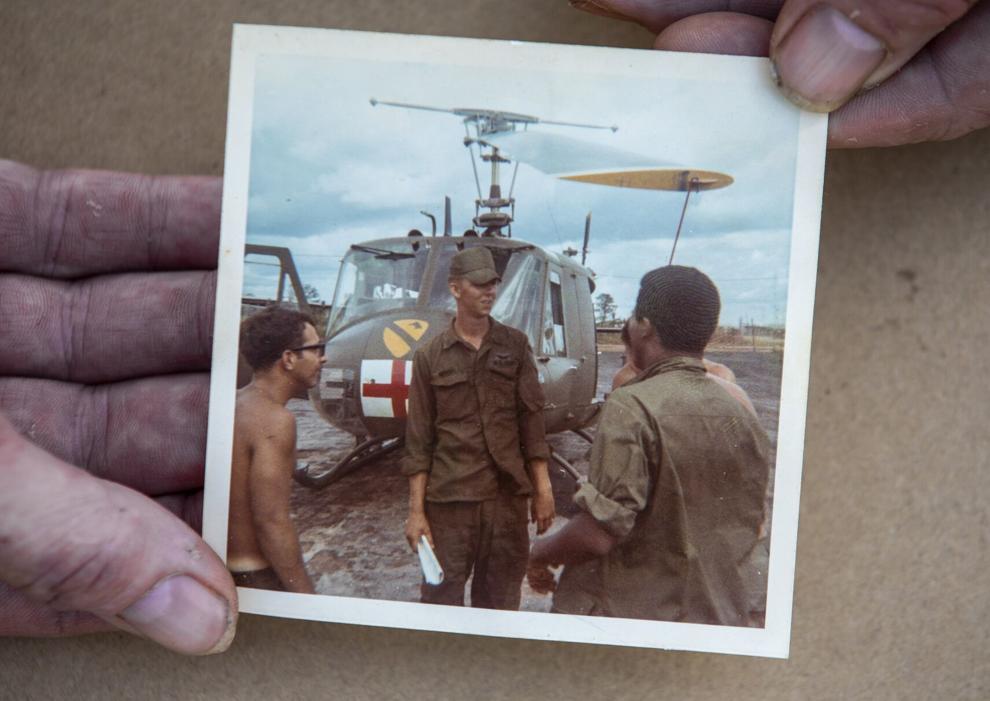 He almost didn't make it back home, according to a story their grandmother told them.
He once had to climb out of the helicopter under enemy fire when the line they had lowered to reach someone who had been injured hadn't been properly connected on the ground while it was being raised back up.
"When he got back there were bullet holes in the seat where he would have been," Bryan Minish said.
At times on those rescue missions James Minish found himself having to kick away uninjured but desperate soldiers trying to fly off with the wounded.
"That alone would mess with anybody's mind," Bryan Minish said.
Back in the states, James Minish and other Vietnam vets were caught in the ongoing protests against the hugely unpopular war. He was stunned when he returned to the United States and a girl asked him how many kids he had killed.
James Minish once described for the News & Record what he did as he watched the chaotic final days when the U.S. evacuated its embassy in Vietnam.
He threw a liquor bottle at his TV.
"I could not comprehend sending people to do something, getting people killed and just walking off from it," he said.
At a young age the boys remember their mother sometimes having to lock herself in a room with them and later handing them out of a window to neighbors or relatives when James Minish was having an episode or flashbacks, thinking they were the enemy.
The couple later divorced and the boys ended up with their father, who had a great work ethic and was a great provider, but also a functioning alcoholic.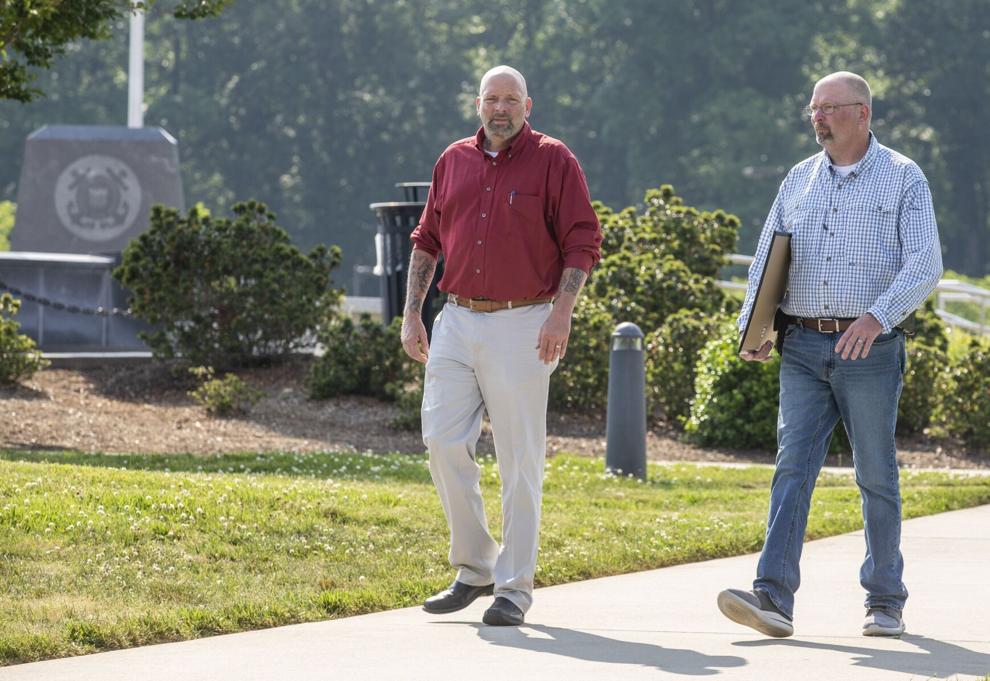 "Nobody sat me down and said this is what affected him and why," said Jamie Minish, an electrician. "I had to figure it out on my own."
Troubled and without guidance, the twins struggled with issues, such as drugs and alcohol, that they later overcame.
"I remember myself, my brother and a bunch of other young friends chipping in to buy a large photo — a fairly famous or recognizable photo," Bryan Minish said.
Called "Reflections," the artwork depicts a man at the Vietnam Memorial in Washington touching the wall and inside the wall is a reflection of soldiers — his lost war buddies — touching him back.
"When we gave him that photo he sort of lost it emotionally and stepped back mentally to a place he did not like," Bryan Minish said. "What I know is this war never left him ever."
There were no big celebrations, like at the end of World War II, when the soldiers came home. Vietnam vets got protests.
"I cannot even fathom the toll it would take on these young men who served their country," Bryan Minish said, "to also see the things they saw and lose friends that became family, and have the strongest of bonds fighting for each other and their country, to come home to that as well."
James Minish once hitchhiked along Interstate 40 to the VA Hospital in Durham for help. Nothing helped, at first. He admitted to punching the walls at home.
Later, as part of a vet support group, he met Dane Hill, a Yale graduate who had served with Special Forces and was editorial page editor at the Winston-Salem Journal.
"Don't you ever think about the ones you saved?" Hill asked him one day.
"He got our dad's mind off of thinking about the guys that he couldn't save and thinking about the ones he did help save," Jamie Minish said. "I believe this was the catalyst that got him in a more positive direction."
Hill later committed suicide, which also affected their dad.
"This also shows that no matter your status, wealth, education, the lingering effects of war can haunt you no matter where you came from," Bryan Minish said.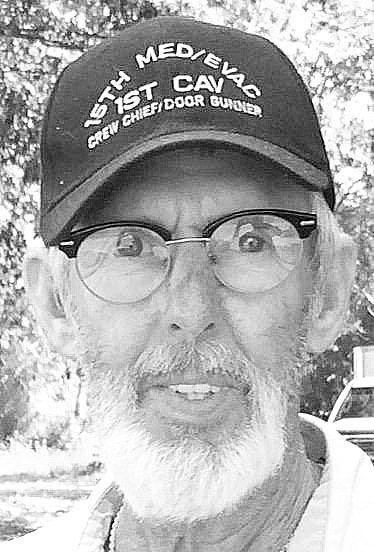 In grief, Minish wrote an open letter to America about the damage that came home with the soldiers.
He told the News & Record he left the letter at the Vietnam Veterans Memorial in Washington — a place he had visited more than 25 times to help heal his own struggles with PTSD.
As their father poured his energy into advocating for others, he almost gave too much, the sons say.
They remember the urgent phone calls from other vets.
"When he got off the phone he was in tears and sometimes a rage," Jamie said.
Sometimes it was the news that another close veteran had committed suicide, or maybe someone from his veterans group.
"I didn't understand all of this, but the pieces fell in place when I was older and understood more," Jamie Minish said. "I also remember him getting calls from the police when a veteran was contemplating suicide and had weapons and barricaded himself in his house. Somehow my dad's name came up as someone who could assist and de-escalate this situation."
They didn't always know the outcome.
But they soon saw the man others revered.
James Minish would later retire from AT&T where he had worked as an installer and construction foreman.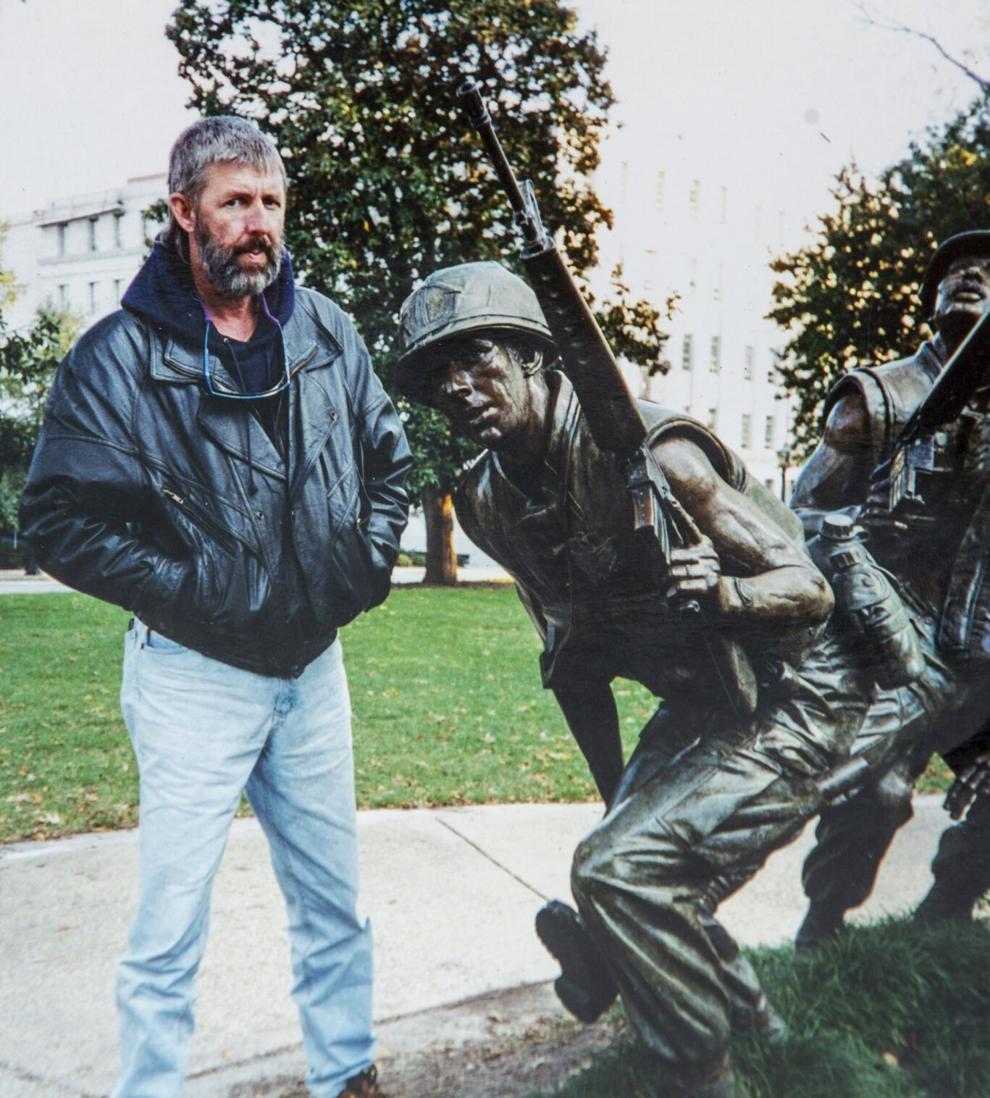 He seldom talked about being the model for the Vietnam Veterans Memorial on the state Capitol grounds in Raleigh.
"It's not about me," he would say when pressed. "I did it for all of them."
James Minish is buried in Arlington Memorial Cemetery, which the family considered fitting.
They remember men whom they didn't know showing up at James Minish's funeral and calling him a great man. It was something they also came to realize over time.
"He got help and did what he did to get it right, as a man should do," Jamie Minish said.
It was from one of those newspaper articles that the boys got from their father words he never could say directly to them, about not being a better example for his boys.
"He never said anything to me directly," Jamie Minish said, "but I think he said that for me and Bryan."
Contact Nancy McLaughlin at 336-373-7049 and follow @nmclaughlinNR on Twitter.