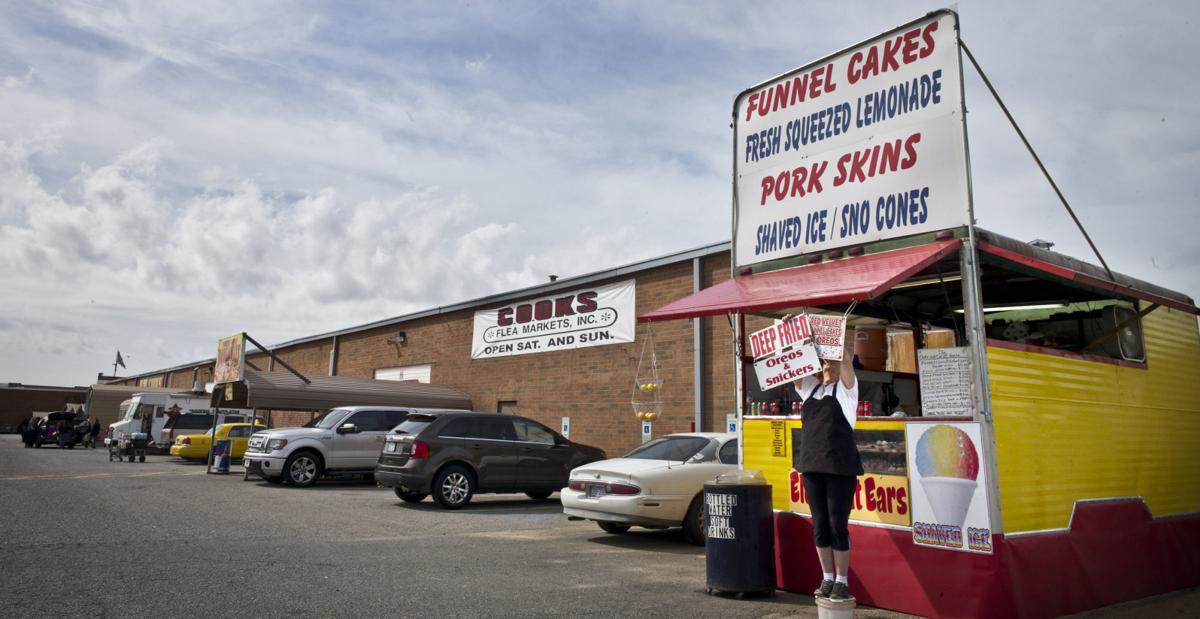 The Forsyth County Sheriff's Office is investigating an arrest Saturday at Cooks Flea Market that was captured on video and has since gone viral. 
The man who was arrested, Charles Redell Moody, who is black, said the deputy, who is white and was working security at the flea market, used excessive force.
The sheriff's office and the owners of the flea market said Moody was arrested because he refused to comply with a statewide mandate to wear masks to combat COVID-19 and the owners asked him to leave.
Moody said that's not true -- he never refused to wear a face mask and he was never asked to leave the flea market. Moody has been charged with resisting arrest and trespassing.
The sheriff's office declined to release the name of the deputy, but Moody provided the deputy's name, which was also on the arrest warrant.
The cellphone video, which lasts a little more than a minute, shows Moody in front of a counter.
Behind him is Forsyth County Sheriff's Deputy Troy A. Curry, who was working security for the flea market. The sheriff's office said the flea market regularly hires deputies to provide security.
Curry's left arm is cupped under Moody's armpit and his left hand is curved around Moody's neck. Curry's other hand is grabbing at Moody's right arm and he is telling Moody to place his hands behind his back so he can be handcuffed.
Moody tells Curry he has done nothing wrong. At some point, Curry lifts Moody up and toward a wall. The two men struggle and Curry later yells, "Stop it," several times. An older white man in a red shirt who appears to be an employee of the flea market steps in to assist Curry. When Curry has Moody back up at the counter, a black man who also appears to be an employee helps Curry get one of Moody's arms behind his back in order to place handcuffs on him.
In a statement, the Forsyth County Sheriff's Office said flea market staff had asked Moody to leave and that the deputy was going to escort Moody to his vehicle. But Moody, the sheriff's office said, refused to leave "even after multiple requests and then resisted arrest."
The flea market said in a statement Moody had repeatedly refused to wear a face mask and would not leave when asked to do so.
"Our role in it was the same as it is every time we work there -- to provide security to the flea market, including when the business management requests someone to leave, to ensure they vacate the premises without undue delay," Christina Howell, a spokeswoman for the sheriff's office, said in a statement.
Moody disputes what the sheriff's office and the flea market said happened. In an interview Sunday, he said he was never asked to leave by anyone and he never refused to wear a face mask. 
On Saturday, Moody said he went to the flea market to buy tires. The vendor was set up outside. Moody said he went inside to use the ATM machine to get the $120 needed to purchase the tires. Moody said he forgot to bring his face mask.
While inside, a flea market staffer, a black man, approached Moody and told him he needed to wear a face mask and that the market had some available for sale. Moody told the man that he would buy a face mask as soon as he got some money. 
Moody said the ATM machine was giving him problems, and then another employee, this time a white man, approached him and said the same thing about the requirement for face masks and that some were available. Moody said he told this man the same thing he told the other employee -- that once he got money out of the ATM, he would buy a face mask.
The ATM machine still wouldn't work, and Moody said he went to find another one. That's when he noticed Curry following him. Curry told Moody that he had been asked to leave, and Moody said he was never told that.
"While I'm walking, he wanted me to stop," Moody said. "He grabbed me by my arm and I just kind of snatched my arm back. Once I did that, he said, 'You're under arrest.'"
Moody was charged with misdemeanor resisting arrest and misdemeanor second-degree trespassing. He was taken to the Forsyth County Jail, where he was released on an unsecured $250 bond. His next court date in Forsyth District Court is Aug. 28.
In a statement on his Facebook page, Sheriff Bobby Kimbrough Jr. said he had spoken with Moody and his family and that together, "we will come to a resolution."
"We are reviewing all video of the incident in its entirety," Kimbrough said. "We remain committed to doing what is moral, what is legal, and what is right without any consideration for an individual's race, ethnicity, sexual orientation, or religion. We are committed to protecting and serving our community, with integrity and transparency because this is OUR community."
Moody said he talked briefly Sunday with Kimbrough and that they plan to meet. He also plans to file a complaint with the sheriff's office. 
"The one thing I want people to know is that I didn't do anything wrong," he said. "I never ever said I wouldn't wear a mask. I clearly told the guys who asked that I would buy one as soon as I could get my money out of the ATM. Once the truth comes out, a lot of people are going to eat their words."