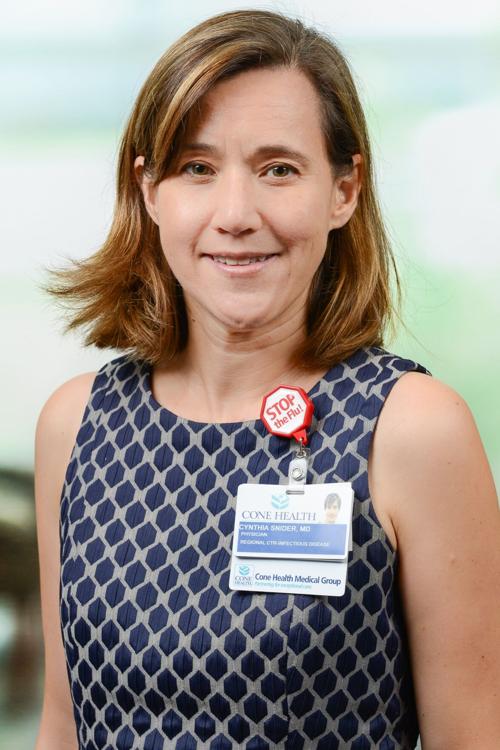 GREENSBORO — Like much of North Carolina, the number of residents being hospitalized for COVID-19 in the city has been escalating to record numbers, a sobering reminder that the pandemic is far from over.
On Monday, 81 patients were hospitalized in the Cone Health system with the respiratory illness — the largest single-day number since July 13 when 78 people were being treated. 
During that month, North Carolina was in the throes of the pandemic, which was breaking records almost daily.
Weeks later, the metrics state health officials used to track the coronavirus, which hit North Carolina in March, leveled off and subsided.
Now, cases and hospitalizations are on the rise in the city, state and country as health officials warn that Americans can't let their guard down.
Dr. Cynthia Snider, an infectious-disease specialist with the Cone Health system,is one of them. Like many of her peers — including Dr. Anthony Fauci, the country's top infectious-disease specialist — she warns that new cases are likely going to increase in the coming months.
Locally, she said it appears from contact tracing that residents who've become infected are likely not being as vigilant as the pandemic wears on.
"I feel like the state may be in the midst of some pandemic fatigue, where folks are not wearing their masks in public," Snider said.
Also, residents showing up at Cone Health test sites have also doubled in just the past few weeks to between 800 and 1,000. Healthcare officials wonder if that's a result of people having second thoughts about having taken part in a social activity.
"I feel that we have never had to have so much restriction in our community and I think folks may feel that right now it's worth the risk," Snider said. "However, we know that can be very risky and there have been so many outbreaks associated with these types of outings."
According to Snider, just because you feel fine doesn't necessarily mean you aren't contagious.
"You can be very contagious and have no symptoms, and that's the scary part," Snider said. "You think you are fine and not putting anyone else at risk, but you are."
And that can lead to infecting others — and possibly killing them as well.
Consider this: If there are 30 people in an enclosed area, there's a 30% chance of being infected with COVID-19 for anyone not wearing a mask, Snider said.
Being outdoors brings a lower risk of infection, she added. However, face coverings should still be used if you're near others.
"Even though we are outdoors, you have to be mindful of how close you are to someone else," Snider said.
With the holidays looming, there will be temptation for families to gather.
"Right now," she said, "those risks are too great to take."
Contact Nancy McLaughlin at 336-373-7049 and follow @nmclaughlinNR on Twitter.
Be the first to know
Get local news delivered to your inbox!