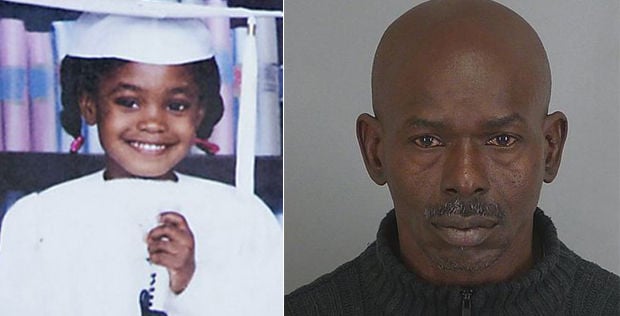 GREENSBORO — After almost a quarter of a century, 7-year-old Shalonda Sennetha Poole got justice on Monday.
Donald Preston Ferguson, 53, pleaded guilty in Guilford County Superior Court today to first-degree murder and first-degree sex offense of Shalonda. In exchange, he was spared the death penalty.
Ferguson will spend the rest of his life in prison. He was sentenced to two consecutive life sentences by Superior Court Judge Stuart Albright.
Ferguson did not address the family or make eye contact during the sentencing.
More than a dozen members of the Poole family were present. Many wept through the hearing, including Marilyn Poole, Shalonda's mother, and Shanda Poole, her twin sister.  One sister left the courtroom when the details of the child's autopsy were discussed.
Shalonda Poole was sexually assaulted and killed on July 21, 1990. Although Ferguson, then 29, was interviewed that year, it was family acquaintance Melvin Bennett who was charged with murder shortly after her death, said Detective Tony Hinson, the officer who ultimately arrested Ferguson.
The child's death was the result of stab wounds and manual strangulation, according to the N.C. Medical Examiner's report. She had been stabbed 19 times, mostly at the neck.
Eleven of the wounds were superficial, likely happening during the sexual assault. Police said the wounds show Shalonda was held at knifepoint. Eight of the wounds were deeper, five were at her neck.
Shalonda Poole was stabbed before and after she died, and the medical examiner also recovered semen from the little girl's body.
The child was reported missing on July 21, 1990, from her home at 1123 Ashe Street. She was last seen between 6 a.m. and 8 a.m. by her twin sister.
Ferguson, who was known to the family and had visited Shalonda's home, was among the police and neighbors who originally searched for the child.
The 4-foot-tall, 45-pound girl was found dead the following morning, 200 feet into a patch of heavy underbrush near a creek behind Jones Elementary School.
She was wearing the same green and white Girl Scouts T-shirt, red shorts, red socks and white shoes in which she was reported missing.
Please check back for updates. 
Contact Sarah Newell Williamson at (336) 373-7076, and follow @snewell_NR on Twitter.
Be the first to know
Get local news delivered to your inbox!