SOUTH PADRE ISLAND, Texas — What started as hundreds of cold-stunned turtles has now surpassed thousands.
The South Padre Island Convention Center, which operated without power as of Tuesday afternoon, has become the temporary home of more than 2,500 cold-stunned turtles after Texas and much of the United States have been hit by a winter storm.
Ed Caum, executive director of the Convention and Visitors Bureau, posted on his personal Facebook page about the arrival of the turtles.
"Operation save sea turtles continues on South Padre Island. Volunteers, many who have no water or power at home, are trying to rescue as many local amphibian residents as they can. More than 1,700 sea turtles have been brought in during the current Polar Vortex over South Texas," he posted Tuesday at 2 p.m.
"We will try to slowly warm them up and save as many as we can. This is day two of this operation, keep following us to find out the story on the sea turtles," he said on a video.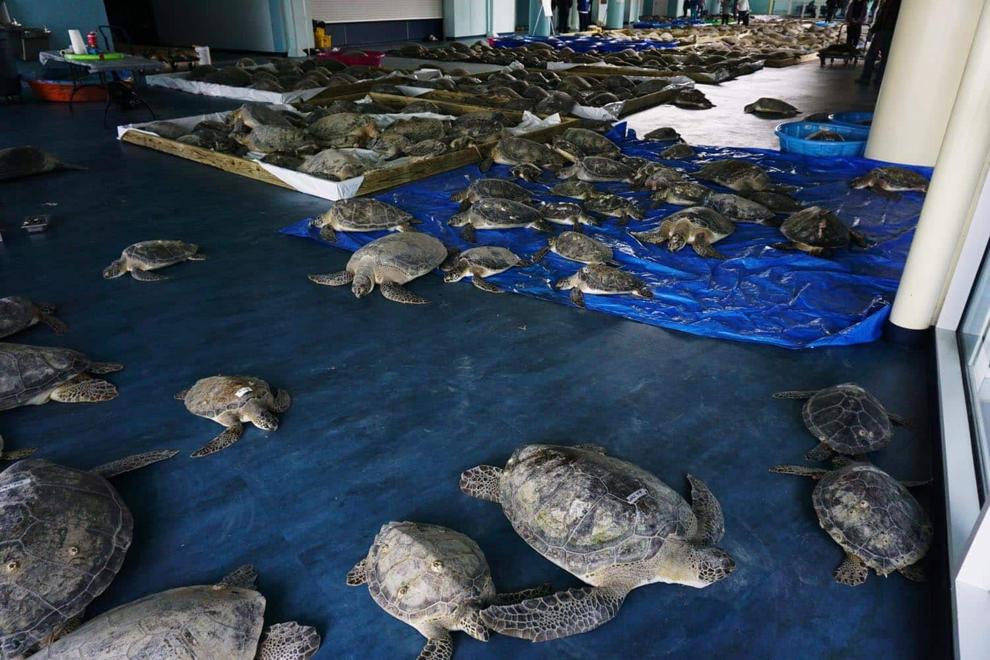 The longtime rehabilitation center and sanctuary for turtles had been without power since 2 a.m. Monday.
Sea Turtle Inc. staffers continued to worry about the state of their longtime turtles, which need warm tank temperatures to survive.
"Still no power, water is critically cold in our hospital. Some of our largest residents have been dry docked out of water and more are at risk," said Executive Director Wendy Knight.
Knight said a generator was brought to the facility, but it was not enough to keep turtles warm.
"It's not one close to being big enough to do much else but run lights," she said.
"This is the largest single stun event that has happened in over a decade, and it's what Sea Turtle Inc. prepares for. The community outreach and support has been overwhelming despite the lack of response to our power outage. We have felt nothing but support from our local community. This event has made it evident how critical our new clinic facility is to making sure we have the room and the ability to not only respond to these events, but to power our own facility," she said.
For Knight, her biggest concerns are two of their largest turtles and 20 others that came from Boston.
"It's too soon to tell. We are hopeful but realistic," she said about their survival.
"We are closely monitoring the situation, especially if power is not restored soon," Knight said.
70 photos from the winter storm pummeling America
Check out a collection of 70 images from the winter storm that has touched much of the U.S.