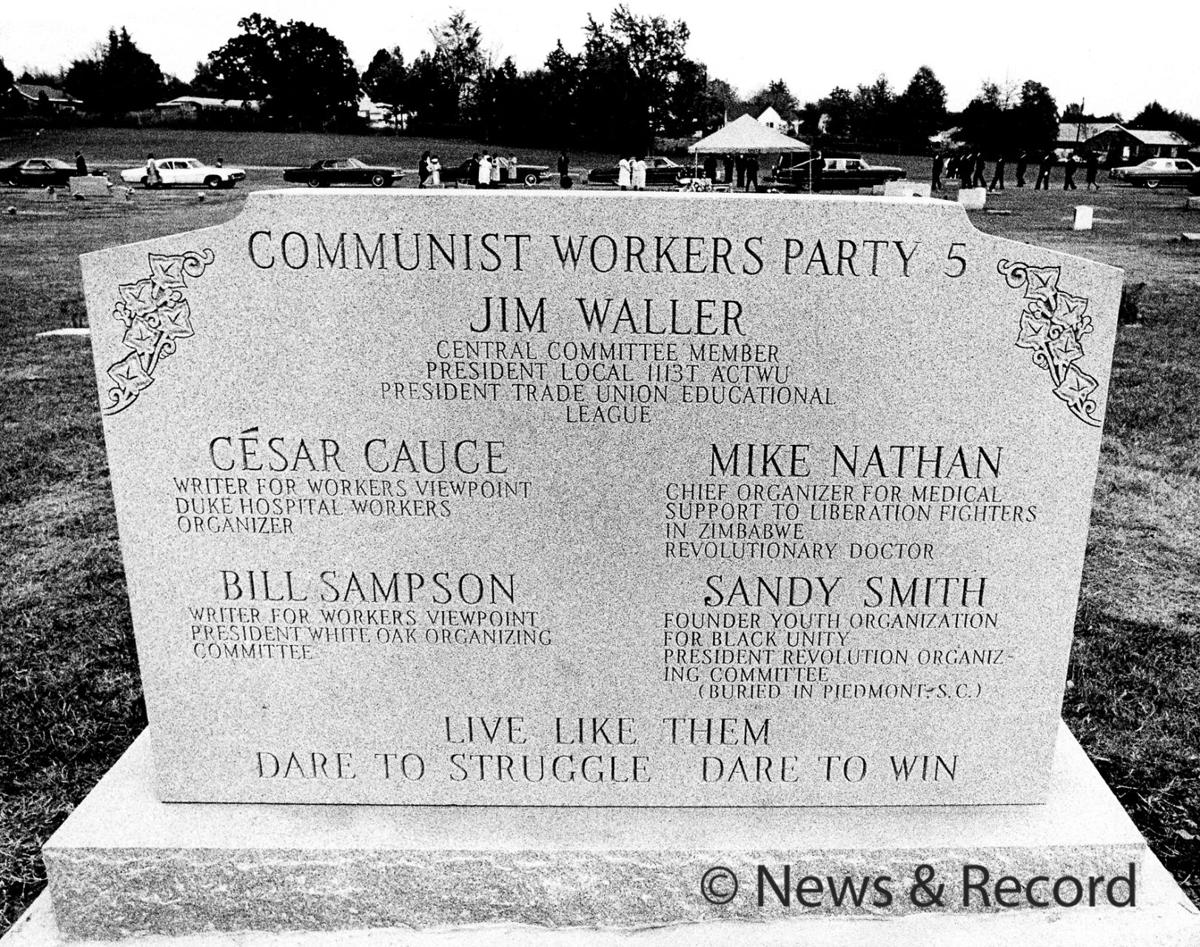 GREENSBORO — The historical marker proposed for the corner of Willow and McConnell roads contains just 25 words.
"Greensboro Massacre — Ku Klux Klansmen and American Nazi Party members, on Nov. 3, 1979, shot and killed five Communist Workers Party members one-tenth mile north."
It happened on a Saturday morning more than 35 years ago.
But at an afternoon meeting of the Greensboro City Council earlier this month, the marker sparked a fight so passionate it was as though the deadly clash had just happened.
Councilman Tony Wilkins was incensed that the N.C. Highway Historical Marker Advisory Committee unanimously approved a marker without consulting with the council.
"How will this help Greensboro?" Wilkins asked. "You think this will be a positive thing for Greensboro?"
Councilwoman Sharon Hightower, who along with Councilwoman Yvonne Johnson wrote a letter in support of the marker, had a quick answer for Wilkins.
"The fact is, negative things have occurred in this community, in this country, that we can't turn a blind eye to," Hightower said. "They might not have impacted you, but they happened.
"Was the Sit-In Movement positive? Not for the four people who had to sit down and endure all that to get served."
Councilman Zack Matheny said the problem is what the marker doesn't say.
"There's a lot that led up to that day in 1979 that isn't on that marker, a lot of people and groups and events that give it context," Matheny said. "To not tell that part of it is rewriting history, it's shameful and it's not going to heal our community."
The word "massacre" — embraced by one side, decried by the other — is itself so divisive that only its removal could bring about the grudging compromise that last week led to majority support for the marker on the council, which is expected to vote on the issue Feb. 3.
But the argument continues.
A state committee is seeking approval for a historical marker about "Greensboro Massacre."
It's an argument about history itself — how the story is told and how much of it — whether one of the darkest and bloodiest days in the city's history should even be commemorated.
The fact that such a fiery argument still can rage at the highest levels of city government in 2015 is testament to the essential problem with all discussions of Nov. 3, 1979.
After more than 35 years, countless written accounts, three trials and a lengthy public Truth and Reconciliation process, the debate is still as heated as ever. No one version of events, how they happened and who was to blame has ever truly cooled and hardened into accepted, consensus history.
Debate over the killings still is framed in reductive racial and political terms.
Few are eager to wholeheartedly take the side of organized hate groups like the KKK and neo-Nazis.
But neither are many willing to mount a full-throated defense of Communist Workers Party members who urged "militant, direct action — a confrontation with the Klan" in the heart of Morningside Homes, the largely black neighborhood that was the first public housing project in North Carolina.
Morningside Homes is gone now — its cheap, 1950s-era houses and little dirt playground bulldozed.
But what happened there so long ago, its causes and its legacy, are still with us — those who were there that afternoon, those who watched footage of it on television in stunned silence, even those who were not yet born.
Michael Hill is a research supervisor with the N.C. Historical Marker Advisory Committee, a group of 10 historians who vet applications for state markers.
Black Lives Matter group says offer to take over civil rights museum is racist.
Hill said it's not unusual for cities to struggle with historical markers that commemorate violent, controversial moments in their history.
The 1929 Loray Mill Strike in Gastonia and 1959 Harriet-Henderson Mills strike in Vance County are good examples.
"But in the case of Greensboro in 1979, we're closer to the actual event and feelings are still very high," Hill said. "Many people also feel that the event was incited by outsiders and Greensboro has been unfairly saddled with this legacy."
Matheny echoed that sentiment.
"We're talking mostly about a bunch of people who were from other places, doctors and Ph.D.s who came into Greensboro to try to rile up and unionize poor, black textile workers who they saw as less educated, that they could use to further their political causes. And a bunch of Klan and Nazis who weren't from here, either."
It's true most of those killed were well-educated transplants to Greensboro.
Among the dead were Dr. Jim Waller, educated at the University of Chicago Medical School; Dr. Mike Nathan, a graduate of Duke Medical School and chief of pediatrics at Lincoln Community Health Center in Durham; Bill Sampson, a graduate of Harvard Divinity School; Cesar Cauce, a Cuban immigrant and magna cum laude graduate of Duke University; and Sandi Neely Smith, a South Carolina native and student at Bennett College.
The 12 Klan and neo-Nazi men initially charged with their deaths also were from outside the city — places like Gastonia, Lincolnton, Winston-Salem and Hickory.
But other central figures in the tragedy were far more ingrained in the city.
Signe Waller Foxworth, whose husband Jim was killed on Nov. 3, had lived in Greensboro for nearly a decade before the shootings and taught philosophy at Bennett. She was involved in leftist political organizing in the area for years before meeting and marrying Waller.
"I was very much a part of the city. It was my home, as it was for a lot of the CWP members," Foxworth, now 76, said in an interview last week. "I think a lot of people still want to see anyone involved as outside agitators, but a lot of people from Greensboro and a lot of students were part of the political movements at that time."
Nelson Johnson, one of the CWP organizers, was a native of Halifax County. He came to Greensboro in 1966 to attend N.C. A&T. He rose to prominence as a student activist and organizer, participating in sit-ins at city businesses that still were racially segregated.
In 1968, after several South Carolina students were shot while trying to desegregate a bowling alley, Johnson helped lead a march of hundreds of students through downtown Greensboro that ended with the burning of an effigy of South Carolina's governor in front of city hall.
The protest outraged area Klansmen.
Whatever the origins and histories of those who met in the deadly clash of Nov. 3, Greensboro was fertile ground for the conflict.
A Southern city that struggled with racial tensions, Greensboro also was home to liberal colleges and universities — historically black schools like Bennett and A&T that played a strong role in the civil rights movement, the Quaker-founded Guilford College and UNCG, founded by women's rights champion Charles Duncan McIver as the state's first government-supported women's school.
It was also home to a then-thriving textile industry. Cone Mills — then the world's largest producer of denim — became a focus of the Workers Viewpoint Organization, later the Communist Workers Party.
Cone had five unionized plants in the Greensboro area. But the unions were weak, and in the notoriously anti-union South, had a hard time maintaining membership. A number of CWP members took jobs at the plants, including Waller at the Haw River plant,
The CWP made as many enemies on the political right as it did on the political left during its attempts at plant organizing, said Elizabeth Wheaton, who began researching the Greensboro shootings in 1981.
"They were their own worst enemies in those days, as some of them later admitted," Wheaton said. "They would insult even the people who were on their side, if they didn't agree with them completely."
Wheaton's "Codename Greenkil: The 1979 Greensboro Killings," began as a project for the Institute for Southern Studies in Durham and grew into an exhaustively researched book written from interviews, research and access to police and FBI records.
Violent clashes between the CWP and the rival Revolutionary Community Party were well documented. There was also tension between the CWP and mainline, non-communist union interests who resented their use of unions for recruiting.
Working his way into local union leadership, Waller helped instigate a two-week strike for higher wages but also butted heads with other mill workers and union members.
"The work he did for me and for Jim was in seeking better conditions and better lives for workers," Foxworth said. "Especially with the Carolina Brown Lung Association," which worked to correct the working conditions that led to lung deterioration from breathing cotton dust in the mills.
Many didn't see it that way.
In the late 1970s in the aftermath of the Vietnam War, anti-communist sentiment was high throughout the nation and particularly in the South. Wheaton said it's worth remembering the Klan and neo-Nazis, now primarily remembered as racist organizations, also were virulently anti-communist.
"They threw the N-word around, but they were really mad about the communists," she said.
A few months before the Nov. 3 shootings Harold Covington, a prominent neo-Nazi from Burlington, wrote a taunting letter to the Revolutionary Communist Party, which he had confused with the CWP.
"By the way, almost all of my men have killed communists in Vietnam, and I was in Rhodesia as well," Covington wrote. "But so far we've never actually had a chance to kill the home-grown product."
The road to the Nov. 3 shootings really began months earlier and about an hour away in the small town of China Grove, northeast of Charlotte.
There, on July 8, 1979, area Klan members planned a recruitment meeting at the China Grove Community Center, where they would screen the 1915 Klan propaganda film "The Birth of a Nation."
At that time the Klan in North Carolina was scattered, fractured into competing sects and riddled with police and FBI informants. But they were also engaged in statewide recruitment efforts, like the China Grove event.
Local black leaders tried to prevent the event but were told that the Klan had secured a legal permit.
They organized a protest. Police denied them a permit to march. They declared they would march without one.
Intrigued, Nelson Johnson and a few other members of Workers Viewpoint Organization made the trip from Greensboro to push a more aggressive approach. They urged a direct, militant confrontation of the Klan. They saw them as not just a group of racists, but agents of large companies — including Cone Mills — used to divide black and white workers.
A number of local ministers opposed the idea and withdrew support for the march.
The protest attracted around 100 people — including most of those who would later die on Nov. 3. Chanting "Death to the Klan" they marched to the China Grove Community Center, some waving bats, sticks and lengths of pipe.
The march's climax — captured by Charlotte television cameras — saw protesters facing down Klansmen, who were armed with shotguns, on the porch of the community center. Police officers tried to separate the two groups but could only convince the Klansmen to retreat into the center as protesters burned their confederate flag.
Cheering the Klan's retreat, the crowd marched away to plan further "Smash the Klan" events — among them, the Nov. 3 "Death to the Klan" rally in Greensboro.
When the China Grove crowd had dispersed, Joe Grady, grand dragon of the Federated Knights of the Ku Klux Klan, appeared on the community center porch to preach to the cameras. He credited the Klan's restraint for the lack of a full blown riot but also promised "there will be revenge for this."
The China Grove face-off is still seen by many as the ultimate catalyst for the Nov. 3 shootings — and proof that the communists were not innocent victims.
Posters advertising the Nov. 3 rally in Greensboro described it as "organize to physically smash the racist KKK wherever it rears its ugly head," and challenged the Klan to appear, promising "we will show you no mercy."
"I certainly don't think those people deserved to die," Greensboro Councilman Mike Barber said last week. "But if you go and poke a bunch of rednecks who have guns and you print 'Death to the Klan' fliers, that puts you in the stupid category if you ask me."
While one shouldn't blame the victims, Wheaton said, it is obvious testing the freedom of speech by goading violent groups can have deadly consequences.
"They had every right to go to their meeting at China Grove and to chant and call them names," Wheaton said. "They had every right to basically issue a fatwa and say they were going to confront and smash the Klan."
"But they also had a responsibility to the people of those neighborhoods they were walking and marching through," Wheaton said. "They created a situation that was dangerous not only for them, but for other people. You would hope that people would have a little more sense than to do that."
Still, in a free society, the police have a responsibility to protect even those people who are testing the limits of free speech.
And on Nov. 3, 1979, law enforcement — from the Greensboro Police Department and FBI, which had informants among the North Carolina Klan and neo-Nazi contingents, to the federal Bureau of Alcohol, Tobacco and Firearms, which had an active undercover agent among the neo-Nazi group — failed to prevent a tragedy.
According to later investigations and testimony, officers failed to effectively communicate with each other. Some were completely unavailable by radio. Tactical units were not in place when they were supposed to be.
Greensboro police officers observed as a nine-car caravan of Klan and neo-Nazi members drove from I-85 to Morningside Homes. Once there, the caravan met protesters who taunted them and attacked their cars with sticks and clubs. The Klan/Nazi contingent fired shots, unloaded their cache of guns and opened fire on anti-Klan protesters.
Police took action only after shots were fired.
CWP members fought with the Klan and neo-Nazis. Some produced guns — despite a demonstration permit forbidding them — and a gunfight ensued.
The 88-second clash was captured by TV and newspaper cameras.
Foxworth said she and the other survivors have faced victim-blaming for nearly 36 years, an insult heaped upon the injury of having to bury friends and family and watching juries fail to convict anyone.
"But what hasn't been talked about by the city, the government or the media is the shameful role played by the police on that day," Foxworth said. "They want to talk about that as little as possible."
In a 1985 federal civil trial, a jury awarded nearly $400,000 in damages after finding two police officers and six Klansmen and neo-
Nazis liable for the wrongful death of one of those killed and for assault and battery on two survivors.
"So despite how weird that verdict was, in some respects the police's role has been acknowledged where it matters, with that joint liability" Foxworth said.
Foxworth, who returned to Greensboro in 2003 after years away, calls a historical marker "long overdue."
She said she's not surprised that the word "massacre" makes people uncomfortable.
"That's what it's called because it is what it is," Foxworth said. "But after all these years, there's no unity in the community over this."
Wheaton agrees — though she thinks the former CWP members have shaped the narrative over the years.
"They were these fire-breathing dragons, these revolutionaries," Wheaton said. "Now, they've been around long enough that they've become very mom and pop. But they've kept the whole thing alive in various ways, especially Nelson Johnson."
The application for the historical marker was made by Lewis Brandon, a board member of Beloved Community Center. Johnson is the center's co-founder and executive director.
Councilman Jamal Fox, the only council member born after the events of Nov. 3 1979, gave an exasperated sigh last week after hearing the council go another round over the merits of the historical marker.
"What happened in 1979 happened, it's a part of our history," Fox said. "We need to acknowledge it. But we also have to move Greensboro forward and stop arguing and bickering about it."
Frazier Glenn Cross Jr., then known as N.C. gubernatorial candidate Glenn Miller, talks about his views on crime, segregation and the federal government.
Contact Joe Killian at (336) 373-7023, and follow @JoeKillianNR on Twitter.