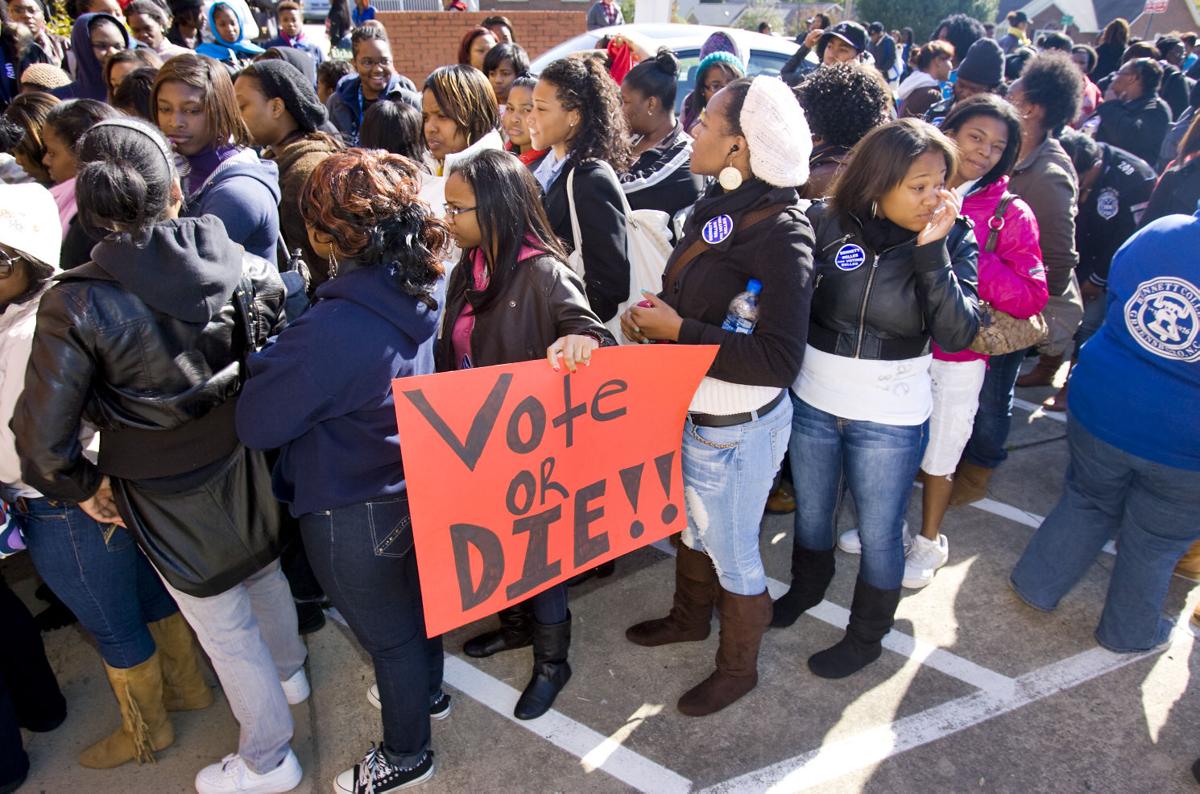 GREENSBORO — The presence of a police checkpoint near a largely black polling place touched off political bickering Tuesday as the local electorate went to the polls.
Democrats and Republicans, including a vocal tea party contingent, said concern over jobs, health care and education drove them to the polls. The checkpoint made some question whether everyone could get to the polls.
Greensboro police ran the checkpoint from
10 a.m. to noon, stopping cars between Drexel Road and Lombardy Street on Phillips Avenue. They checked licenses, registration and insurance and looked for drugs and drunken drivers.
The site is near the Claremont Courts neighborhood and the Peeler Recreation Center voting site.
Democrats said the move smacked of Jim Crow-era voter suppression and would likely drive down Democratic turnout at those sites and others.
"I find it really hard to believe that we needed a random — allegedly — police checkpoint in front of a highly African American, highly Democratic precinct on a Tuesday morning that just happens to be Election Day," said Andrew Whalen , executive director of the state Democratic Party.
Whalen said the party complained about a similar checkpoint during the May primary and was assured it wouldn't happen again on Election Day.
Assistant City Manager Michael Speedling , who oversees the police department, said he wasn't aware of the complaints from the May primary. Tuesday's traffic stop was a "long-planned operation," he said, and was not meant to affect voters.
Guilford County Elections Director George Gilbert said he fielded complaints about the traffic stop throughout the day .
Gilbert said he didn't believe police were intentionally trying to scare voters, but he said election days are set in statute and plotted out for the foreseeable future so conflicts can be avoided.
Some voters said it was hard to see the checkpoint as a coincidence.
"They wouldn't block off Irving Park on Election Day," said Nancy McKinney , a volunteer passing out fliers for House District 58 incumbent Alma Adams at Peeler Recreation Center . "I had people calling me saying, 'Can you believe this?' "
Kris Campbell , also at Peeler passing out fliers for state Senate candidate Bruce Davis, said he thought it was an intentional act to keep black people from the polls.
"It was to intimidate people," Campbell said. "You know how easy it is for somebody to just turn around and give up?"
Chris Poole , a Democrat voting at the Old County Courthouse downtown, said the effect of the traffic stop wouldn't be that large. Working as a substitute teacher throughout the county, he said he's more concerned with issues such as the economy and education than accusations of dirty tricks.
Conservative Ann Clippard intentionally ventured into predominantly Democrat territory Tuesday to push the tea party message .
"I may not change minds today, but I want to give people something to think about," Clippard said after a morning of friendly back-and-forth with volunteers handing out fliers for Democrats.
"We're going to leave it as is and let the numbers tell the story," retorted McKinney , her sparring partner.
Staff writer Mark Binker contributed to this report.
Contact Nancy McLaughlin at 373-7049 or nancy.mclaughlin