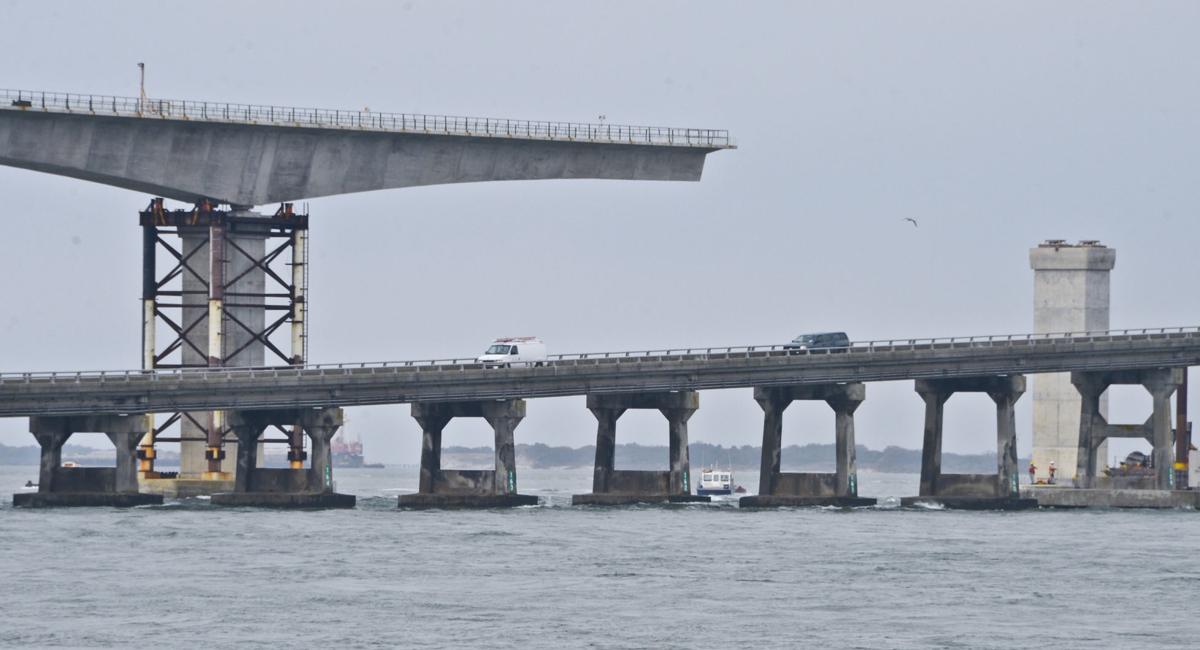 NAGS HEAD — Jeff Ryder wishes everyone had a chance to drive over the Basnight Bridge into a storm.
He wishes you could know what it's like to be arcing high over the Oregon Inlet with your pickup truck's lights barely cutting the heavy darkness pressing in from all sides. He wishes that you could see the grains of sand flashing across your field of vision then disappearing again. He even wishes that you could strain your eyes attempting to find the center line for just an instant, that you could feel that moment of uncertainty when you wonder if your tires are still on the road.
"It's like entering a world that you've never been in before," Ryder said on a sunny June day, sitting inside his office in Manteo.
Ryder, the N.C. Department of Transportation maintenance official who oversees all of North Carolina's Highway 12 through the Outer Banks, is confident that making that drive one time would be enough to convince people to never do so again in times of peril.
Ryder and his team take care of N.C. 12, a 148-mile, mostly two-lane road that runs from Corolla to Ocracoke before continuing on to Sea Level on the mainland. When a storm comes, it's Ryder's team that drives out in low tide to see what damage waves have inflicted on the road, and his team that piles into bulldozers to push sand off of the asphalt and back into dunes, trying to protect the road against an ocean that grows persistently closer.
Since 2010, the N.C. Department of Transportation has spent nearly half a billion dollars on N.C. 12.
Much of that — $420.8 million — has gone toward the construction of a trio of bridges, including the $252 million Basnight Bridge. NCDOT spent $61.9 million repairing and maintaining vulnerable sections of N.C. 12 on Hatteras and Pea islands, and another $15.9 million maintaining the 13 miles of road on Ocracoke that is linked to Hatteras via ferry.
The department is tasked not only with keeping the road open now against encroaching sand and sea, but also with envisioning its future on ever-shifting barrier islands pinched between the Atlantic Ocean and the Albemarle and Pamlico sounds. Climate change makes both of those tasks more difficult, particularly on the Outer Banks where sea levels are rising more rapidly than in other parts of North Carolina.
"As sea levels continue ... leading to more frequent and severe storm events, the expectation is an increase in the need for maintenance until more permanent mitigation can be achieved through future projects," Craig Midgett, a planning engineer for Northeastern North Carolina, wrote in a June 2021 report.
Questions about how to protect N.C. 12 have lingered for nearly a hundred years, long before it got its highway designation. Various plans have been floated, including the ultimate one: abandoning a troublesome piece of the road entirely and building a bridge.
"There's one way in and one way out," Ryder said, "so you're trying to maintain it or get it open as fast as possible to allow for the commerce to continue, the people to get to their doctors' appointments, health care reasons, or just the basic travel and the livelihood of the area."
Elizabeth Sciaudone, a civil engineering professor at N.C. State University, monitors the vulnerable stretch of N.C. 12 from the Oregon Inlet to Rodanthe. Some parts of that road will likely be under water within 40 years as Pea Island continues to erode, according to Sciaudone's shoreline estimates.
Sciaudone can rattle off a series of hazards threatening the road — breaches of the entire island, flooding, overwash and wave impacts among them.
"There's always long-term erosion, which is linked to changes in sediment transport and sea level rise," Sciaudone said. "And wind-blown sand is also a problem, sometimes even when there's not a storm."
Constantly rebuilding a coastal highway
In November 2009, the remnants of Hurricane Ida led to a powerful nor'easter, causing water levels to rise 6 to 7 feet above normal in the Outer Banks and destroying four homes.
Some of the worst damage happened just north of Rodanthe, in a portion of N.C. 12 known as the "S curves." In that section of highway, a road that had taken a straight path through the Pea Island National Wildlife Refuge begins to wobble, veering to the west in places where some of the Outer Banks' highest erosion rates have worn much of the shoreline away.
After Hurricane Ida, NCDOT moved about 1,860 feet of N.C. 12 to the west, pushing the asphalt as far away from the dangerous Atlantic as they could while remaining inside the 100-foot-wide corridor they are allowed to use by the U.S. Fish and Wildlife Service.
"That easement is a predefined corridor, it doesn't shift with wherever you move the road. It's kind of like the property line at your house; that doesn't move. If you decide to move your house, that property line doesn't move with you," said Pablo Hernandez, NCDOT's district engineer for the region.
NCDOT also lengthened a 900-foot section of sandbag-hardened dunes to 1,250 feet and conducted a beach nourishment effort around the S curves.
In 2011, Hurricane Irene's winds shoved water from the Pamlico Sound through the narrow strip of sand just north of Rodanthe, cutting a temporary inlet and isolating Hatteras Island. The storm also reopened a recurring inlet — known as New Inlet — on Pea Island, which is actually the northern end of Hatteras Island when the inlet is closed.
Just a year later, the S curves again suffered substantial damage when Hurricane Sandy passed by the Outer Banks. The storm was far out at sea but still powerful enough to cause two feet of flooding on low-lying parts of Hatteras Island and Ocracoke.
"I've rebuilt that road three times from 2009 to 2012," Hernandez said.
A bridge over the sound
Soon, there won't be any S curves for Hernandez or Ryder's maintenance crews to worry about.
The department is set to open a $154.5 million "jug handle bridge" this fall. The 2.4-mile bridge will bypass the S curves area entirely by arcing the road into Pamlico Sound just above where N.C. 12 starts to wobble on Pea Island, bringing it back to the island in northern Rodanthe.
Part of NCDOT's decision to pursue a sound-side bridge instead of elevating N.C. 12 on Pea Island was the narrow corridor in which it could work. But another crucial factor is the ongoing erosion of the island around the S curves, ranging from about 6.7 feet per year near their northern end to about 14 feet near Rodanthe, according to state data.
So far, the only traffic on the 17-foot, 4-inch-tall bridge has been construction trucks and a temporary rail system built to carry cranes as they maneuver steel girders and huge concrete slabs into place. On a sunny, clear morning in late July, a person standing on the bridge deck could see a handful of cars driving on the current route of N.C. 12, feet away from the dunes with the Atlantic Ocean looming in the background.
When the bridge is complete, NCDOT will remove nearly 1.8 miles of pavement, some of which is feet thick where it has been paved over after storms. They will also remove about 2,200 giant, tubular sandbags that have been buried inside dunes to protect the road.
After that, this stretch of land will be left to the Atlantic.
In OBX, beach nourishment is 'buying time'
Keeping a coastal highway intact often means thinking about sand.
After storms, it means pushing mounds of sand off of the road and back into dunes. In the slightly longer term, it can mean spraying sand across the Outer Banks' famed beaches, bolstering the region's tourism economy as the effort temporarily distances the Atlantic from oceanfront homes — and the highway behind them.
Since 2011, more than $150 million in beach nourishment projects have been conducted in Dare County, much of it funded through local tax revenue. Often, the explicitly stated purpose of these projects is protecting N.C. 12.
In 2014, an NCDOT project placed 1.7 million cubic yards of sand on the ocean side of the S curves, and Dare County funded a 2018 effort that placed 2.6 million cubic yards around the hotspot at Buxton's northern end.
Next year, the county will pay an estimated $12.7 million to replace sand on a swiftly eroding section of Avon's shoreline where dune lines have washed away, allowing tidal flooding to run down a secondary road and across N.C. 12.
"The beach nourishment project in Avon is more about N.C. 12 than anything else," said Bobby Outten, Dare County's manager.
Still, experts agree: Beach nourishment projects are not a long-term solution for the problems plaguing N.C. 12. Placing more sand on the beach doesn't fix shoreline erosion, it just means the sand that's washing away is further from homes and the road — while it lasts.
"It's temporary. It's buying time," said Reide Corbett, executive director of East Carolina University's Coastal Studies Institute.